Last year, another teacher from my district and I were lucky enough to get funded through our Education Foundation for six of the Breakout Boxes and a year-long subscription to their games. Most of the teachers at my school were shown on an in-service day how to facilitate a game. In case you don't know how Breakout works, here is some quick info.
Breakout Edu is very similar to the Escape Room Experience. Students are given a scenario that they must escape from. Clues are both dispersed throughout your room and inside of locked boxes. Students must solve a series of clues in order to physically break open the locked boxes.  Students work in groups to complete their tasks. There are games available for virtually every subject. Preparing the boxes can take a little bit of your time, but the end result is completely worth it. Students are engaged and excited to learn! There are also digital games available. In these games, students open up a virtual box by solving clues.
This past week, I worked with our 8th-grade language arts teacher on a library orientation. We decided to do a Breakout game with her four classes, in order to keep her students engaged. Her students learned the same things they would have learned through a traditional slideshow, but it was so much better because of how involved they were in the activity. When I started looking into a game to play, I could not find one that worked in a 15-20 minute timeframe, so I wrote my own game. It was really easy, and really gave me a chance to be creative.
Here was the Game: Breakout of the Library!
Students were given a clue with a key to a small box taped to the clue.  The clue led them to the library Teen Fiction shelves where a small box was put.
Inside the small box was another clue which told them to look up a specific book title in Follett Destiny (our new online catalog system).
Once they found the call number on the catalog they had to go over to the shelf and find that book.
Once that book was found they found a QR code inside the book.
They scanned the QR code with the IPad, which opened them up to a Google Forms survey.
Once they completed the survey, they were given a response to their survey that said "Thank you for filling out this DEAR form."
They had to use their brains to figure out that Dear was really Read backwards and that word would open up the large box which held a Congratulations We Broke Out Certificate, as well as Jolly Ranchers.
Here are some pictures of our Breakout Fun: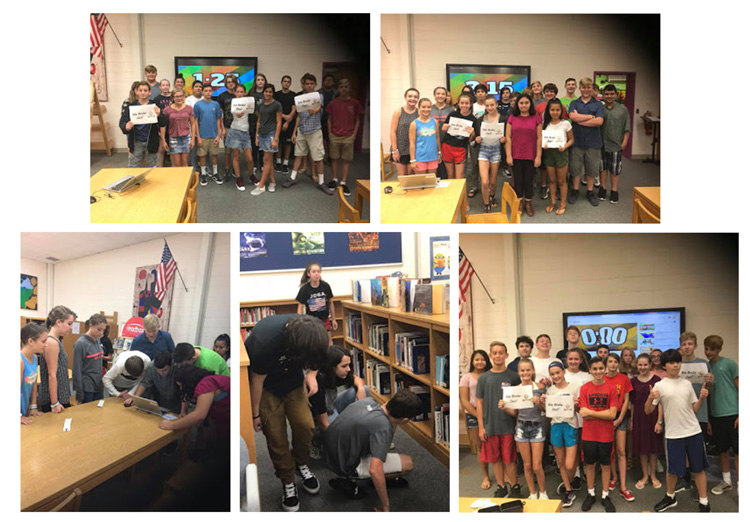 Are you using Breakout in your library or classroom?  I would love to hear about any exciting Breakouts you have created.