Two years ago, award-winning author Kate DiCamillo introduced readers to three unlikely friends. This year, she revisits the Three Rancheros in Louisiana's Way Home (Candlewick Press, October 2018) to tell the story of one of them—Louisiana Elefante. And for the first time since her debut title, Because of Winn-Dixie (Candlewick Press, 2000), DiCamillo tells the story in first person.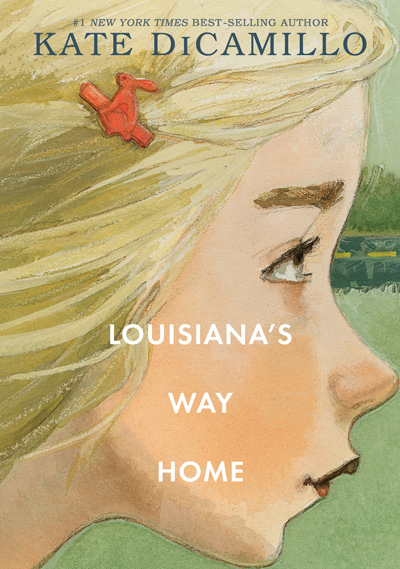 "Louisiana chose me. No kidding. I didn't intend to write a book about her, but she Would. Not. Go. Away. Her voice just kept badgering me. And I was very reluctant to tell the story in first person. But again, I wasn't in charge here. Louisiana was. And she said: 'First person, or else.'"
Readers first met Louisiana Elefante in Raymie Nightingale (Candlewick Press, 2016) when she joined a class to learn baton twirling. There, she met Raymie Clarke and Beverley Tapinski, and the three became inseparable friends—until Louisiana's Granny decides the mysterious "day of reckoning" has arrived and loads Louisiana into the car in the middle of the night and drives off without even the slightest look back. And that is where the story picks up in Louisiana's Way Home.
Twelve-year-old Louisiana recounts that 1977 road trip with Granny that comes to a halt in Richford, Georgia, due to Granny's ailing teeth. Stuck in a motel, homesick Louisiana meets new friends and contemplates the curse on her family. Then, without warning, Granny abandons Louisiana, leaving behind a letter admitting that everything Louisiana knows about her past is a lie.
"I believe so passionately in libraries and librarians. I visit libraries a lot. But I tend to buy books and then I pass them on to friends or put them in Little Free Libraries."
As with nearly all of her books, DiCamillo weaves bits and pieces of herself and her own story into the stories she creates. For instance, in Raymie Nightingale, Raymie's father ran off with a dental hygienist, and in Louisiana's Way Home, Granny is in dire need of a dentist. In real life, DiCamillo's father was an orthodontist. "Dentistry kind of haunts me, I guess," DiCamillo acknowledges.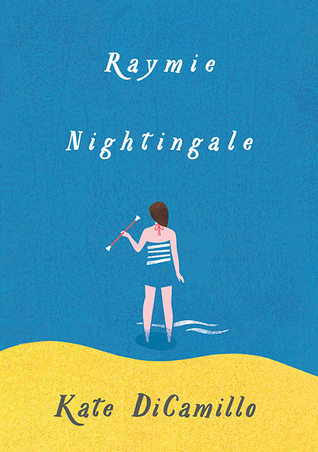 Also, in Louisiana's story there are several references to Pinocchio. DiCamillo says, "I have a glorious Giant Golden Book unabridged Pinocchio that I grew up with. The illustrations are divine. I would stare at them for hours (before I could read). I still dream about those illustrations. So I guess Pinocchio haunts me, too."
And like Louisiana, who documents her story because writing has "a great deal of power," DiCamillo also journals. "But I didn't write much at all when I was a kid. It wasn't until I was an adult that I figured out how much comfort and light and joy were to be found in saying what had happened—even if I was making up a story, the truth, my truth, was still embedded in it. And I feel like writing things down has saved me, in the same way that reading has saved me—by giving shape and meaning to the world."
DiCamillo was thirty years old and working for The Bookmen book distribution company when she was introduced to the genre of children's literature. She read everything she could get her hands on and began experimenting with the form. When her first manuscript was finally discovered, she began fulfilling her dream to write stories and the rest is history.
What Kate Reads
"Let's see: I'm reading the Kristin Lavransdatter trilogy (Penguin Classics, 2005). I just finished the Pulitzer Prize-winning Less (Lee Boudreaux Books, 2017). I read and loved M.T. Anderson's new book The Assassination of Brangwain Spurge (Candlewick, 2018), and I'm finishing up a really fun memoir by Edna O'Brien (Back Bay Books, 2014)."
"As Reverend Obertask says in Louisiana's Way Home, we all have to decide who we will be in this world. It took me a long time to figure out who I wanted to be, how I wanted to be, and what I wanted to do."
"I am an introvert, so it has taken me a long time to realize how much I get from being with people on tour. But I get so much. I get that connection, a deep connection, with readers young and old. And I get stories. And I get hope."
Even with dozens of titles for picture books, novels, short stories, and chapter books to her credit, and numerous awards including two Newbery Medals, DiCamillo stays true to her roots. In nearly every story she pens, there are unmistakable themes of friendship, forgiveness, kindness, love, and loss. Her stories show how big an impact small decisions and acts of kindness can make. Louisiana's story is no exception.
"I never try to send messages; I try to tell a story. But in writing this book, I was very aware of how much kindness I have received in this world—as a kid and as an adult, and how much those kindnesses have mattered."
"The encouragement I would offer to people who want to change is to listen to yourself, and to take small steps toward becoming yourself."
With the revisiting of Louisiana in Louisiana's Way Home, readers may wonder if they will see stories about the other characters from Raymie Nightingale. If there is a chance of that, though, DiCamillo is holding those details close. Same as what happened to Granny. "Granny is a mystery to me. I have some theories about what happened, but I won't tell them. It's for the reader to decide, I think. And Beverly…oh, Beverly. I'm hoping that she will tell me a story."
Good Rosie! (Candlewick, 2018) is published in September, and Louisiana's Way Home will be published in October. What else is on the horizon for DiCamillo? "Well, let's just say that there are some more Deckawoos somewhere, surely. And there might be a picture book, too. And I'm working on a novel."
Watch for a contest announcement later this month  to win a signed copy of Louisiana's Way Home.