Take a look at these exciting nonfiction titles published in January. Enjoy and learn!
PRIMARY NONFICTION
Alabama Spitfire : The Story of Harper Lee and To Kill a Mockingbird by Bethany Hegedus (ill. by Erin McGuire).  9780062456700. 2018. Gr K-2.
This picture book biography of Harper Lee begins with how she become aware of injustice when she was a child.
Bird Builds a Nest : A First Science Storybook by Martin Jenkins (ill. by Richard Jones). 9780763693466. 2018. Gr PK-1.
Watch a bird going through the process of building a nest.
Charlie Takes His Shot : How Charlie Sifford Broke the Color Barrier in Golf by Nancy Churnin. 9780807511282. 2018. Gr K-2.
This picture book biography describes Charlie Sifford's love of the game of golf starting when he was young. Racist laws did not allow him to play, so he became a caddie at first, and then fought to break the color barrier in the game.
I Am Loved by Nikki Giovanni (ill. by Ashley Bryan). 9781534404922. 2018. Gr PK-2.
Eleven new and previously-published poems celebrate love in many forms, such as between generations and for nature.
Let the Children March by Monica Clark-Robinson (ill. by Frank Morrison). 9780544704527. 2018. Gr K-3.
Under the leadership of Martin Luther King, Jr., African American children and teenagers marched for their civil rights and against segregation in Birmingham, Alabama, in 1963. The children were attacked with fire hoses and dogs, and thousands are arrested, but their actions changed the country.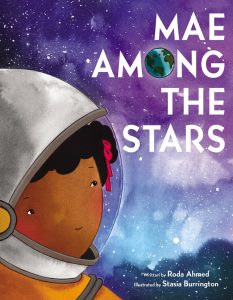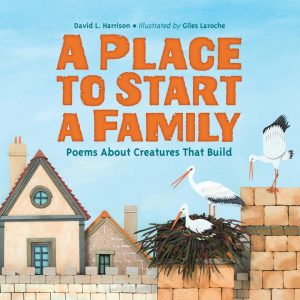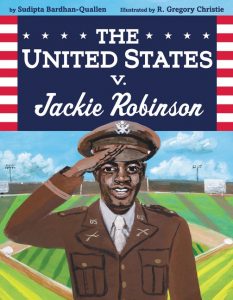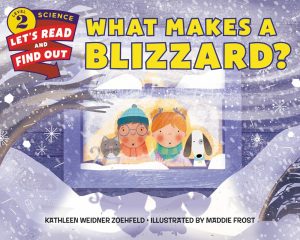 Mae Among the Stars by Roda Ahmed (ill. by Stasia Burrington). 9780062651730. 2018. Gr K-2.
This fictionalized, illustrated account tells of the childhood of Mae Jemison who would go on to become the first African American woman astronaut
A Place to Start a Family : Poems about Creatures That Build by David L. Harrison (ill. by Giles Laroche). 9781580897488. 2018. Gr 1-3.
Playful poems describe the amazing homes built by various birds and animals.
The United States v. Jackie Robinson by Sudipta Bardhan-Quallen (ill. by R. Gregory Christie). 9780062287847. 2018. Gr K-2.
Jackie Robinson's tackled issues of prejudice while serving in the military during World War II, and was court-martialed for refusing to move to the back of an integrated bus.
What Makes a Blizzard? (Let's-Read-and-Find-Out Science) by Kathleen Weidner Zoehfeld (ill. by Maddie Frost). 9780062484734. 2018. Gr K-3.
What causes blizzards and how are they differ from snowstorms? Focusing on the blizzard of 1888—also called the Schoolchildren's Blizzard because of the large number of child victims—this reader describes what makes a blizzard and the meteorological instruments used to measure them.
INTERMEDIATE NONFICTION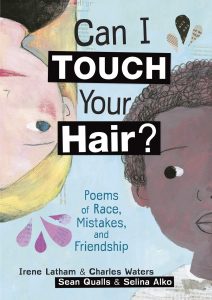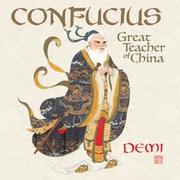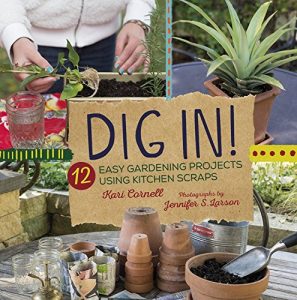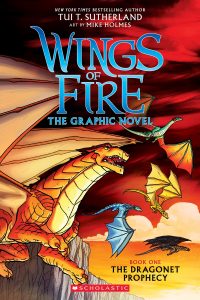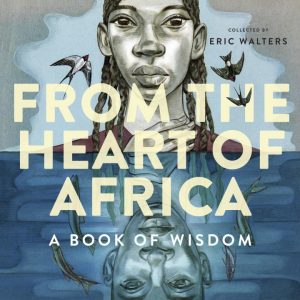 Can I Touch Your Hair? : Poems of Race, Mistakes, and Friendship by Irene Latham & Charles Waters. 9781512404425. 2018. Gr 4-6.
This collection of poetry for children highlights racial diversity and friendship and is told from the perspectives of a young white girl and a young African American boy.
Confucius : The Heart of China by Demi. 9781620141939. 2018. Gr 3-6.
A picture book biography of the Chinese teacher and philosopher whose sayings are still often quoted today.
Dig In! : 12 Easy Gardening Projects Using Kitchen Scraps by Kari Cornell (photos by Jennifer S. Larson). 9781512430653. 2018. Gr 3-5.
Color photographs and step-by-step directions help children make twelve simple gardening projects from kitchen scraps, such as growing sweet potatoes, lettuce, and a lemon tree from discarded seeds.
The Dragonet Prophecy (Wings of Fire Graphic Novel : 1) by Tui T. Sutherland (ill. by Mike Holmes). 9780545942157. 2018. Gr 4-6
To appease a sacrificial prophesy, a secret movement called the Talons of Peace appoint five dragonets against their will to end a generations-long war among the seven dragon tribes.
From the Heart of Africa : A Book of Wisdom by Eric Walters. 9781770497191. 2018. Gr 1-4.
This collection of African aphorisms is accompanied by illustrations created by artists from around the world. The book highlights where the sayings originated from and explains what they mean.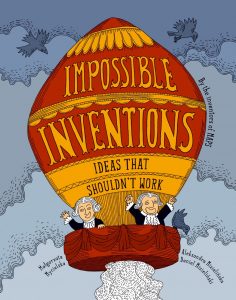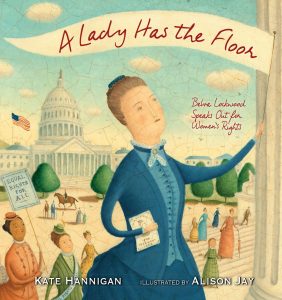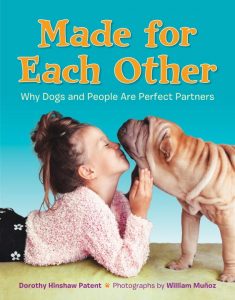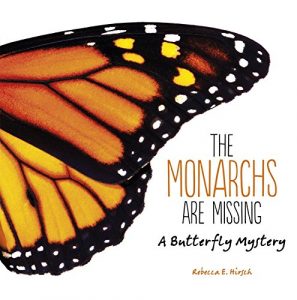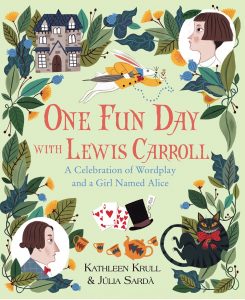 Impossible Inventions : Ideas That Shouldn't Work by Alexandra Mizelinski (ill by Daniel Mizelinski). 9781776571703. 2018. Gr 3-5.
Inventions from ancient times through today showcase humanity's ingenious and offbeat ideas, such as flying bicycles, passenger clouds, and water clocks.
A Lady Has the Floor : Belva Lockwood Speaks Out for Women's Rights by Kate Hannigan (ill. by Alison Jay). 9781629794532. 2018. Gr 3-6.
Belva Lockwood was a female lawyer in the United States who lived between 1830 and 1917. She was one of the earliest feminist activists and women's rights supporters.
Made for Each Other : Why Dogs and People Are Perfect Partners by Dorothy Hinshaw Patent. 9781101931042. 2018. Gr 2-5.
The author's exploration of the long history of man's relationship with canines is a must for young dog lovers.
The Monarchs Are Missing : A Butterfly Mystery by Rebecca E. Hirsch. 9781512452501. 2018. Gr 4-6.
Hirsch describes how scientists solved the mystery of where monarchs went during the winter. Now they have a new mystery:  why has the number of monarchs dropped alarmingly? Along with providing possible reasons, Hirsch also explains how children can be citizen scientists to help save the butterflies.
One Fun Day with Lewis Carroll : A Celebration of Wordplay and a Girl Named Alice by Kathleen Krull & Julia Sarda. 9780544348233. 2018. Gr 1-4.
After describing Carroll's childhood, Krull recounts the boat trip Carroll was on when he invented the story of Alice in Wonderland.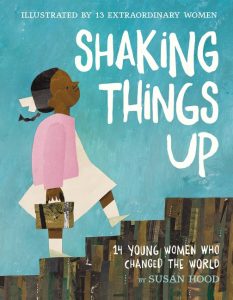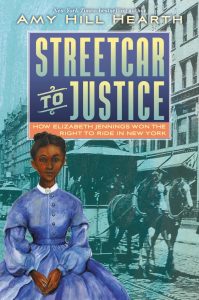 Shaking Things Up : 14 Young Women Who Changed the World by Susan Hood. 9780062699459. 2018. Gr 2-5.
Text and illustrations celebrate the lives of 14 young women who were trail-blazers and activists—in other words, rabble-rousers.
Streetcar to Justice : How Elizabeth Jennings Won the Right to Ride in New York by Amy Hill Hearth. 9780062673602. 2018. Gr 4-6.
Elizabeth Jennings refused to leave a segregated street car in New York City in 1854, initiating an unprecedented court case that would ultimately become the first step in the desegregation of New York City.
Trailblazer : The Story of Ballerina Raven Wilkinson by Leda Schubert (ill. by Theodore Taylor III). 9781499805925. 2018. Gr 2-5.
Raven became the first African American ballerina to tour with a major American ballet company in 1955. This biography tells of her ambition and of the prejudice she encountered during the era of segregation and the KKK.
MIDDLE SCHOOL NONFICTION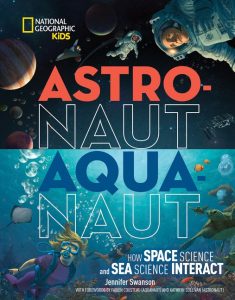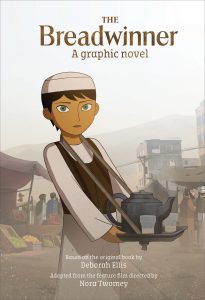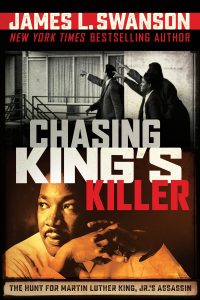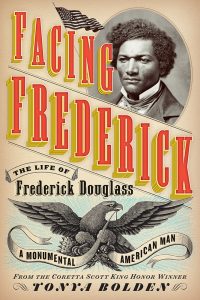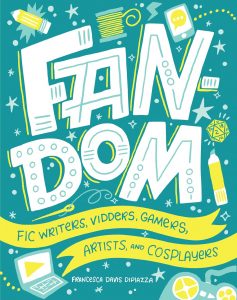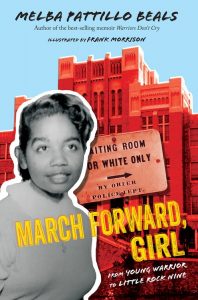 Astronaut-Aquanaut : How Space Science and Sea Science Interact by Jennifer Swanson. 9781426328671. 2018. Gr 4-7.
Explore the mysteries of the ocean and space in this book that highlights the commonalities shared in researching them. The book includes color photographs, text-related activities, and a glossary.
Breadwinner : A Graphic Novel by Deborah Ellis & Nora Twomey. 9781773061634. 2018. Gr 6-8.
Parvana, whose father was arrested by the Taliban, and whose family lives in one room of a bombed-out apartment building, must disguise herself as a boy to work and support her family.
Chasing King's Killer : The Hunt for Martin Luther King, Jr.'s Assassin by James l. Swanson. 9780545723336. 2018. Gr 6-9.
Read about the life and times of James Earl Ray, who assassinated Martin Luther King Jr. in 1968. Learn how the politics of the time influenced Ray, the crime itself, and the massive manhunt that ensued.
Facing Frederick : The Life of Frederick Douglass by Tonya Bolden. 9781419725463. 2018. Gr 6-9.
Examine the life and legacy of Frederick Douglass, the former slave who became an influential abolitionist, author, and speaker during the nineteenth century.
Fandom : Fic Writers, Vidders, Gamers, Artists, and Cosplayers by Francesca Davis Dipiazza. 9781512450491. 2018. Gr 5-9.
SLJ calls this "an appealing tome on all-things fandom" (1/2/2018). It contains up-to-date information for fans of gaming, cosplay, and fan vids, as well as discussions on how fandom portrays race, gender, and sexuality, and how to stay safe online.
March Forward, Girl : From Young Warrior to Little Rock Nine by Melba Pattillo Beals. 9781328882127. 2018. Gr 6-9.
Beals explains how she began noticing the injustice of racism while a child. The value that both of her parents placed on education made quite an impact on her, as did her grandmother, who understood not only how to live in a white world but how to rebel within it.
Martin Rising : Requiem for a King by Andrea Davis Pinkney (ill. by Brian Pinkney). 9780545702539. 2018. Gr 4-7.
This collection of poetry and paintings highlights the final months of Martin Luther King, Jr.'s life. It includes a brief informational section highlighting King's life and discusses the plight of sanitation workers whose march he was planning to attend when he was assassinated.
Meet Me at the Well : The Girls and Women of the Bible by Jane Yolen & Barbara Diamon Goldin (ill. by Vali Mintzi). 9781580893749. 2018. Gr 4-8.
Read about fourteen girls and women from the Hebrew Bible from a feminine perspective. The stories include details of the lives of female heroes such as Eve, Deborah, Esther, and Rebecca among others, and also offers information on other subjects such as marriage, motherhood, infertility, widowhood, and inheritance.
Outrageous Animal Adaptations : From Big-Eared Bats to Fill-Necked Lizards by Michael J. Rosen. 9781512429992. 2018. Gr 7-9.
Animals in harsh environments have developed curious and outlandish adaptations in order to survive. The fascinating facts in this book make it a good choice for both browsers and researchers.
Roses and Radicals : The Epic Story of How American Women Won the Right to Vote by Susan Zimet. 9780451477545. 2018. Gr 6-9.
This book examines the women's suffrage movement in the United States, highlighting the people who were ridiculed, arrested, tortured, and imprisoned. The fight took more seventy years before women were given the right to vote in 1920 with the Nineteenth Amendment.
Trash Vortex : How Plastic Pollution Is Choking the World's Oceans (Captured Science History) by Danielle Smith-Llera. 9780756557454. 2018. Gr 5-9.
Explore how plastic is slowly collecting in the world's oceans, leaving vast swaths of debris on the surface and plastic particles in the water that harm the ocean's wildlife.
Very, Very, Very Dreadful : The Influenza Pandemic of 1918 by Albert Marrin. 9781101931462. 2018. Gr 6-9.
Examine the flu pandemic of 1918 that killed millions of people worldwide. Read about the history of plagues as well as the science involved in the transmission and impact of the influenza pandemic of 1918.
HIGH SCHOOL NONFICTION
A Few Red Drops : The Chicago Race Riot of 1919 by Claire Hartfield. 9780544785137. 2018. Gr 7-12.
Explore the 1919 race riot in Chicago that was prompted by a single act of violence against a young black man. Driven by white European immigrants and black migrants from the South, the two races were pitted against each other for jobs and living space, which created a breeding ground for racial hatred.
Lighting Up the Brain : The Science of Optogenetics by Marc Zimmer. 9781512427523. 2018. Gr 7-12.
Zimmer describes the study of optogenetics, which is the science of using light to control cells in the brain's neurons and other living tissue. He discusses the risks of the this method, animal testing disputes, and the prospect of treating Parkinson's depression, and other disorders.
Mary's Monster : Love, Madness, and How Mary Shelley Created Frankenstein by Lita Judge. 9781626725003. 2018. Gr 10-12.
Using verse and haunting illustrations, this biography tells the story of the young woman who created the characters of Frankenstein and his monster.
The Middle Passage : White Ships, Black Cargo by Tom Feelings. 9780525552444. 2018. Gr 8-12.
Learn the story of the journey of enslaved Africans across the Atlantic Ocean through sixty-four narrative paintings.
The Queen : The Life and Times of Elizabeth II by Catherine Ryan. 9780785835738. 2018. Gr 11-Adult.
A biography of Queen Elizabeth II, who has ruled England for longer than any other monarch.
Tying the Knot : A World History of Marriage by Amber J. Keyser. 9781467792424. 2018. Gr 7-12.
This history of marriage covers traditions and customs from various cultures, discussing how "tying the know" has been affected by societal changes.
When They Call You a Terrorist : A Black Lives Matter Memoir by Patrisse Khan-Cullors & Asha Bandele. 9781250171085. 2018. Gr 10-Adult.
The African American author offers a memoir reflecting on her life's experiences and how they relate to her co-founding the Black Lives Matter movement.