Check out these exciting easy and fiction titles published in January. You'll find magic, talking animals, dystopian societies, science fiction, and fantasy. Happy reading!
ELEMENTARY PICTURE BOOKS
Bub by Elizabeth Rose Stanton. 9781481487573. 2018. Gr PK-2.
A quiet child feels invisible to his extroverted family.
Elmore by Holly Hobbie. 9781524718633. 2018. Gr PK-2.
A lonely porcupine searches for friends, but everyone is scared of his sharp quills.
Everybunny Count! by Ellie Sandall. 9781534400146. 2018. Gr PK-1.
A group of bunnies plays hide-and-seek with a fox. As they search for their friend, they spot numbers of things from one to nine, finally discovering a special surprise in the fox's den that numbers ten.
Floaty by John Himmelman. 9781250128058. 2018. Gr PK-2.
A grouchy old man reluctantly takes in a floating dog, but misses him when the dog floats away.
The Great Dictionary Caper by Judy Sierra (ill. by Eric Comstock). 9781481480048. 2018. Gr PK-2.
All the words in the dictionary escape and go to a convention, and it's up to Noah Webster to bring them back. It's all fun and games until the words start to disagree.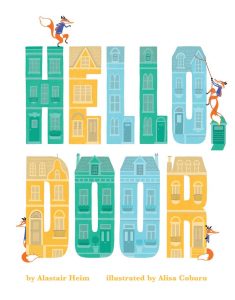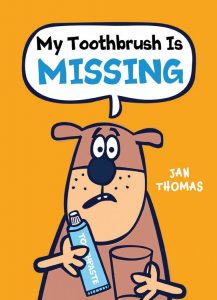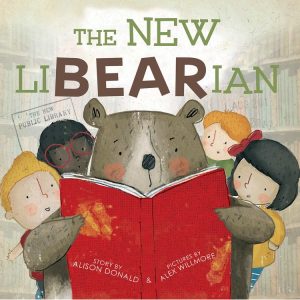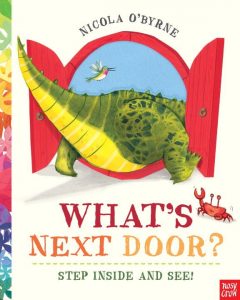 Hello, Door by Alastair Heim (ill. by Alisa Coburn). 9781499805369. 2018. Gr PK-2.
A foxy burglar sneaks through a house, greeting all the rooms and the potential loot they contain until he runs into the house's owners. They throw him out, but has the thief learned his lesson?
My Pillow Keeps Moving! by Laura Gehl (ill. by Christopher Weyant). 9780425288245. 2018. Gr PK-2.
As a man tries to be a pillow, a footstool, and a jacket, he doesn't realize that his purchases are actually a stray dog that is looking for a warm home.
My Toothbrush Is Missing (Giggle Gang) by Jan Thomas. 9780544966352. 2018. Gr PK-1.
Dog has lost his toothbrush and asks his friends for help. None of them know what a toothbrush is, so they use Dog's descriptions to come up with answers that are quite off the mark.
The New Libearian by Alison Donald (ill. by Alex Willmore). 9780544973657. 2018. Gr K-2.
The children are waiting for the librarian, but can't find her. Instead, they find a loose bear who doesn't show any interest in story time. When the librarian returns, she reveals she's dealing with fairytale characters that are out of their books—and Goldilocks' baby bear is missing.
What's Next Door? by Nicola O'Byrne. 9780763696344. 2018. Gr PK-1.
A crocodile is lost, and readers are asked to help him find his way home by clapping, trace lines, and shake the book.
ELEMENTARY CHAPTER BOOKS
Grilled Cheese and Dragons (Princess Pulverizer, Book 1) by Nancy Krulik. 9780515158328. 2018. Gr 1-3.
King Alexander of Empiria believes his daughter Serena (she prefers Princess Pulverizer) has a lot to learn before she can fulfill her dream of being a knight, so he sends her on a quest to perform good deeds. Along with Dribble the friendly dragon and a frightened knight-in-training, Princess Serena must learn what being a knight truly means.
The Last Gargoyle by Paul Durham. 9781524700201. 2018. Gr 4-6.
Penhallow, a gargoyle, is charged with protecting Boston as he wanders the streets in his wisp form. One night, he discovers the remains of two fellow gargoyles. Sensing an evil presence, Penhallow discovers that the Boneless King, ruler of the underworld, is roaming Boston. When he meets a young girl with a mysterious violin case, he learns that she is an ally against the Boneless King, but he isn't entirely sure she can be trusted.
Love Sugar Magic : A Dash of Trouble by Anna Meriano. 9780062498465. 2018. Gr 4-6.
At Leonora's family bakery, they are busy preparing sweets for the annual Dia de los Muertos festival. Leo wants to help but she's told she's too young. Then Leo discovers that her mother, aunt, and four older sisters are brujas and are putting magic into their baked goods. When her best friend has a problem, Leo tries to help with a little spell of her own.
My So-Called Superpowers (Book 1) by Heather Nuhfer. 9781250138606. 2018. Gr 4-6.
Veronica wants to fit in with the popular kids, but they ignore her until her emotions start coming to life and are visible to everyone.
Shadow Weaver by MarcyKate Connolly. 9781492649953. 2018. Gr 4-6.
Emmeline possesses the unique ability to manipulate shadows. When her magical powers are threatened by a noble family, she turns in desperation to Dar, her shadow friend, who offers to save her if Emmeline makes Dar flesh again. But this bargain only puts Emmeline's life in further jeopardy.
Two's a Crowd (Pug Pals, Book 1) by Flora Ahn. 9781338118452. 2018. Gr 2-5.
Sunny the pug has to learn to deal with his energetic new pug sister.
Winterhouse (Book 1) by Ben Guterson. 9781250123886. 2018. Gr 4-6.
Elizabeth is shipped to the Winterhouse Hotel when her guardians win a vacation. The hotel is in the middle of nowhere, it's Christmas, and she has very few belongings and no money. And who is that odd couple that keeps watching her? Puzzles, magic, and a mysterious book might help her find the answer to her past.
MIDDLE SCHOOL FICTION
Black Panther : The Young Prince by Ronald L. Smith. 9781484787649. 2018. Gr 4-8.
T'Challa is learning how to one day rule his nation, Wakanda. But trouble in his homeland leads his father, the reigning Black Panther, to send him to Chicago to assimilate into American life. Hiding his true identity becomes increasingly difficult when strange things start happening at his middle school. He might have to step into his destiny as future superhero in order to stop an ancient evil.
The Eternity Elixir (Potion Masters, Book 1) by Frank L. Cole. 9781629723587. 2018. Gr 5-7.
With a mom on the Board of Ruling Elixirists Worldwide, Gordy comes by his passion for potions naturally. When he receives the powerful and rare Eternity Elixir, he and his family and friends will have to give it all they've got to keep the elixir away from evil potion masters who are intent on using it to destroy the world.
Magic, Madness, and Mischief by Kelly McCullough. 9781250107831. 2018. Gr 5-8.
When Kalvan suddenly develops fire magic, he must save his mother. She also received the magic, but her brain couldn't take it leaving her susceptible to the evil spells of the Winter King. Along with his new fire rabbit sidekick, Kalvan must find a way to control his power or risk losing his mother forever.
Mez's Magic (Lost Rainforest, Book 1) by Eliot Schrefer. 9780062491077. 2018. Gr 4-7.
Mez and her sister are nightwalker panthers who fear daywalkers as creatures of myth and legend. When she discovers that she can enter the daylight world, she and an unlikely group of animal friends must unravel an ancient mystery, discover the extent of Mez's magical powers, and face their greatest fears in order to save their rainforest home.
HIGH SCHOOL FICTION
As You Wish by Chelsea Sedoti. 9781492642312. 2018. Gr 8-12.
In Madison, a small town in the Mojave Desert, everyone gets one wish that will come true on his or her eighteenth birthday. Eldon takes his very seriously as he sees the devastation the wishes sometimes cause.
A Conspiracy of Stars by Olivia A. Cole. 9780062644213. 2018. Gr 9-12.
Octavia is excited to study the plants and animals of Faloiv until she witnesses one of the planet's indigenous people being attacked, she begins to question her own family history and the scientists she has always admired.
The Cruel Prince (Folk of the Air, Book 1) by Holly Black. 9780316310277. 2018. Gr 9-12.
Jude, seventeen and mortal, gets tangled in palace intrigues while trying to win a place in the treacherous High Court of Faerie, where she and her sisters have lived for a decade.
Eternal Life by Dara Horn. 9780393608533. 2018. Gr 11-Adult.
As a result of a bargain with God for the life of her sick child, Rachel has given up her death. Now 2000 years old, she searches for a reason to go on living or a way to die. And what is she going to do about her middle-aged son that still lives in her basement?
Everless (Book 1) by Sara Holland. 9780062653659. 2018. Gr 9-12.
Once servants of the wealthy, aristocratic Gerling family, Jules and her father now struggle beyond the estate trying to buy time—something that can only be acquired with blood. In desperation, Jules returns to the estate as the family prepares for the youngest lord Roan's wedding to the Queen's daughter. What Jules finds there pulls her into the shocking reality of her past and could change the future of time forever.
The Hazel Wood by Melissa Albert. 9781250147905. 2018. Gr 9-12.
Alice's grandmother wrote a volume of fairy tales and then became a recluse in the Hazel Wood. Now Alice has spent her entire life with her mother on the run from constant bad luck. Then her grandmother dies, her mother is kidnapped, and the only recourse seems to find Hazel Wood, despite her mother's warning to stay away.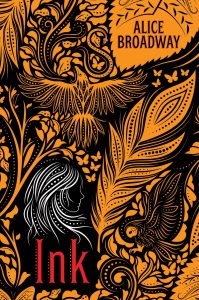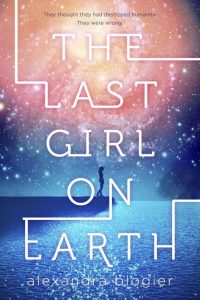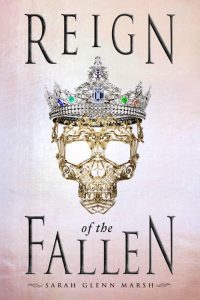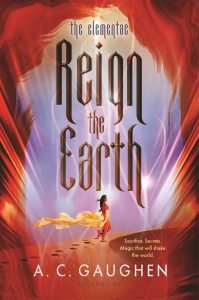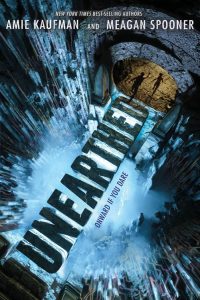 Ink by Alice Broadway. 9781338196993. 2018. Gr 9-12.
In a future world, a teen named Leora, who hopes to become a tattooist, must face dark secrets from her family's past in order to move forward into her own happy future.
The Last Girl on Earth by Alexandra Blogier. 9780399552274. 2018. Gr 9-12.
Human-like aliens invade Earth and wipe out nearly all humans. Li, once rescued by a small group of human sympathizers, is the last human on Earth, simply blending in with the aliens. She meets a young alien boy named Ryn and falls in love. However, the relationship could reveal her secret and spell the end of humans forever.
Reign of the Fallen by Sarah Glenn Marsh. 9780448494395. 2018. Gr 9-12.
Odessa, a master necromancer in Karthia, where nothing has changed in 200 years, uncovers a disturbing conspiracy and must fight alongside her fellow mages against terrifying, bloodthirsty Shades and their creator.
Reign the Earth (Elementae, Book 1) by A.C. Gaughen. 9781681191119. 2018. Gr 9-12.
Shalia, a desert princess, agrees to marry Calix, the king, who has just waged a five-year-war against her people, in order to make peace. But the day after the wedding, she finds out that she is an Elementae and can control the earth. Her new country brands the Elementae as traitors, so she hides her talents—until she discovers Calix's true reason for marrying her. Now she must decide if she will keep her secret or join the rebellion against her husband.
Unearthed (Book 1) by Amie Kaufman & Meagan Spooner. 9781484758052. 2018. Gr 9-12.
Scholar Jules Addison and scavenger Amelia Radcliffe join forces to unravel secrets of a long-extinct civilization, only to discover something that could spell the end of the human race.