It was his brother's whining that motivated young Adam Rex to become an artist. Rex could really draw and paint. He knew it; his brother knew it.
"I was five when I overheard my eight-year-old brother complaining to our mom how unfair it was that I was already better at it. I didn't know that was true until he said so. And so I sort of decided then and there that I was going to be an artist when I grew up—if only because it seemed to upset my brother."
Though Rex's parents had never met another artist, they did what they could to support and encourage his artistic endeavors. They bought art supplies and paid for drawing and painting classes after school. "They never let me know how worried they were about my future. In retrospect, I realize that they tried to nudge me toward being an architect at one point; but they backed off when it became clear all I really wanted to do was draw D & D stuff all day."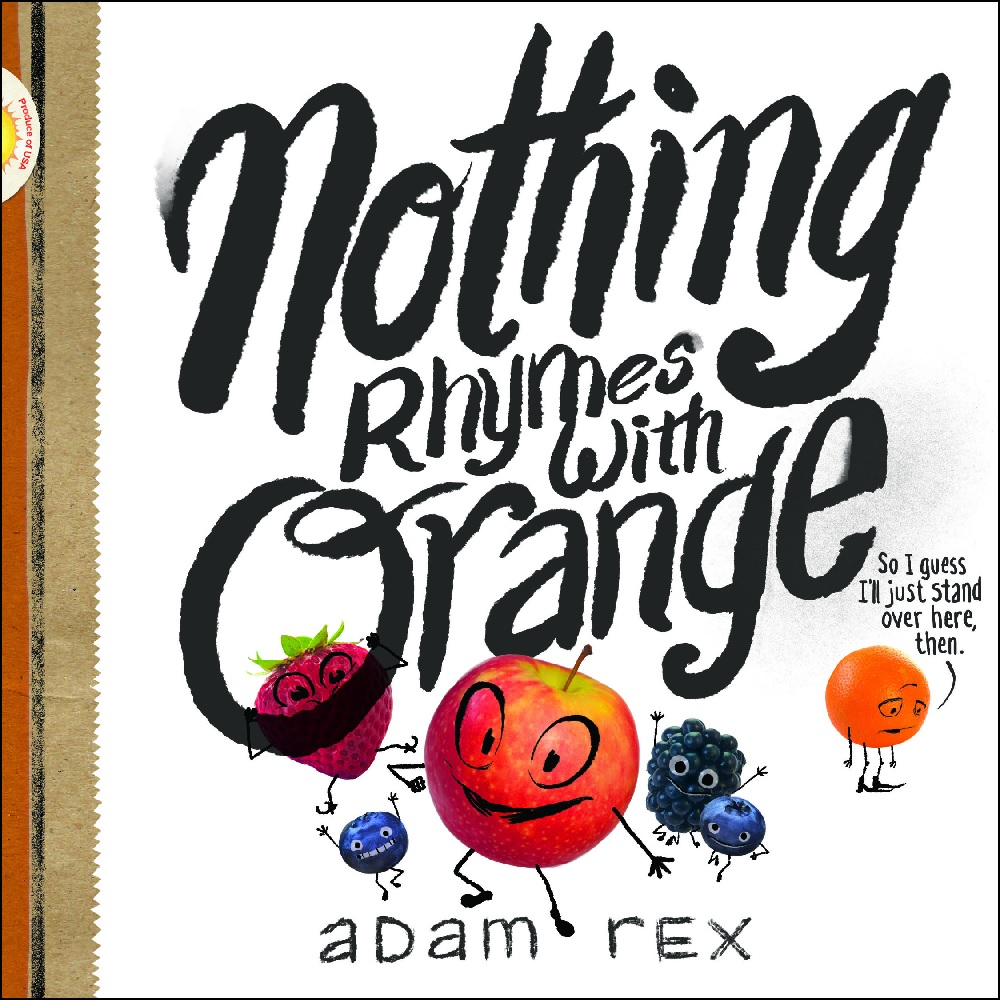 In high school, Rex discovered the magical world of picture books through his part-time job at Waldenbooks. He knew that this was his niche, so he began pursuing his BFA in illustration at the University of Arizona. But children's literature was his only passion.
"I don't remember a time when I wasn't drawing, but that's not so unusual in and of itself—all kids draw. We all start out as illustrators, telling stories with pictures."
"I was interested in comics as well, so as an undergrad I started taking a portfolio every year to Comic-Con in San Diego, looking for work. I showed it to anyone who would look at it. So, in this way, I got sidetracked into illustration jobs for D & D and other games for a lot of years. But it was nice getting paid to draw and paint while working on a separate children's portfolio in my spare time, because it turns out you can't show illustration samples of blood-spattered orcs if you want to break into picture books. There's less overlap than you'd expect. At one point, I was actually paid to paint a picture of a zombie vomiting up a smaller zombie."
Though he had moved up the ranks at Waldenbooks, with enough freelance work to support his modest lifestyle, Rex left his job and focused on his illustration work full time. For the most part, he never looked back; well, sort of. "That's not exactly true. A few years later, the work dried up a little. I taught about five semesters worth of community college classes."
For several years, Rex continued to show his portfolio to publishers and meet editors while doing freelance work. He would send samples to contacts in Children's Writer's and Illustrator's Market (Writer's Digest Books). Any positive feedback would trigger a follow-up by Rex asking the editor if s/he would like to see the picture book dummy he'd just finished. Finally, he got his big break.
"An editor at FSG had been particularly encouraging, so when my future wife was planning a trip to look at grad schools in New York, I told him I'd be in town and asked if I could drop in. I think the threat of having me in his office convinced him to find something for me to work on, so he handed over the manuscript for The Dirty Cowboy (Farrar, Straus and Giroux, 2003) and asked if I'd like to audition for it."
Rex nailed his audition and made his debut as a picture book illustrator with The Dirty Cowboy. Reactions to the book were mixed, and it soon found its way to lists of banned books. "When your book gets banned, a certain kind of person pats you on the back and tells you what good company you're in—the Bible, To Kill a Mockingbird (J.B. Lippincott & Co., 1960), Adventures of Huckleberry Finn (Charles L. Webster and Company, 1885), and so on. It's like when people tell you it's good luck to be pooped on by a bird. You just got POOPED on—what else are they going to say?"
"It hurts me when my books are challenged. I love kids and I've decided it will be my life's work to make good books for them. A book banning instead tells me that certain people think some of my work is dangerous and detrimental, and I'm neither strong nor self-assured enough to brush that off."
Since his first book, Rex has illustrated titles by picture book greats like Mac Barnett, Katy Kelly, and Neil Gaiman. He has also successfully ventured into writing picture books and novels such as Frankenstein Makes a Sandwich (Harcourt, 2006), Fat Vampire: A Never Coming of Age Story (Balzer + Bray, 2010), and Nothing Rhymes with Orange (Chronicle Books, 2017). Interestingly, Rex has chosen, at times, to let other artists illustrate his books.
"It's exciting to work with illustrators I admire, and from a practical standpoint, I seem to write more than I can illustrate myself. When I wrote School's First Day of School (Roaring Brook Press, 2016), a first-day story told from the perspective of the school itself, I didn't feel like it played to my own visual strengths. Every time I imagined how I might render it, I saw myself trying to rip off Christian Robinson's style. So, instead, we went about seeing if we could get Christian to agree to do it. Since then, I've just been asking myself, 'Does this manuscript need me to illustrate it?' If not, I'd rather collaborate with one of my illustrator heroes and leave myself available for opportunities like my recent collaboration, The Legend of Rock Paper Scissors (Balzer + Bray, 2017), with Drew Daywalt."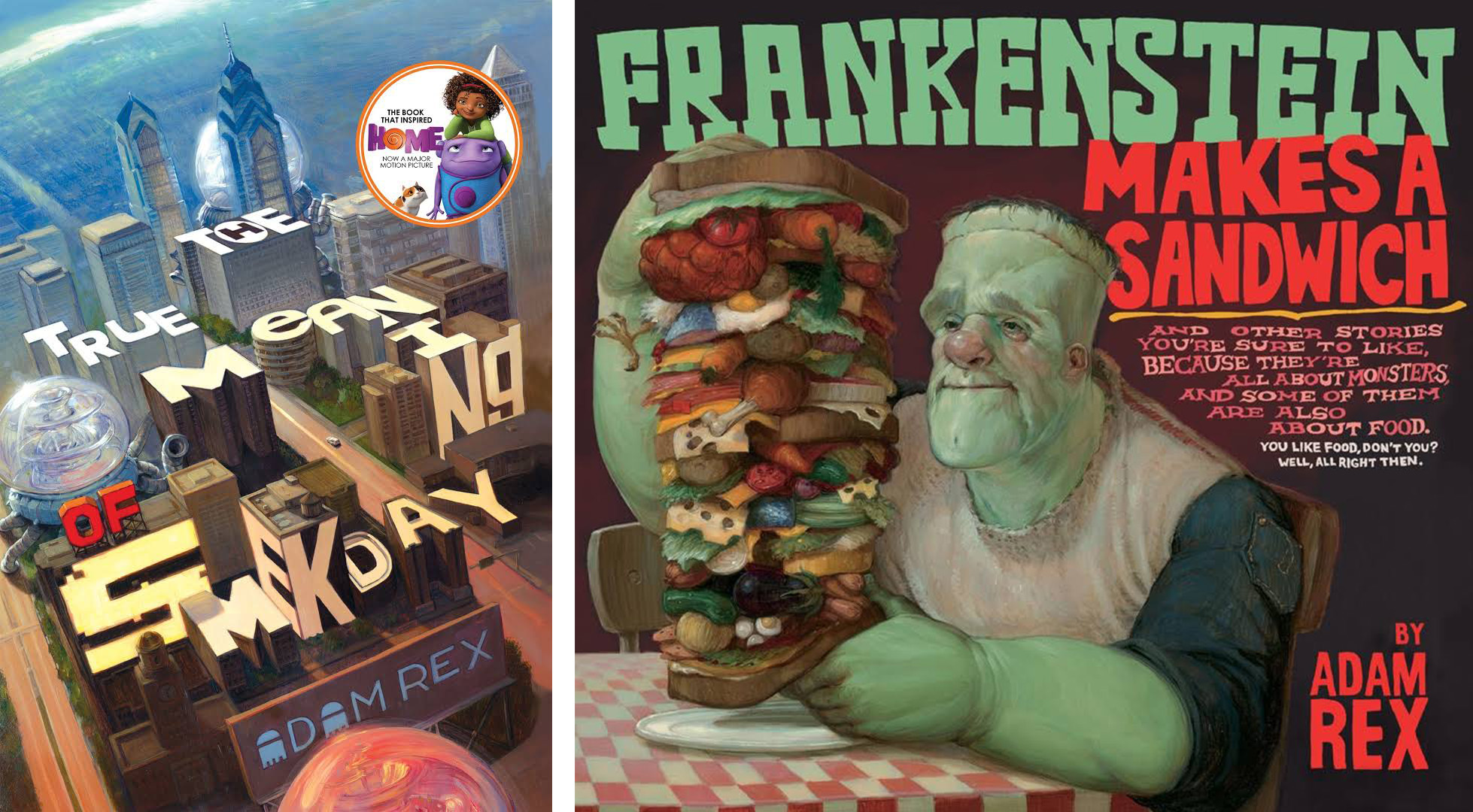 Rex's books have been very well-received. Frankenstein Makes a Sandwich was named a New York Times bestseller, and his first novel, The True Meaning of Smekday (Disney Hyperion, 2007), was adapted into the 2015 DreamWorks animated film, Home. "DreamWorks flew me out a lot to see what they were up to, and it was such a lengthy process that I came, eventually, to see the movie as a separate organism that needed its own room to breathe."
Rex, himself, hasn't taken much time to breathe. He has been busy working on book projects, responding to fan mail, and following Twitter. Next up on the publishing schedule is Are You Scared, Darth Vader? (Disney-LucasFilm Press) debuting July 2018 where readers will learn the types of things Darth Vader fears.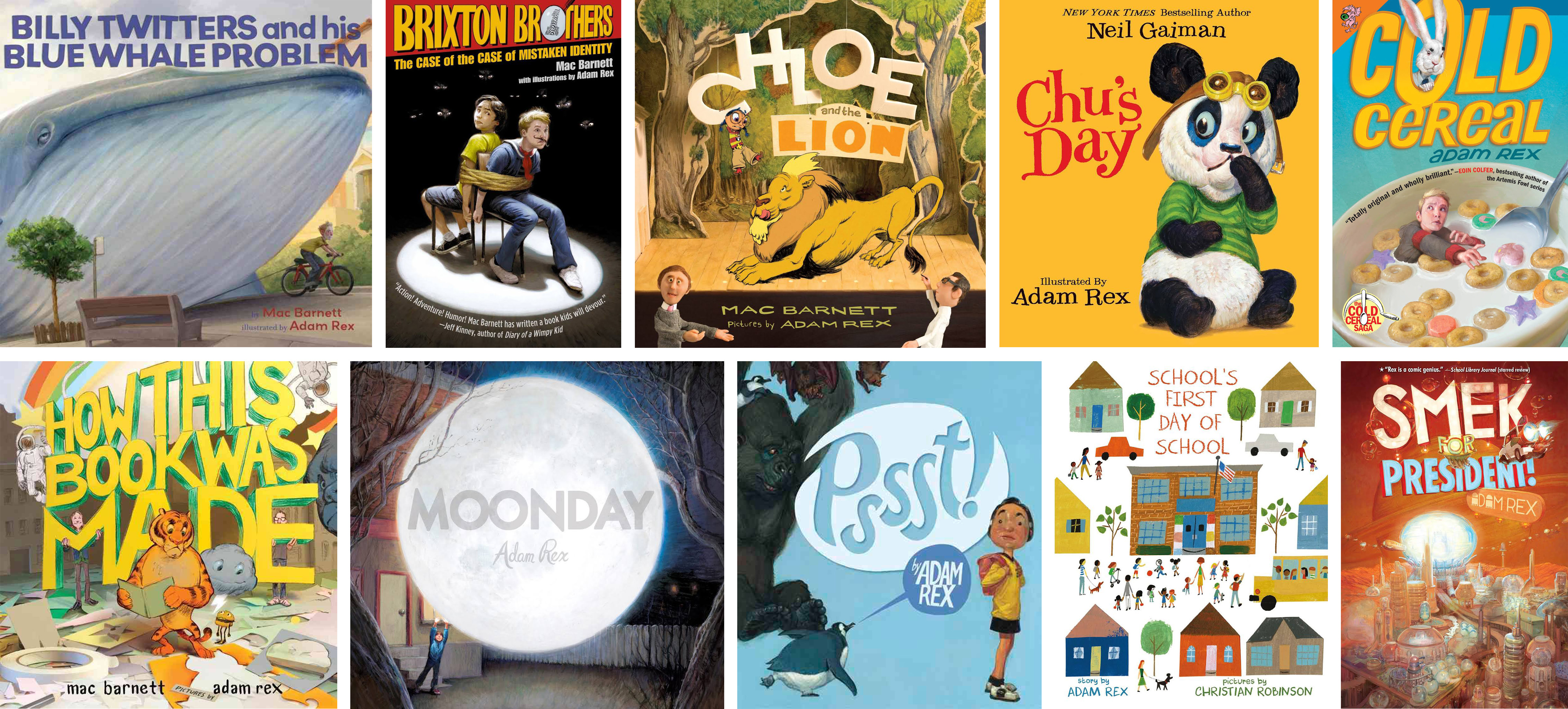 ---
"Young artists and authors need to give themselves permission to make terrible stuff. Really awful first drafts and sketches. Art comes less from sudden inspiration than it does from revision."
Rex is also busy answering fan mail. "If a kid emails me, they'll get an email back. If they write me a physical letter, they'll at least get a postcard. And I'm on Twitter (@mradamrex) a lot more than I ought to be."