We at Mackin love nonfiction—grown-up books, of course, but especially those written for children and young people. It seems that authors who write for younger readers find such little-known and often, well, ODD things about their subjects—things that are sure to nab one's attention and keep the reader involved.
(I have found a financial benefit to reading about these various eccentric facts. My favorite coffee shop has a new trivia question every day and offers a dime off on your coffee if you know the correct answer. I have no idea how much money I have saved because I read kids' nonfiction, even the picture books!)
Karen Blumenthal, whose 2016 biography of Hillary Rodham Clinton received much acclaim, tells about her own research process.
___________________________________________________________________________
One of the best parts of my job as a nonfiction writer is the research.
I love jumping into a new subject, finding surprising facts and details and discovering the rich ironies that seem to go with most humans.  (What? Hillary Clinton was a diehard Republican—who carries Tabasco in her purse?)
Each of my books has come with its own specific challenges. Sometimes, there is an overwhelming amount of stuff, forcing difficult choices. Memories fade and stories change over time, distorting facts. Sometimes there are such opposing perspectives and opinions that it's daunting to sort out what's true.
But with each project, there's one universal challenge: How much research is too much?
This is a constant battle for a nerd like me, who wants to read everything and risks wandering into the weeds of irrelevance with every visit to a library. Yet, I know from years as a journalist and author that failing to second guess assumptions and find additional sources for facts can easily lead to painful mistakes.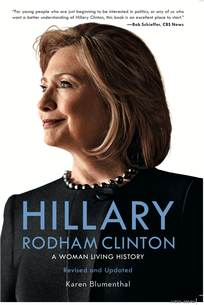 One surprise in working on my most recent biography, Hillary Rodham Clinton: A Woman Living History, was discovering how the Internet has complicated the research process—for good and bad.  For example, I had used a Washington Post story for Hillary's famous "I suppose I could have stayed home and baked cookies" quote. The copy editor found a slightly different version. A few years ago, it might have been hard to sort this out. After all, the differences were a couple of "ands." But Hillary's comment from a Chicago coffee shop turned out to be on YouTube. The Washington Post quote, used in at least a couple of stories, was wrong. And I learned that I would need to check for video much more often.
At the same time, the Internet has become a fertile breeding ground for misinformation, as we have seen in recent news accounts. At one point, I ran across an eye-opening anecdote: Rush Limbaugh, a well-known author wrote, had once made a reference to the White House dog on a TV program and then held up a photo of twelve-year-old Chelsea Clinton.
Ouch! What teen reader couldn't relate to that?  It seemed like a colorful way to illustrate how the partisan divide in Washington was playing out. A Google search showed the story had been told many times, mostly in the same way.  At the time, I couldn't find a clip on YouTube. (You can today.) Eventually, though, I found an audio recording—and the allusion, while tacky, wasn't nearly as offensive as it seemed. Limbaugh made a reference to seeing "the cute kid" in the White House, and a photo of a dog was shown. He mocked outrage—"No, no, no, that's not the kid!" he shouted—and then a photo of Chelsea came up.  A political columnist had misrepresented the story and her version had become the one retold.
I left the anecdote out.
My usual research process is to first tackle the books, magazine stories, and major feature stories on a subject, so that I'm versed on the big picture, and then move toward primary sources. (As an aside—I warned you about weeds!—I am often shocked to see how many errors there are in adult books, from obvious ones, like dates and ages, to incomplete or just inaccurate stories.)
My editor had asked me to make Hillary human, and it was clear that her two biographies, Living History and Hard Choices, were only going to go so far. So I headed to Arkansas. The Clinton Foundation restricts access to Bill Clinton's governor papers, but I sent a letter and a resume and got permission to see them in Little Rock, giving me a window into her busy life as a lawyer, mom, and Arkansas's First Lady.  By contrast, the archives at the Clinton Presidential Library seemed cold and disconnected. Her schedules and briefings were available, but virtually all the personal material was redacted.
The best insights came from the papers of Hillary's dear friend Diane Blair, donated to the archives at the University of Arkansas in Fayetteville. There I saw cards and handwritten notes passed between them, along with news clippings, cartoons, personal photos, and book and movie recommendations. Scattered through the files were about twenty pages of typo-riddled, single-spaced notes that Blair made when Hillary was First Lady. It was within Blair's papers that I first felt like I could hear Hillary genuinely laugh and chat.Titles by Karen Blumenthal:
By the time I was ready to write, I had a stack of Hillary-related books as tall as I was and hundreds of articles stuffed into files.  Was it too much? Maybe. But "just enough" is never enough. You have to leave a lot of material on the cutting room floor to write a thorough and engaging story or even a good research paper.
My own rule of thumb? When I'm seeing the same thing over and over and when I can identify the source without looking at the footnotes, then it's time to wrestle with the blinking cursor.
___________________________________________________________________________
Titles by Karen Blumenthal:
Bootleg : Murder, Moonshine, and the Lawless Years of Prohibition. 9781250034274. 2011. Gr 7-10.
Hillary Rodham Clinton : A Woman Living History. 9781250060143. 2016. Gr 9-12.
Let Me Play : The Story of Title IX : The Law That Changed the Future of Girls in America. 9780689859571. 2005. Gr 6-9.
Six Days in October : The Stock Market Crash of 1929. 9780689842764. 2002. Gr 7-12.
Steve Jobs : The Man Who Thought Different. 9781250015570. 2012. Gr 7-12.
Tommy : The Gun That Changed America. 9781626720848. 2015. Gr 7-10.
___________________________________________________________________________
From the Publisher: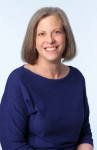 Karen Blumenthal is the author of several award-winning biographies and social histories, including Hillary Rodham Clinton: A Woman Living History, which was a finalist for the YALSA Excellence in Young Adult Nonfiction Award.  Two other books were YALSA finalists: Steve Jobs: The Man Who Thought Different and Bootleg: Murder, Moonshine, and the Lawless Years of Prohibition. She has also received a Sibert Honor for Six Days in October: The Stock Market Crash of 1929 and a Jane Addams Children's Book Award for Let Me Play: The Story of Title IX. Her next book, Bonnie and Clyde: The Making of a Legend will be out in August 2018. An avid sports fan, she lives in Dallas with her husband Scott and their dog Franklin.