by Amanda Smithfield, Librarian at Hume-Fogg (@asmithfield @hfalibrary)
My library is in a new location this school year. Even though most of the library is open, the main entry is still not finished. And while the new library is beautiful and has many amenities the old library did not, it's a bit out of the way. So it may not surprise you to know that checkout and visits by individuals to the library are down, although class visits for working on projects are up.
What to do? Well, as David Lankes tells us in The Atlas of New Librarianship, every librarian has the same mission – to improve society by facilitating knowledge creation in our communities. How could I improve society when kids weren't coming by the library as much? That's when I created my speaker series.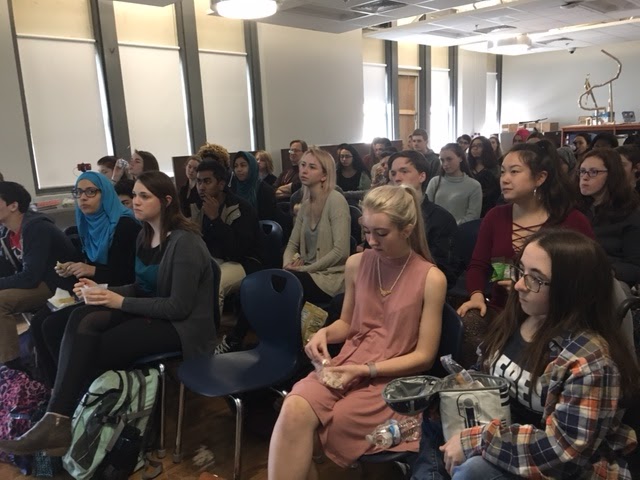 My new library is blessed with a very large classroom with flexible furniture. Hume-Fogg has one lunch for all grade levels. So I decided to invite a lunch speaker about once a week, although sometimes it ends up being more frequent depending on when people can schedule to come.
Usually, about 20 or so kids show up for these lunch-and-learns. And finding speakers has been really easy! We've had a lot of great ones: former TN Governor Bredesen, Justice Richard Dinkins, Lawyer Abby Rubenfeld, Southern Environmental Law Center Managing Attorney Anne Davis, local rapper and Hume-Fogg alum Starlito, Grammy Award-winner and Hume-Fogg alum Street Symphony, among others.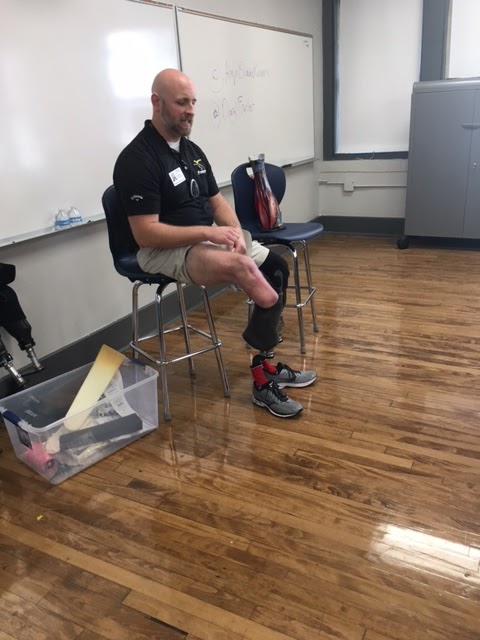 Here are some hints:
1. FINDING SPEAKERS:
Just reading the local newspapers should provide plenty of inspiration for you. Also, talk to your kids. My kids have always been really passionate about the environment, and AP Environmental Science is a popular course here. Kids were talking to me about possible cuts to the EPA, so I knew having an environmental lawyer as a speaker could have a big impact.
2. EMPOWER KIDS TO REACH OUT TO SPEAKERS:
I've had a couple of kids who have talked to me about arranging speakers. I give them a few suggestions, but then I allow the kids to take it from there. I love that I have kids who feel so passionate about issues that they do this!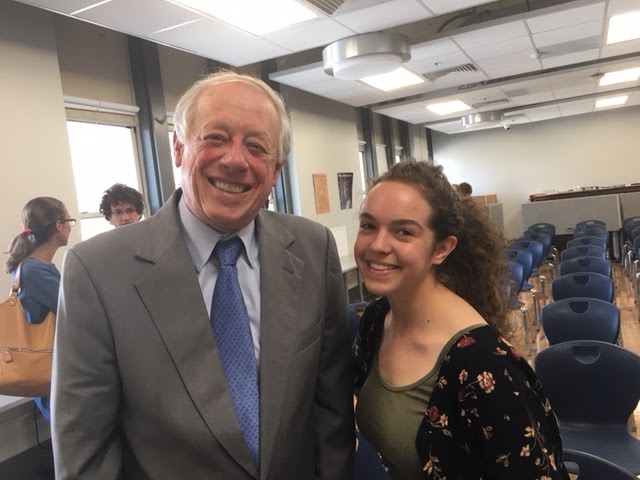 3. HAVE KIDS AS FACILITATORS:
I'm usually in the front with the speaker, but I usually ask a kid who has an interest in the topic to be a facilitator. They write questions and they are in charge of "handling" the speaker – picking them up in the office, sitting at the front with me for the interview, and handling audience questions. They get to have a personal conversation with the speaker, and those conversations can have a tremendous impact on a kid.
4. HAVE SNACKS:
I fully admit that I may be going broke providing snacks for kids but some kids will skip lunch to hear an entire presentation, so it's worth it to me. I don't think you have to have snacks to have interest, but it helps.

5. DISPLAY BOOKS RELATING TO THE SPEAKER:
This is a great time to mention that you actually have books related to the topic being discussed. Put them on display – they often get checked out!
6. WRITE A THANK YOU NOTE:
Have your student facilitator write a thank you note to the speaker. It's a great way to teach kids about the power of thank you notes as well as reminding them how to address envelopes! Sad to say that some of my students do not know this.
So what's been the impact of our speaker series? Kids have heard from experts in their fields. They've made connections to people who have and are making a difference. And now my kids have new knowledge! And who knows what good will come out of that in a few months, years, or decades?
Read more blogs here!