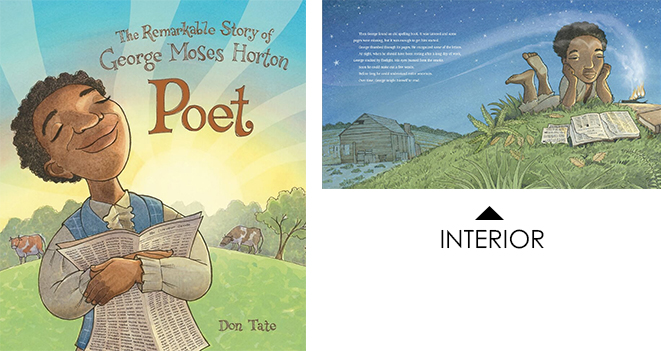 From a young age, Don Tate loved drawing. But reading? No. That was of no interest to him—unless the books and magazines had to do with art or drawing.
"As a child, I could read well. I just wasn't interested in reading. Reading, writing, words were not me. In fact, speaking was not me either, as that involved the use of words which always seemed to fail me. I was an artist, and I preferred drawing and making things over reading. I liked reading our Better Homes and Gardens Family Medical Guide and our Funk & Wagnalls Young Students Encyclopedia. These books were filled with real stuff. I've always preferred nonfiction, I guess."
Tate's aunt, Eleanora E. Tate, was a journalist and writer of middle grade novels. So through her work, he saw book illustrating as a possible career option. But he never considered himself an author nor did he develop an interest in the written word.
"Art was my way of expressing myself."
When it came time to pursue a college education, Tate attended a two-year community college. Illustration classes were limited, so he learned by trial and error. "I'm a self-trained illustrator. When I wanted to learn how to paint in oils, I bought a book about oil painting. Same with acrylic and watercolors."
After college, Tate was hired as a book designer for an education publishing company in his hometown of Des Moines, Iowa. His illustration skills were quickly discovered, and he became the company's illustrator as well, illustrating books and posters, advertising pieces, and teaching guides. It was a good start for a young artist facing racial challenges.
"I had been told over and again by members of my family, a college illustration instructor, and some early employers that commercial art was not a field for black people in Des Moines, where I grew up and graduated college. In fact, a boss at a print shop where I worked shortly out of college told me that I was welcome to work for his company as long as I wanted because, as a black person, no one else in town would hire me. My second employer, an advertising executive, said the same thing."
Many would find those statements offensive and discouraging, but not Tate. "Honestly, I don't think they meant any harm; they were being realistic. The field of commercial art, at that time in Des Moines, was not a welcome place for a black person."

Tate didn't let the naysayers hold him back. He was confident in his work and tenacious in his efforts to create. For example, he convinced an art director at a publishing company to hire him full time even though there was great skepticism. "He gave me a chance at a very low salary, and I set out to prove to the company that I was just as capable as everyone else—if not better. Within a year my salary was raised three times to get my pay in line with everyone else. And when I left seven years later, they were the ones begging me to stay."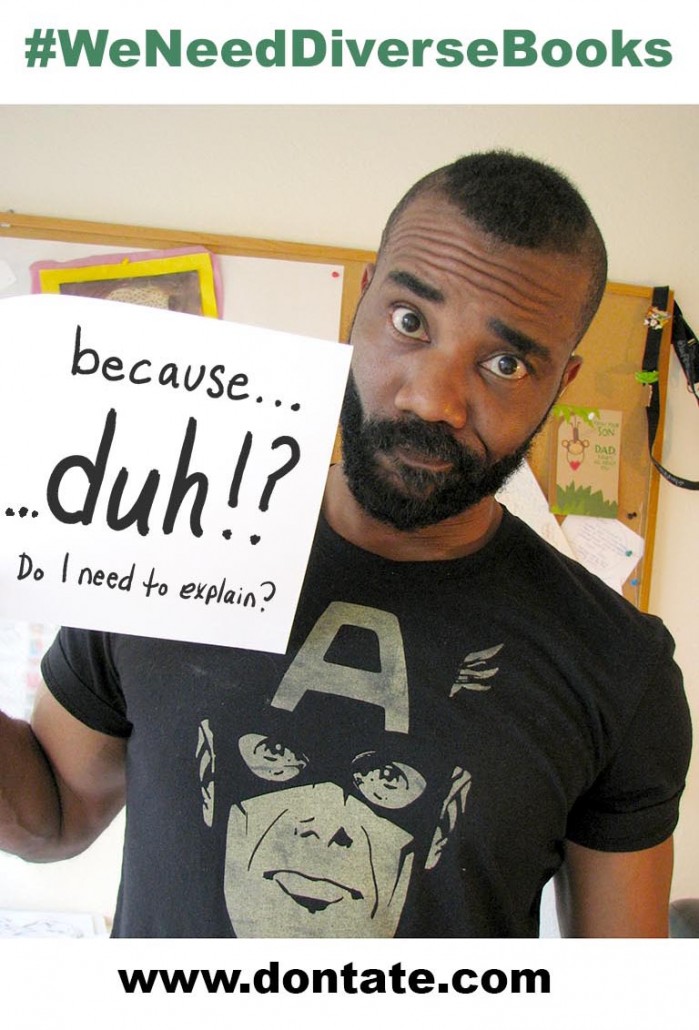 So when did the award-winning artist finally break into children's book illustration? It was when he worked as a graphics reporter for the newspaper industry creating infographics for stories. "I felt like a fish out of water. My art was best suited for picture books, and I knew that all along. So while I worked for newspapers, I moonlighted for the children's publishing business. When newspapers nearly died out, I was let go. And I've been writing and illustrating full time ever since."
Today, Tate has illustrated more than 50 children's books and has authored two titles, including the multi-award winning Poet: The Remarkable Story of George Moses Horton (Peachtree Publishers, 2015) that he also illustrated. Most of the books Tate works on tell the stories of black people who made significant contributions to society but haven't received the recognition that was due them.
"Black people have always been the focus of my art because that's who I am and that's what I know best. I know about white people too—I mean, geez, I'm from Iowa. But my art has always been a reflection of my black experience. When I entered publishing, I took that world along with me."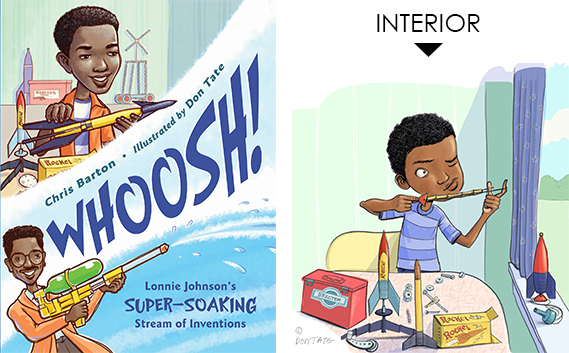 Beyond his art, Tate has chosen to write about great black people, too. "I'm inspired by stories of little-known people who accomplished great things in the face of adversity. Early on, as a writer, I wrote about historical figures suggested by friends. It Jes' Happened: When Bill Traylor Started to Draw (Lee & Low Books, 2012) and Poet: The Remarkable Story of George Moses Horton were suggested to me by writing friends Diana Aston and Chris Barton, respectively. Hopefully these figures will inspire children to dream big in spite of obstacles that may seem to stand in their way."
BECOMING A READER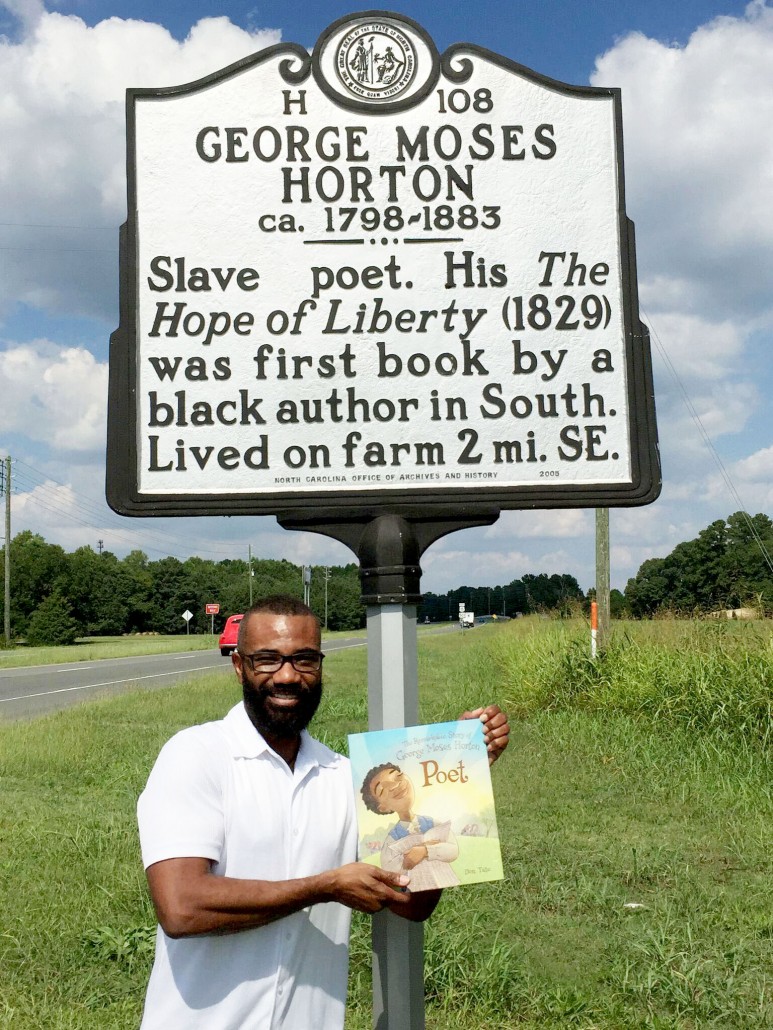 "In high school, Edgar Allen Poe, John Steinbeck, and Henry David Thoreau were assigned reading. That along with a lot of Greek and Roman myths. I'm sure they were wonderful books, but I refused to read them. It wasn't until I was out of school, after college, when I discovered a book called Black Boy by Richard Wright, and I became a forever reader. Honestly, I don't even remember what the story was about, that was 30 years ago. I do remember the main character was black and male, something I wasn't used to seeing in books. I went on to read many of Richard Wright's other books, and books by Gordon Parks, Claude Brown, Alex Haley, Malcolm X, others—all books featuring black male characters. After a lifetime with no interest in books, I'd finally found myself."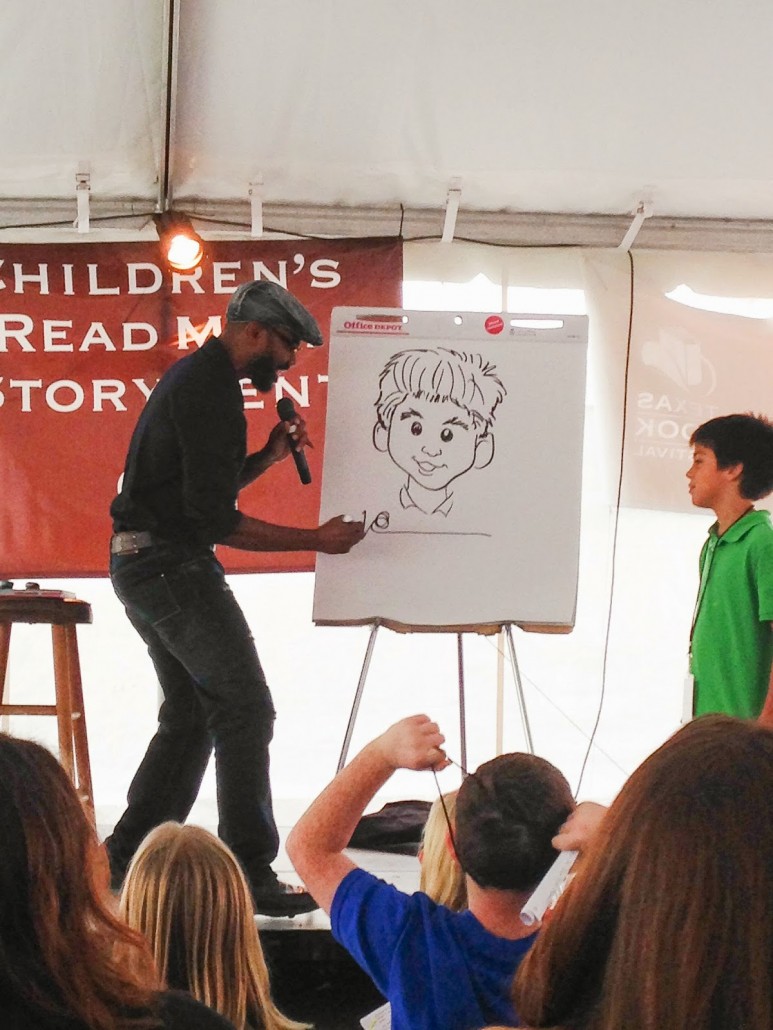 Tate has also branched out beyond picture books to write short stories for middle-grade readers, including pieces submitted to Been There, Done That: School Dazed (Grosset & Dunlap, 2016). "ʽDance Like you Draw' is my short story contribution to the anthology. It's a humorous story about a boy whose mother forces him to participate in a 'charm school' cotillion. The piece was inspired by my nonfiction story, a personal memoir, 'Wiz Kid,' also in the anthology. Picture books are my first love, so I'll never move away from them. But I do plan to write longer pieces, maybe branching off into middle grade novels, or perhaps YA—but who knows?"
Though Tate's schedule is filled with tour activities, school visits, and speeches, he continues to focus his time on creating books to inspire young people. "I have several books in the works. My next book, which I authored and illustrated, is called Strong As Sandow: How Eugen Sandow Became the Strongest Man on Earth (Charlesbridge, August 2017). It's a picture book biography of Victorian strongman Eugen Sandow, who popularized physical fitness (and six-pack abs), and inspired men, women, and children across the globe to pay more attention to their health. I also have a book coming out soon about William Still, a free black man who helped hundreds of enslaved people escape through the Underground Railroad system."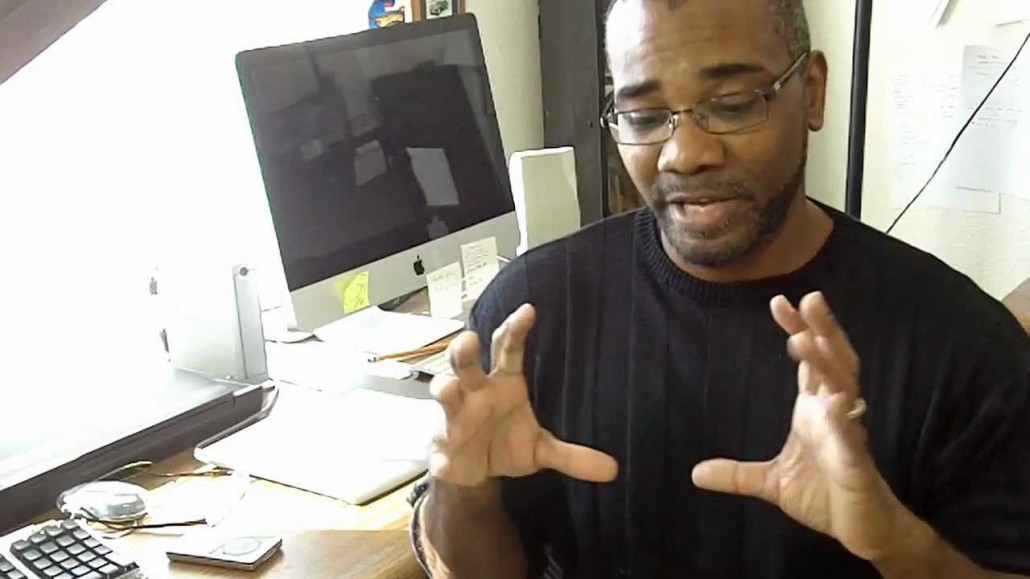 "I've visited hundreds of schools. Kids are the reason I get to have this amazing career, so I always welcome the opportunity to meet my readers. In my presentations, I cover my journey from young artist and reluctant reader to published author and illustrator, and I keep it interactive—it's not about me, it's about the kids, they want to get involved. There are many young doodlers and poets who may not realize they can turn their talents into a great career. I strive to give kids a memory they can carry with them for a lifetime."
After 30 years in art and publishing, Tate knows breaking into the children's book market can be tough. Though he felt frustrated at the challenges he faced, he never stopped trying. "I'm one of the lucky ones; I'm blessed. That said, finding success came slowly. Success does not happen overnight. For me, it took 30 years before anyone even realized I was here! Early on, the publishing industry lured me with the promise of publishing my work by filling a niche—white editors were looking for talented black illustrators to create art for books writing about the black experience. So that was the path I followed. It was a good one for me."