Hervé Tullet is the author of many innovative picture books.  You probably know him for the best-selling book Press Here, an interactive concept book that is about the power of imagination, or perhaps the board book series aimed at toddlers and preschoolers that uses die-cuts to stimulate visual awareness in young children, including Game of Shapes or others listed in the bibliography at the end of the post.
—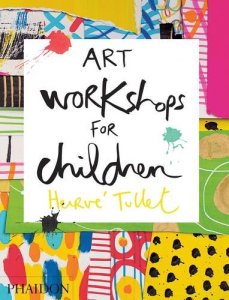 But did you know that Tullet runs creative workshops with children around the world? His workshops are designed to help kids unleash their imaginations in much the same way as his picture books do.
He shares his philosophy about art, creativity, and kids in a new book aimed at educators and parents.  In the introduction to the book he writes, "Children are masters of creation–they are very intuitive and it is this instinct and their unedited ability to create art that inspires me." In Art Workshops for Children, Tullet provides educators with the guidance they need to re-create his workshops in their classrooms.
We are delighted to have an opportunity to share more of his philosophy of art and creativity with you today!
The workshop environment is very important. It is a safe space that allows for creativity. First, you must understand that creating is not only for the end result; it is process and experience. You can't simply stand in front of a work of art and expect to understand it. It is the physical creative process.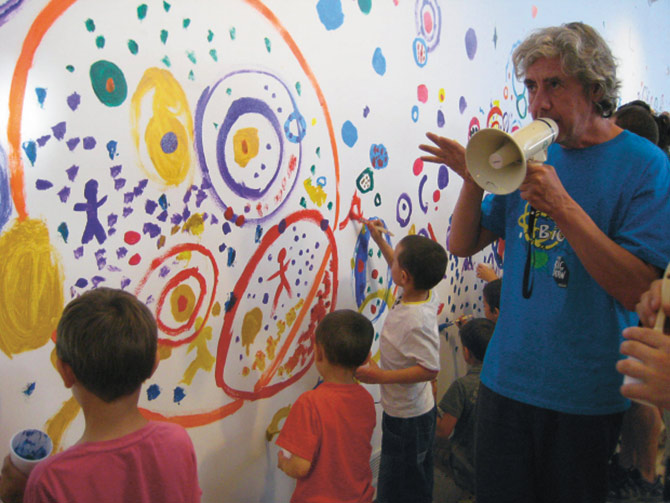 Art and artists are all around us. Words can be very restricting, though. You must free yourself of definitions of art and open yourself up to endless creativity. My goal is not to make sure children become artists, though. Rather, I am giving them the opportunity to create something by themselves. My aim is to provide simple and accessible instructions and options, to encourage them to use materials that are all around. With these materials anyone can create. You are not blocked by the pressure to be perfect. It is not about being good at drawing—instead, it is about being driven by energy of a group and living in the moment. If you have the ability to draw a dot, a scribble, a line, a stick figure, even with your eyes closed, you have everything you need to create and participate in a workshop. Maybe you won't end up an artist; maybe you will be a carpenter, instead! You will still have the freedom and inspiration to create shelves in a unique and interesting way. We must follow our feelings, not only techniques, to be able to create.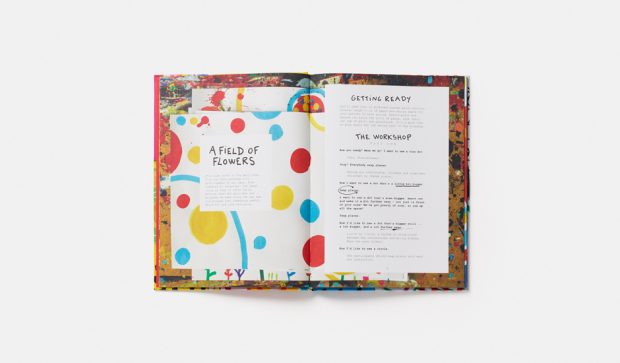 In workshops and in creative places, you must trust yourself, and the instructor must trust the participants. I trust children when they are participating; I trust the librarians and teachers who facilitate my workshops. The more you trust, the more results you see. You cannot impose limits; the workshops may get a little messy (!) but they will not get out of control because of this trust. With trust, workshops become a dialogue between participants and the work they are creating. Trust helps to open people up—even very timid and shy children—and gives them an outlet for creativity.
Children are very skilled at the art of sharing and participating. It allows them to let go of these ideas that might normally hold them back. Definitions and techniques block our ability to be truly free. When children learn to read and write, these blocks start forming and they are now less free. Give a child a stone or a sheet of paper, they may see a mountain or a landscape or a ball. From the stick figure on a traffic light he would see dancers or stain patches and spot marks become fields of flowers. When you think too much, you are forced into a box. My workshop is about following your feelings to find creative freedom.
Improvisation is very important. Improvisation is freedom that leads you anywhere and everywhere—to monsters, to traffic jams, to flowers. There is no right and wrong; it is about feelings and sensations of participating. You are working towards a result without knowing what the result is. You are working in the moment. The experience is more about process. The sensation of putting colors onto a sheet of paper. There are many options and possibilities and you never know what you are capable of. No matter what, there will be a result, but it doesn't stop there. You can keep creating again and again and the results will often be surprising because the more in the moment you are, the more you allow yourself to be free to create art.
—
From the Publisher
About the Author: Hervé Tullet (b.1958) studied Fine Art and worked as an Art Director before joining the advertising industry. In 1994 he published his first book for children and has since become one of the world's most innovative book makers. Known in France as 'The Prince of pre-school books', Tullet takes the concept of reading to a new level, teaching young minds to think imaginatively, independently and creatively.
About Art Workshops for Children: A guide to eleven children's art workshops by one of the world's most innovative facilitators and best-selling bookmakers. Workshops are designed to spark children's imaginations, champion group bonding, and give visually pleasing results – with no artistic ability required. Illustrated and written by author of Press Here (over 1 million copies sold worldwide and a The New York Times bestseller for 3 years running). Each workshop includes: a list of materials needed, a step-by-step guide to facilitation, practical tips, illustrated examples, and photos of workshops in progress. Tried and tested around the world by children of all ages. Perfect for organizing group events at home, in schools, at parties, at museums – anywhere!
Selected Titles by Hervé Tullet: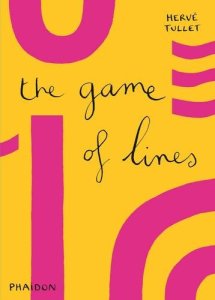 Press Here (2011)
Game of Finger Worms (2011)
Game of Let's Go (2011)
Game of Red, Yellow, and Blue (2012)
Game of Sculpture (2012)
I am Blop! (2013)
Mix it Up! (2014)
10 Times 10 (2014)
Game of Lines (2015)
Game of Shapes (2015)
Let's Play (2016)