Though she always loved drawing and creating, Yuyi Morales never set out to become an author and illustrator. In fact, the idea didn't occur to her until she was an adult visiting a branch of the San Francisco Public Library in California with her son. However, the seeds of art appreciation were planted early in her life and were just waiting for the right time to blossom.  Growing up on Mexico's Gulf Coast, Morales enjoyed vibrant color, an expressive life, and a close family. "When I was a child, I loved drawing. My main practice was to copy everything I found—family photos, Disney characters, scenes from magazines. When learning to make my first drawings, my mother would instruct me by showing me how to draw a child's face by first drawing a circle and then using the lower part of it to place the features. It was also my mother who encouraged me to make creative things. When I was five, she taught me how to crochet and I made myself a colorful vest and a hat. Since I was very interested in making clothes for my baby dolls, she also taught me how to cut, sew, and even embroider, so that I could come up with my own creations."
"I am a very fearful person. Among my strongest memories of my childhood are of me being terrified of things I imagined such as extraterrestrials coming to my house to abduct me. I can tell you that during my adulthood I have also had to deal with many fears. And so, in my living and in my work, after I fear, I push myself to dare. And then I like to celebrate it because yes, I love parties and celebrations!"
When it came time to become serious about a career, Morales set aside her interest in creative things and chose to study something more practical in college—physical education. Once she graduated, Morales began working as a swimming coach. She also met her husband, Tim O'Meara, who had come to Mexico to set up a recording studio. After a few years, Morales' father-in-law became gravely ill, and her little family which now included a son, picked up and moved to California. Morales spoke very little English and quickly became lost in a world foreign to her; that is, until she entered the children's department at the San Francisco Public Library.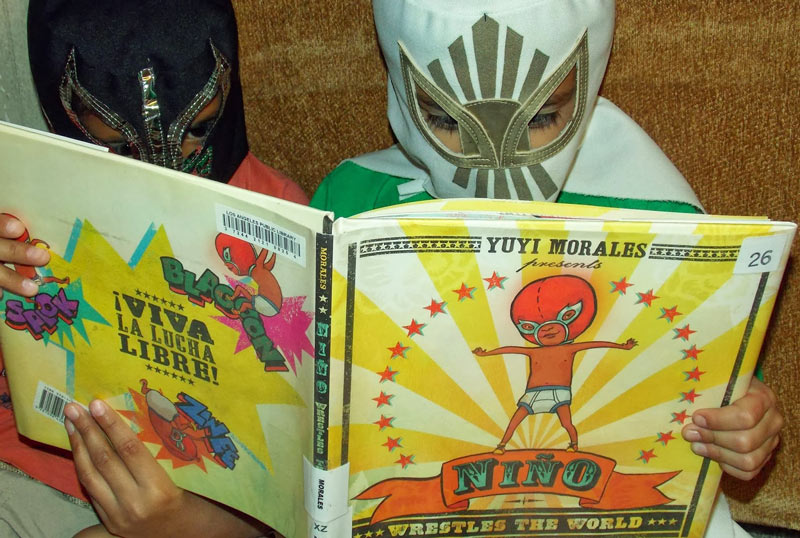 "I am living part time in the two lands of my heart, Mexico and the USA. At this moment in my life, I feel tremendously privileged to be a citizen of two countries. I feel like I have a motherland, Mexico, and a fatherland, the USA, who nurture me and still see me growing up."
"The picture books I found for the first time in the library were a huge challenge to me because they were written in English. But I do remember that the first one I ever opened from the shelves of the public library had illustrations of a little girl with Asian features. As I began to understand the books better, I was able to recognize them and remember them. A Mother for Choco (G.P. Putnam's Sons, 1992) was one of them—oh how I loved that book with that yellow baby bird looking to find a mother who was also the mother of all those other babies from other species! One book that caused me much impact was Chato's Kitchen (G.P. Putnam's Sons, 1995). Imagine my surprise upon seeing that there was a book that celebrated being Latino!"
"Have books everywhere, in each nook of a place, next to the bed, on top or instead of the television, inside the bathroom, by the dinner table, by the windows. Put books inside paper bags and give them as surprises, give them as presents, read them as gifts. And make your own books, don't wait until you have time, or until inspiration hits; make your books now with what you have and as you are; don't wait until the stars are all aligned to make your dreams come true. Do it now!"
As Morales learned English from those picture books, she also began thinking about creating her own picture books. "When I knew I wanted to illustrate picture books like the ones they had at the library, I embarked on the process of learning how to paint. My way to learn it was by returning to my old childhood practice of copying. Using picture books I brought home from the public library, I practiced on my dining table trying to emulate paintings like the ones I saw in the picture books I most admired."
Morales' strategy proved effective. Today the self-taught artist has been awarded numerous and incredible honors including the 2015 Pura Belpré Medal (her fourth) and a 2015 Caldecott Honor for Viva Frida (Neal Porter Books/Roaring Brook Press, 2014).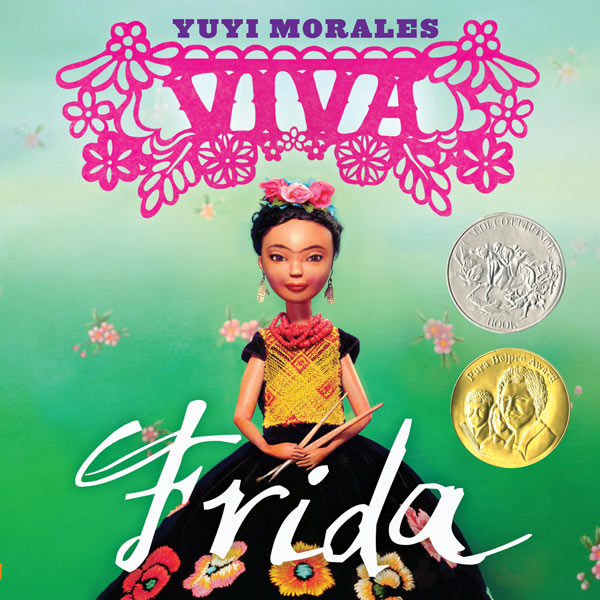 "I just finished the illustration for Thunderboy (Little, Brown), which is Sherman Alexie's first picture book, and I am most excited about it. Also, already on my table is Rudas (Neal Porter Books/Roaring Brook Press), another Niño book where we will get to wrestle a second Lucha match."
"I hope that my legacy will be my books as a celebration where the readers can honor the struggles as much as the triumphs, the fear as much as the brave actions, the search as much as the finding, and that together we dare to become the protagonists of our own life stories."
"Making my books is such an act of love for me. Yes, there is pressure, but it is one that I have exerted on myself from the very beginning. For instance, I have promised myself that I will never hold back when creating a new book, and that with every new book I make I will strive for it to be my best book ever. I have also promised myself that when in doubt I will always go for the most unexpected choice or the direction that would make me say, 'Oh, I would never do that, it is too crazy.' My last promise to myself is to only make books that I love. These resolutions have been part of my work from the very beginning, and they aren't changing even years after I started this journey. My rule is to pursue joy."