Do you remember checking out "How to Draw" books from the library when you were a child? Chances are they were created by Ed Emberley.
Emberley is a prolific artist and author who has created well over 100 books in a career that spans more than 60 years. Though he may be best known for his drawing books, they truly comprise only a small fraction of his entire body of work.
In 1960, Emberley wrote and illustrated his first book, The Wing on a Flea. It was published by Little, Brown and Company and made its market debut in 1962. Reception to the book about shapes was stellar: It was named one of The New York Times 10 Best Illustrated Books of the Year and was an ALA Notable Book.
Although he found success early, Emberley was no one-hit wonder. In 1966, the book he co-created with his wife, One Wide River to Cross (Prentice-Hall, 1966), received a Caldecott Honor. And Drummer Hoff (Prentice-Hall, 1967), created by both Ed and Barbara Emberley, received the Caldecott Medal the following year.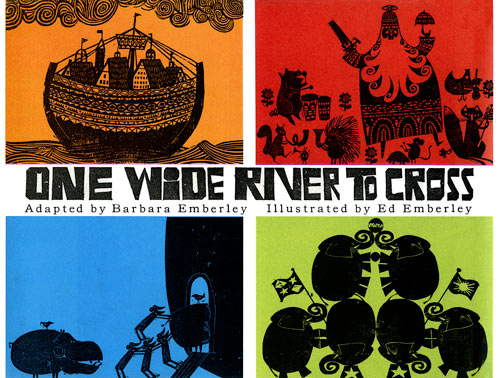 It would seem that such immediate and continued success would create pressure on the young bookmaker to repeat his award-winning recipe. Yet, in classic New England fashion, the pressure did not really influence him. "I was just doing the work, and by the time a book was deemed successful, I was already on to another book or two! The process can take several years. You just keep doing the work and hope somebody likes it."
Because it can take years to create picture books with elaborate woodcuts or intricate illustrations, Emberley decided to fill in the gaps with smaller book projects. His first idea? To create a quick drawing book for kids. In 1970, Ed Emberley's Drawing Book of Animals (Little, Brown) debuted, and it literally sold more than a million copies. This was followed with several additional titles like Ed Emberley's Make a World (Little, Brown, 1972) and Ed Emberley's Drawing Book of Faces (Little, Brown, 1975). Since then Emberley has continued to create more drawing books as well as work on detailed picture books.

"I hope I have encouraged a few people to try something new and to know that no one is born knowing how to draw; you learn how to draw. Anyone can learn how to draw. Maybe not like Rembrandt, maybe not like Picasso, but everyone can learn how to draw." – Ed Emberley
From the beginning, Emberley worked on his projects family style. His wife was often the author, and his two children, Rebecca and Michael, would be drafted to help. "I needed some help with some of the longer 96-page drawing books, so I hired my kids to do some of the grunt work. Barbara and I have collaborated over the years. When you work at home, that's common I think. Collaboration can be a good way to shake things up."
That early collaboration continues to this day. Both of his children have also continued in the business. In fact, his daughter started her own press, Two Little Birds Books. "Most recently I collaborated with my daughter, Rebecca, on a series of retellings of folk songs and fables." In addition to The Itsy Bitsy Spider (Two Little Birds Books, 2013), Rebecca's press has also published fun new drawing pad books to help kids "learn to draw the Ed Emberley way."




A few years back when Two Little Birds Books was just beginning, the Emberleys were considering reissuing some of Emberley's out-of-print titles through the press. However, they were not the only ones. Design superstar Todd Oldham had discovered a vintage copy of Ed Emberley's Little Drawing Book of Trains, Birds, the Farm, and Weirdos (Little, Brown, 1973) and knew he had found something special. "I was instantly charmed and dazzled by how smart it looked and by the simple, brilliant method Ed had distilled that assures all that they can draw." Oldham became the champion behind a project to create a monograph of Emberley's work, Ed Emberley (AMMO Books, 2014).
"Ed is a masterful and surprising artist who quickly moved between challenging mediums like carved wood blocks and hand-cut rubyliths with ease," says Oldham. "He is a bright, humble man, but his work was never seen or shown without being accompanied by text until now in this 60-year overview of his career. Over 80 of his beautiful books are out of print, so it is very important to gather an overview of Ed's prolific efforts."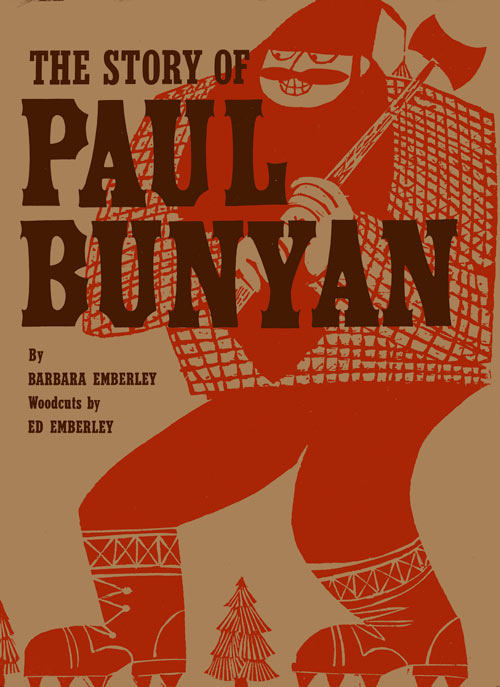 "When Todd and the AMMO team first approached us about the monograph," shares Emberley, "Rebecca had just started the small press of her own. We were talking about reissuing some of my out-of-print titles, but we realized we couldn't do it all. So when AMMO asked about The Story of Paul Bunyan (AMMO Books, 2015), One Wide River to Cross (AMMO Books, 2015), and The Wing on a Flea (AMMO Books, 2015), it seemed a good fit for them to reissue those titles as they are featured in the BIG [monograph] book and accompany it nicely."
"I am thrilled so many books, including one of my very favorites, The Story of Paul Bunyan, are being reissued," adds Oldham. "This is proof of the world being made a better place! I know how they will be received because I know the adults who had them as children and they have never forgotten them."
As vintage books are reissued and old becomes cool again, Emberley keeps busy creating new classics. "I am working on another drawing pad book and some follow-up materials to one of my monster books. But I don't want to give away any secrets!"