"I've always loved books. I remember, even before I was able to read, tracing a lot of Richard Scarry drawings as a child. I particularly remember tracing a pig with a sausage, and only now realize how sly Richard Scarry's sense of humor was," reminisces Grace Lin, an award-winning author and illustrator who masterfully weaves Chinese folklore and family tales into mesmerizing novels and entertaining picture books.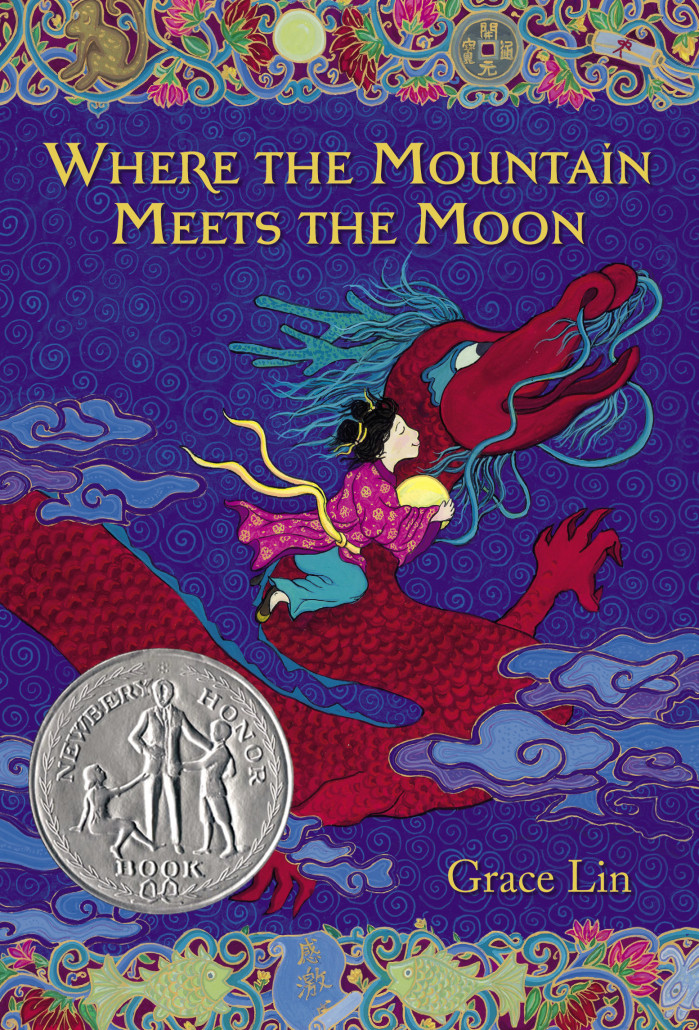 "As I grew older, I fell in love with fairy tale illustrations—the classics like Arthur Rackham and then more contemporary artists like Trina Schart Hyman. However, even though I loved fairy tales full of magic, I also loved more realistic books like B is for Betsy (Harcourt Brace, 1939) by Carolyn Haywood, the Ramona books by Beverly Cleary, the Betsy-Tacy books by Maud Hart Lovelace, and the Noel Streatfeild Shoes books. My favorite books of all time are the Anne of Green Gables books by L.M. Montgomery. I love them so much that I even went on a pilgrimage to Prince Edward Island."
Though she enjoyed reading and drawing, it did not occur to Lin that she could be an author/illustrator until a teacher introduced the possibility.
Lin's professional career as a writer and author began with her first book The Ugly Vegetables (Charlesbridge, 1999). It was a simple picture book about an Asian girl coming to terms with her mother's vegetable garden and learning about the joys of community. And like most of her follow-up books, The Ugly Vegetables gave nod to her family.
"When my first book, The Ugly Vegetables, came out, my sisters were a bit upset that I didn't include them. 'You're NOT an only child,' they told me and made me promise that I wouldn't publish anymore personal narratives without them in it. So you'll notice a lot of my books have three girls in them—that is because they are my two sisters and me! I do take liberties with scenarios and the characters. My mother insists my father is nowhere near as funny as he is in the books (he disagrees); and my older sister loves to point out how impossible the timeline is in my books. For example, the Taipei 101 building in Dumpling Days (Little, Brown Books for Young Readers, 2012) was not even built when we were kids. But even though I do change things around, I always try to keep close to the spirit and emotions that truly happened."
"Even in elementary school I loved making books. For almost any class assignment, I would make a book. I even made books for fun. One day, a teacher of mine gave me a little brochure about a national book contest—where students could submit their written and illustrated books and the winner would get their book published. With her encouragement, I sent my book in. I did not win first place, but I did win fourth place and that win opened my eyes to the possibility of one day becoming a 'real' author and illustrator. So, without that teacher's awareness of my interests and willingness to suggest something outside of the curriculum, I might not be making books professionally today."
Beyond her family, Lin gains more and more devoted fans with the release of each new book. Her work has also received high praise and garnered significant accolades including the Newbery Honor for Where the Mountain Meets the Moon (Little, Brown, 2009) and the Theodor Geisel Honor for Ling & Ting: Not Exactly the Same (Little, Brown, 2010).
"Receiving the honors has been such a gift and I will be forever grateful. For a long time I had identified myself as a multicultural author/illustrator and was resigned to the glass ceiling of the label. But after being given the awards, my multicultural adjective changed to 'Newbery Honor,' and the reading audience of my books broadened beyond anything I had expected before. What is even more amazing is the response that I began to receive from readers—not only were they reading my books, but they loved them, too. It proved to me once and for all that the multicultural label was just a label and not indicative of which readers would enjoy my books."
With a growing repertoire of more than 20 books that includes picture books, early readers, and novels, Lin offers something for everyone. "I hope my legacy is a shelf of good books that people love and read and share over and over again. I admit to being introverted and having a hard time making friends. But so much of myself (perhaps the best parts of me) are in my books. They are my way of holding out my heart and trying to embrace everyone as a true friend. So I hope that is what people associate with my life and my work—that my books are their friends, just as other books have been mine."