Ask Tim Egan exactly what it is about pigs, hippos or ducks that he finds funny, and without a beat he responds, "What isn't?" His beloved animal characters were born more than 30 years ago and they have been traveling the globe entertaining readers ever since.
Egan's formal education was drawn from the renowned Art Center College of Design in Pasadena, California, where he now teaches illustration for children's books. "It was a rigorous program but a highly rewarding choice to go to that school for my art education. I was around so many brilliant, creative minds that it forced me to always play at the top of my game."
Egan took that education and began a career as an art director in a Los Angeles advertising agency. Working on ad layouts and brochure designs helped him to stretch his creative muscles. "I loved the experience and consistent flexibility that advertising demanded, but I always knew that there was more that I needed to do to pursue my real dream." While this career path offered him employment, his passion was being an author/ illustrator.
Egan credits his wife Ann for her unflappable encouragement in beginning his new career. A creative spirit herself, Ann has always helped Egan stay on the path towards his dreams. "It started coming into view when I was creating cartoons and goofy stories for my two sons and figured that maybe I could do this for a living." And so, with countless notebooks and sketch pads filled with ideas and drawings, Egan made a concerted effort to do more of what he did best.
That effort seems to have paid off. Now, at the age of 57, Egan has written, illustrated and published 17 books. Included within this number is the Dodsworth series that features a menagerie of silly animals including cows, pigs, dogs, cats, a feisty duck and, of course, the leading "man" Dodsworth, a distinguished rat in a fedora, who travels to exotic cities around the globe in search of adventure.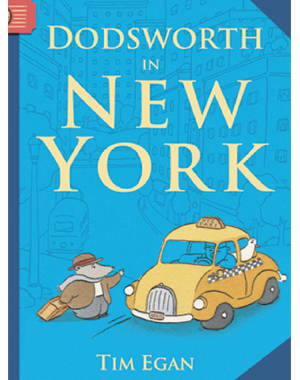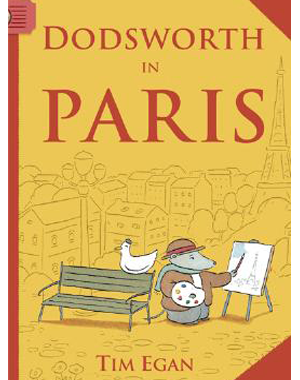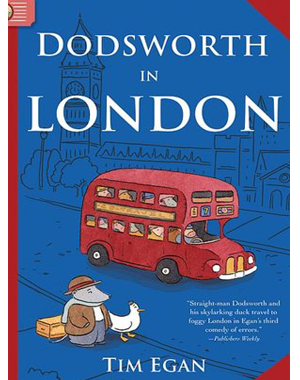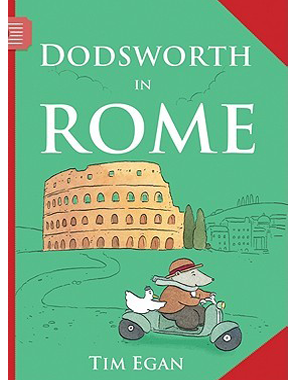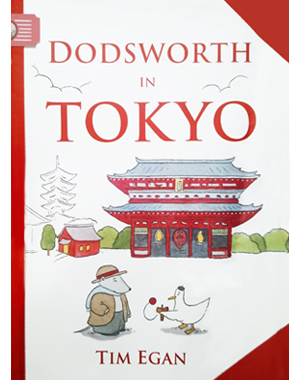 "I always have about 5-10 books and solid ideas in my head or in a sketch book at all times," exclaimed Egan. This is a practice that seems to work well for this prolific artist. After all, Egan not only writes and illustrates all of his stories, but he finishes every piece of art right down to the watercolor paintings on each page. Yes, paintings! Hundreds, if not thousands, of original pieces of art have gone into each of his books. That extra touch has been noticed and rewarded. Egan has received a total of six Parent's Choice Book Awards. Included in this honor is one of his favorite books, The Blunder of the Rogues. This illustrated story demonstrates what happens when good guys become criminals. In true Egan form, animals were used instead of humans to help make the message easier to digest. "I think people tend to be less judgmental about weighty and volatile topics when the cast of characters are talking animals." Additionally, he has received a C.S. Lewis Award, an Oradell Illustrator's Award, a Children's Book Council (CBC)/International Reading Association Children's Choice designation and an Irma Simonton Black Award Honor designation.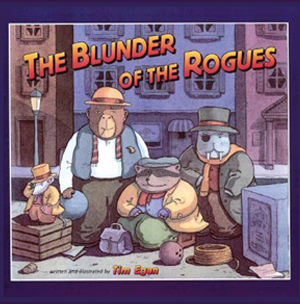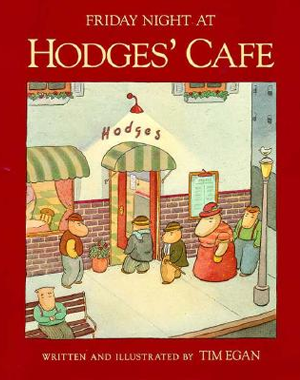 Egan's award-winning style is inspired by three other great author/ illustrators: Maurice Sendak, William Steig and a fellow classmate, Lane Smith. "I love the simplicity and impactful nature of all of their works. They really proved to me that a variety of styles and mediums could be used to make a story lasting, memorable and just plain fun to read."
In keeping with the demands of current mediums, Egan's books are available in digital format as well. "I'm kind of a traditional guy. I love the thought of a kid or a parent on the couch with my book and really absorbing the detail and the story. In many respects digital books as a medium for picture books is still a new concept to me. I have seen some of my books on an iPad and it's actually quite nice."
Looking towards the future of his characters and the stories that he has yet to publish, Egan became very animated. "I have a ton of ideas just baking and waiting for me to get to them. I feel really fortunate that I began at a time where computers were not the primary tool for creating. I still draw a lot and do it wherever I am, so I am constantly working on new ideas."
That encouraging and promising statement tells us all that the antics of his animal friends and his colorful imagination will not end anytime soon. And for that, we are very thankful.