Author and librarian Toni Buzzeo talks to Mackin's Kelsey Sawyer about books, libraries, classrooms and Common Core State Standards.
Toni Buzzeo is one of today's most prolific and popular children's book authors whose most recent contributions include the Caldecott Honor Book One Cool Friend and the second in her series of picture books about African animals, Just Like My Papa. Twelve years after her first children's book, The Sea Chest, was published, Buzzeo is now an author of 29 books, including 11 children's picture books, eight upstart books aimed at encouraging young readers and promoting good library and research practices, and 10 professional books for teachers and librarians. On the horizon, the author has more children's picture books coming, and even plans to release her first informational book, a picture book biography of a preeminent African elephant researcher entitled Cynthia Moss and the Elephants of Amboseli, illustrated by Holly Berry, in 2015.
The breadth of Buzzeo's collection of work is a reflection of her unique background as a teacher, librarian and traveler. "Most often, what I write about is the individual's place in the family," the author explains, but her professional experience is just as evident in her work. After teaching for many years, Buzzeo moved to a career as a children's librarian in public and school libraries. Although she has since moved out of the library and into writing professionally, Buzzeo still remains an active member of the education community and an advocate for schools and libraries. "That remains a very important part of my life," she explains. "Even though I no longer have my own school library, I have remained very solidly a member of the school library community." In all her roles, Buzzeo has been first and foremost an educator, and has always supported teacher-librarian collaboration. "For me the most meaningful piece of work a school librarian can do is to be fully collaborative with her classroom and special area teachers." Readers will find that dedication to collaboration in her quartet of Mrs. Skorupski books, including the most recent, But I Read It on the Internet! In that story, both librarian and classroom teacher work together to teach essential concepts for digital learning.
Indeed, many of Buzzeo's books illustrate her dedication to promoting libraries and emphasizing the vital role librarians and teachers play in inspiring young readers. In one of the Mrs. Skorupski books, Fire up with Reading, Buzzeo tells the story of a unique school-wide reading challenge from the perspective of an enthusiastic and energetic student hoping to win the competition. What is unique about the story is that the challenge outlined in its pages is just a slight adaptation of a program Buzzeo created and ran when she was a school media specialist. Her success with the program inspired her to write Fire up with Reading along with an accompanying lesson guide to help teachers and librarians enact the program in their own schools. Whatever the challenge, Buzzeo encourages educators to be creative and think big when starting reading incentive programs: "I think what you want to work toward is a big celebration that has some kind of external manifestation." She suggests making the end result a fun event that students and staff alike can look forward to, "some kind of symbol that's emblematic of the reading the kids are doing, [something that shows] that kids are reading more and that the excitement is building!"
Along with teaching guides like the one accompanying Fire up with Reading, Buzzeo is passionate about writing curriculum for her books. There is an extensive educational resource page on her website. She is particularly interested in the new Common Core State Standards being adopted around the country. Regularly writing Common Core teaching guides for her own books, Buzzeo explains that, "it just makes such good sense to me that we as writers provide opportunities for teachers and librarians to see exactly how our books can be used with kids to meet the Common Core Reading Literature, Reading Informational Texts, Writing, or Speaking and Listening standards." Having been interested in curriculum throughout her career, Buzzeo also writes Common Core teaching guides for other authors and for publishers. "I am very committed to giving teachers and librarians the tools they need to readily meet these great new standards using literature [and] I really want teachers to use full texts—to use BOOKS—to meet those standards."
"When I write a book for children, it's because I'm captured by an idea or a story, or once in a while by a character. But usually for me, it's a kernel of an idea, and I actually write to discover more about the story."
And to an educator like Buzzeo, whether that book is print or digital matters less than the text it contains. "I think that it does not matter the format of the text kids encounter," Buzzeo explains when asked how she feels about the shift towards digital content. "It's just a different delivery system; it's still great content." However, the children's author is somewhat skeptical about the ability of electronic devices to adequately display children's picture books. "We don't yet have the perfect device for the delivery of picture book content digitally, because until now we have continued to pursue picture books that have beautiful double-page spreads. The picture book has always been a paper reading experience, so I am sort of curious to see how we will make picture book illustration and text more digitally friendly."
Despite the growing changes in the book industry, Buzzeo remains loyal to her picture book roots, and has a number of children's picture books forthcoming. The third in her African animals series, My Bibi Always Remembers, will arrive this August and will transport young readers back to the East African savannah, a place Buzzeo has visited personally that remains close to her heart. Her passion for the region is evident in the detail she includes in these books: "As is evident in Stay Close to Mama and Just Like My Papa, I want every single aspect in text and in illustration in a book about the natural world to be exactly right, because the child reading it may be experiencing that animal or that biome through that book for the first time. It doesn't matter if it's fiction, those illustrations and words are delivering that information to the child reader possibly for the first time, and they're learning from it."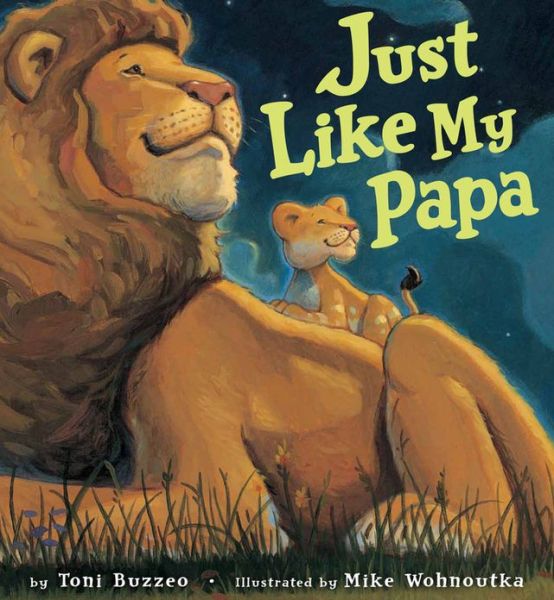 After listening to Buzzeo talk about her experiences in Africa and her joy in writing books about the continent, it becomes clear that Buzzeo's work as a whole is a manifestation of all her passions in life. Whether it's family, reading, curriculum, or Africa, all of her books convey Buzzeo's genuine delight in life and her drive for sharing this delight with others.