by Katy Tessman, New School Services Project Manager & Makerspace Specialist
As a new school library project manager, I team with librarians and principals to curate book collections for brand-new schools. When putting together a title list, I always keep in mind the parents and caregivers of these students as well as the teachers and staff. Opening-day collections need to address important topics and themes the entire school population will find enjoyable and resourceful, even the tough stuff. For example: How do you explain cancer to young children?
After receiving a breast cancer diagnosis at the age of 39, one of the first things I did was go to the library to find an age-appropriate book that explained the basics of cancer to my sons who were just 3 and 6 years old. I wanted a book that instilled hope, a book that would help my kids be courageous when I would be looking and acting so differently. Because I never found that book, I found my own words to explain what was going to happen to me.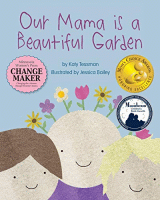 Finishing my cancer fight with children who stayed optimistic gave me the confidence to publish my family's story to help others get through their own personal health battles. My book, Our Mama is a Beautiful Garden (Caribou Lake Books, 2018), is written in the voice of my two young sons. With tender illustrations by Jessica Bailey, the book's goal is to give other families the strength and courage they need during an awful time that can feel hopeless.
A decade later, I wrote a song that is a tribute to those who have journeyed through a similar crisis and published the accompanying lyric picture book Hero Now Crowned (Caribou Lake Books, 2023). A cancer diagnosis felt like I'd fallen down a deep dark hole. I've learned that I can find the bottom and make my way back to the top, inch by inch. I now feel like I've summited a mountain! Navigating the unplanned twists in the road can be highly challenging. With magical illustrations by Bebe Keith, this book is a celebration of the everyday hero's perseverance, which is so courageous.
To learn more about me and my writing, please visit Minnesota Parent Magazine's Author Spotlight – an Interview With Katy Tessman.
Since I published my family's story, more and more books about facing the difficult challenges of cancer have become available for young children. The following are four new titles, along with the publishers' summaries. These books are available in print and digital formats. I recommend these books as a valuable addition to any school library collection.
---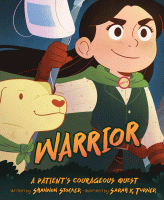 Warrior: A Patient's Courageous Quest by Shannon Stocker, illustrated by Sarah K. Turner (Sleeping Bear Press, 2023)
Maria, a young warrior, prepares herself once again to battle through a dangerous land in order to reach the bell on the mountain, ring it, and rid her kingdom of beasts. The brave girl faces Serpent Sea, Fear Forest, and Monster Mountain with courage and help from a few friends. Will she reach the bell this time? At the end of the day's disappointing quest, Maria returns to her hospital bed feeling beat. But her team reminds her of exactly who she is—a warrior. An allegory telling the courageous story of the millions of children battling the monsters of cancer and chronic disease every day. Written by Shannon Stocker, a warrior of her own health emergency, with graphic novel artwork by Sarah K. Turner.
---
Brave Like Mom by Monica Acker, illustrations by Paran Kim (Beaming Books, 2022)
As one girl watches her mom battle illness, she sees Mom being strong, brave, and fierce on both good days and bad ones. Mom is fierce as she catches and wrestles a fish and brave as she endures needles from the doctor. The girl wants to be brave like Mom! As she worries about her mom's health, the girl realizes that bravery comes in many forms and that she can be brave too. A poignant and sensitive story about a loved one living with a chronic illness, and an important lesson about how being brave doesn't mean you aren't scared.
---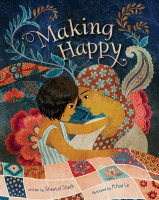 Making Happy by Sheetal Sheth, illustrated by Khoa Le (Barefoot Books, 2022)
When Leila's mother gets sick, lots of things change for her family. But one important thing stays the same: They still have each other, and they know how to find joy and laughter when they need it most! The poetic, uplifting story and hopeful ending are based on the author's own experience battling cancer as the parent of young children.
---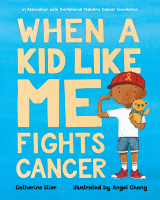 When a Kid Like Me Fights Cancer by Catherine Stier, illustrated by Angel Chang (Albert Whitman & Company, 2019)
When a young child finds out he has cancer, he learns a lot right away. He learns that cancer is something you fight, and that cancer isn't anyone's fault—especially not his. He discovers that many things change with cancer, but some of the most important things stay the same. He also learns that having cancer is easier when everyone around him wants to help him fight. Written by Catherine Stier, who is a cancer survivor herself, with illustrations by Angel Chang, When a Kid Like Me Fights Cancer provides a way in which the entire family can speak about cancer together.