by Katy Tessman, New School Services Project Manager & Makerspace Specialist
Whether it be the arts, activism, politics, or the food industry, women have been making American history long before March was named Women's History Month. Women have set records and won awards in nearly every industry. Therefore, March is the perfect time to look back and recognize the individual contributions women have made to our country's historical accomplishments.
I curated a short title list featuring new biographies of some amazing American women. The following are the books and their publishers' summaries; these titles are available in print, eBook, and digital audiobook formats. I hope these books will inspire today's students to be history-makers as well.
---
For Elementary Students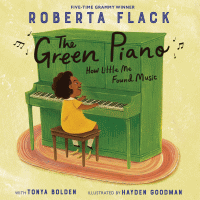 The Green Piano: How Little Me Found Music by Roberta Flack (Anne Schwartz Books, 2023)
Grammy Award-winning artist Roberta Flack provides an autobiography of her relationship with music that began, she says, when she was "three or four years old" playing the piano at her family's church. Recognizing her gift, her father rescues an abandoned piano from a junkyard, fixes it up, paints it green, and gifts it to Roberta. Flack describes her early years playing on that piano day after day, her slow progression into an artist, learning from great teachers and other artists, graduating to other, better instruments, and forging a career as one of the most iconic artists of the twentieth century.
Maya's Song by Renée Watson (HarperCollins Publishers, 2022)
From bestselling, award-winning creators Renée Watson and Bryan Collier comes a stunningly crafted picture book chronicling the life of poet and activist Maya Angelou. This unforgettable picture book introduces young readers to the life and work of Angelou, whose words have uplifted and inspired generations of readers. The author of the celebrated autobiography I Know Why the Caged Bird Sings, Angelou was the first Black person and first woman to recite a poem at a presidential inauguration, and her influence echoes through culture and history. She was also the first Black woman to appear on the United States quarter. Newbery Honor- and Coretta Scott King Author Award-winning writer Watson uses Angelou's beloved medium of poetry to lyrically chronicle her rich life in a deeply moving narrative. Vivid and striking collage art by Collier, who is a Caldecott Honor recipient and winner of the Coretta Scott King Illustrator Award, completes this unforgettable portrait of one of the most important American artists in history.
---
For Middle School Students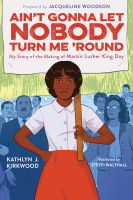 Ain't Gonna Let Nobody Turn Me 'Round by Kathlyn J Kirkwood (Versify, 2022)
This brilliant memoir told in verse presents the moving story of how a nation learned to celebrate a hero. Through years of protests and petition, Kathlyn Kirkwood's story highlights the foot soldiers who fought to make Martin Luther King Jr.'s birthday a national holiday. Ain't Gonna Let Nobody Turn Me 'Round is a deeply moving middle grade memoir about what it means to be an everyday activist and foot soldier for racial justice. Kirkwood recounts how, drawn to activism from childhood, she went from attending protests as a teenager to fighting for Martin Luther King, Jr.'s birthday to become a national holiday as an adult. A blueprint for kids starting down their own paths to civic awareness, it shows life beyond protests and details the sustained time, passion, and energy it takes to turn an idea into a law. Deftly weaving together monumental historical events with a heartfelt coming-of-age story and in-depth information on law-making, Ain't Gonna Let Nobody Turn Me 'Round is the perfect example of how history can help inform the present.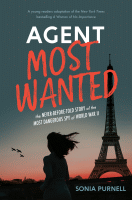 Agent Most Wanted by Sonia Purnell (Viking Juvenile, 2022)
A young reader's adaptation of Sonia Purnell's New York Times-bestselling book A Woman of No Importance, the story of American spy Virginia Hall who helped the Allies win World War II and was deemed "the most dangerous of all Allied spies" by the Gestapo. Armed with her wits and her prosthetic leg, she was deployed behind enemy lines to inspire resistance in France, providing crucial support to the fight against the Nazi occupation. In this largely untold story, Purnell uncovers the truth behind a Baltimore socialite who was essential to Allied victory. Adapted for the elementary to middle school audience, Agent Most Wanted is equal parts an inspiring tale of feminism in a time when women weren't taken seriously, an epic spy story, and, of course, a retelling of winning one of the largest global conflicts in modern history.
---
For High School Students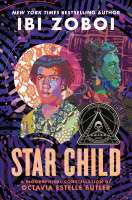 Star Child: A Biographical Constellation of Octavia Estelle by Ibi Zoboi (Dutton, 2022)
From the New York Times-bestselling author and National Book Award finalist, a biography in verse and prose of science fiction visionary Octavia Butler, author of Parable of the Sower and Kindred. Acclaimed novelist Ibi Zoboi illuminates the young life of Butler in poems and prose. Born during the Space Race, the Red Scare, and the dawning civil rights movement, Butler experienced an American childhood that shaped her into the groundbreaking science fiction storyteller whose novels continue to challenge and delight readers 15 years after her death.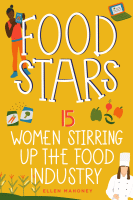 Food Stars: 15 Women Stirring Up the Food Industry by Ellen Mahoney (Chicago Review Press, 2022)
Food is a great unifying force on Earth. Not only do humans need food to survive, it also gives structure to our days, offers dining and recreational opportunities, provides employment, and speaks to important societal issues such as food security, hunger, and nutrition. Women and food make a dynamic duo. These 15 hardworking, innovative, and accomplished women have made great strides in the field of food, whether it's coming up with meals for astronauts to eat in space, operating a 20-acre farm, hosting a food podcast, or fighting for food rights. Women have always been instrumental in providing nourishment for their families and communities, and they are often at the forefront of this ever-changing global industry. These 15 women are stellar in their food industry roles as farmers, chefs, food activists, food storytellers, and food scientists.