Photo credit: Sonia Sones
---
Betsy Bird will tell you that she has "the best job in the world": reading children's books. And she advocates for those books (and kids) in a variety of ways—as a librarian, blogger, reviewer, and podcaster. Fortunately for young readers, Bird also finds time to add another important role to that list: author. Her middle-grade novel, Long Road to the Circus (Alfred A. Knopf BFYR, 2021), was named one of the Best Children's Books of 2021 by the New York Times. Illustrated by Caldecott Award-winner David Small, the novel follows twelve-year-old Suzy Bowles as she meets a legendary former circus queen, takes up ostrich riding, and launches herself on a life-changing adventure.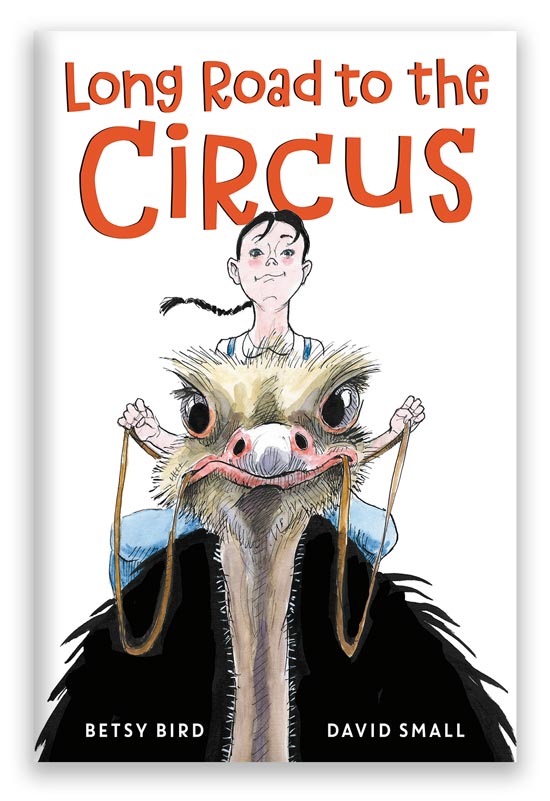 Here, Bird talks with Lisa Bullard about how family stories shape us, why writing humor presents a unique challenge, and the magic of matching each reader with the right book for them.
Long Road to the Circus was inspired by your family's stories. How do stories shape families? How have your family's stories shaped your writing?
When you're a kid, sometimes older family members have a tendency to drown you in family stories against your will. That was certainly the case in my life. After a while, it got me to thinking that you really need to be careful what you do in the course of your life. For example, there's a family story about my great-great-grandfather's youngest son, who, when he was seven, inspired the family phrase, "You didn't tell me it was hot!" Imagine all that you're ever remembered for is a catchphrase based on one silly thing you did as a kid. But honestly, we're lucky if we even have family stories to fall back on. They give a sense of continuity and shape who we are as people.
I'm always interested in how the stories we tell about ourselves affect our actions and decisions. And in the case of Long Road to the Circus, they were imperative. As a writer, I found that when I needed to invoke characters or a time or a place, I fell back on those old stories I heard as a kid. Some of them (my mom will assure you) I may not have written with strict historical accuracy, but for the most part, they became essential to the book. And if you have stories from your family to draw on, you'll never run out of material!
If you have stories from your family to draw on, you'll never run out of material!"
David Small illustrated the novel, and the two of you connected over the book's backstory in a unique way. Can you tell us about that?
Absolutely. David was actually a local illustrator when I was a kid. He came to my elementary school in fourth grade and did drawings in the library. And since my mom worked at the oldest independent bookstore in Kalamazoo, Michigan—the Athena Bookshop—I attended his book-release parties from a young age. Yet I had no idea that he lived in a house that had a direct tie to my grandmother's no-good uncle. You see, we had this family story about how that uncle would skip out on his farm chores to go to an elderly ex-circus performer's house in Mendon. He'd go to see if he could learn how to teach the farm horses circus tricks. The circus performer herself was named Madame Marantette. One day, David mentioned to my mom that he was living in the old Marantette house in Mendon, and Mom realized that this old family story of ours might hold some kernel of truth!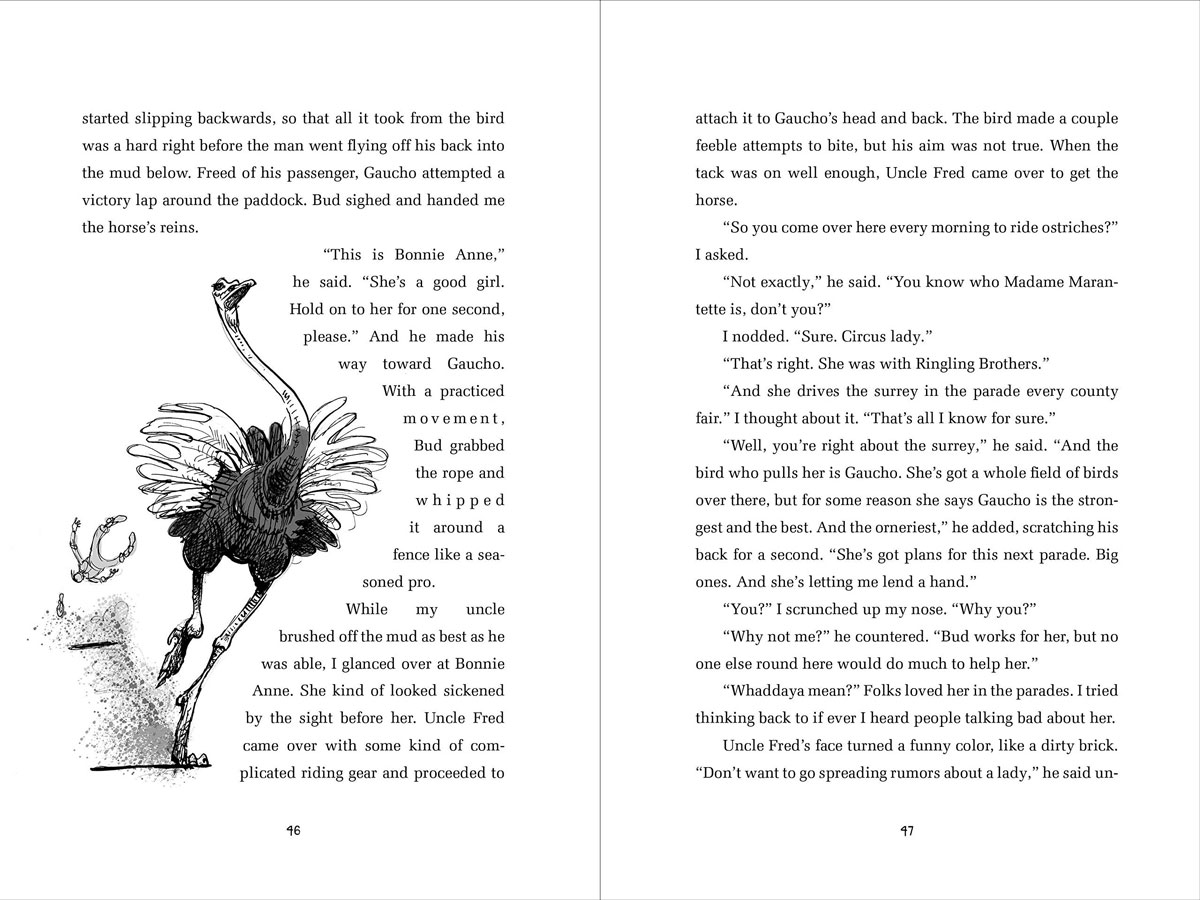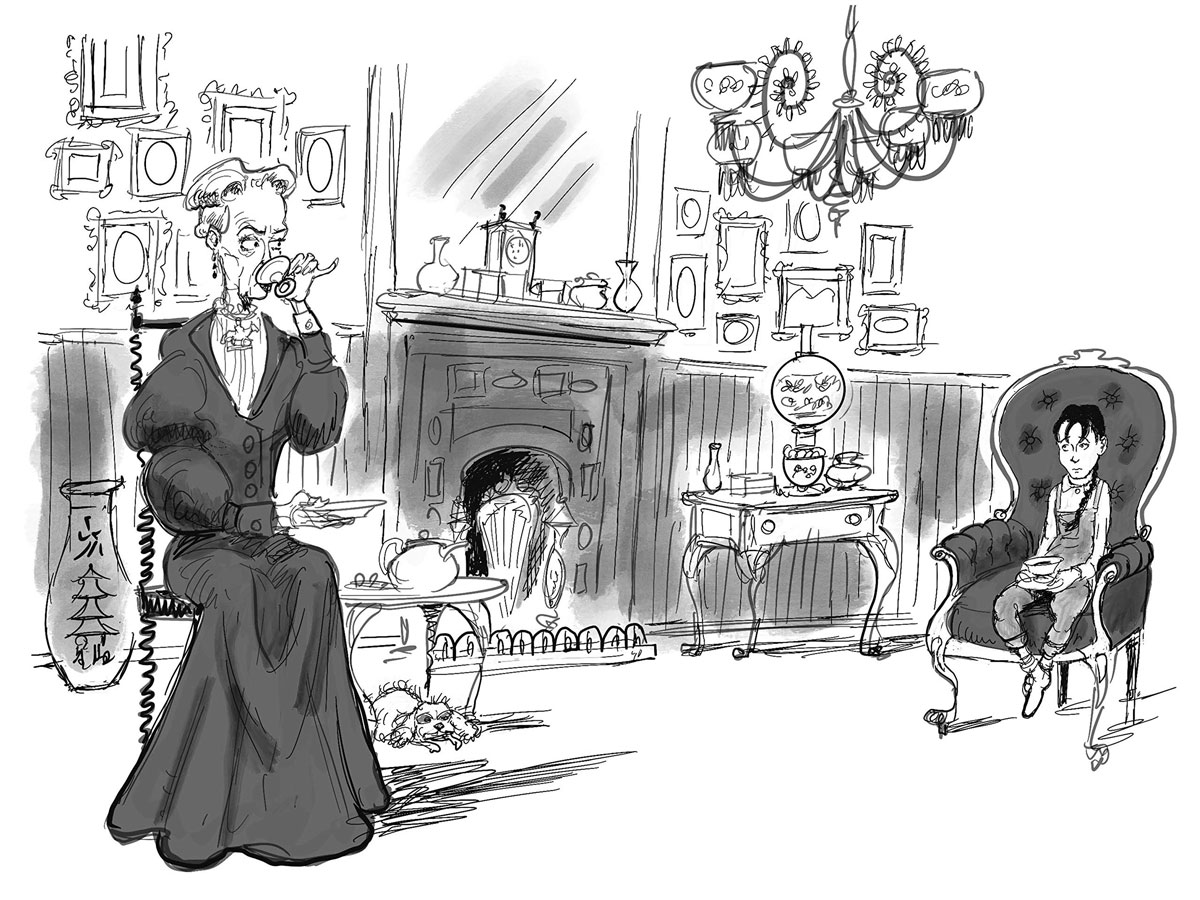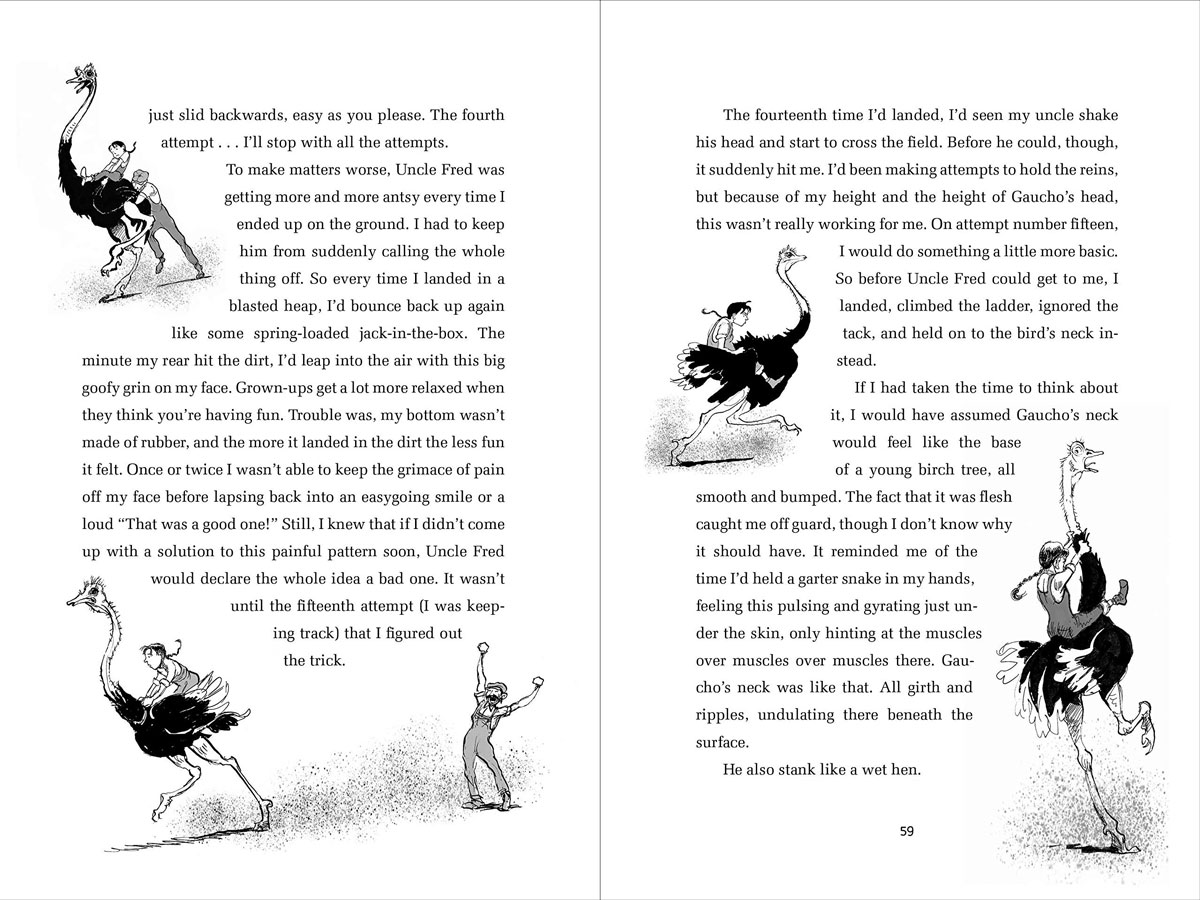 What kind of impact did working with David have on your writing process?
Long Road to the Circus, as I envisioned it, was supposed to be a picture book. When David told me he envisioned the book as a novel, I was stumped. I'd toyed with the notion of writing novels before. Heck, I have a whole folder of ideas that I've slowly added to for years. I now found myself in the interesting position of having to take something that was thirty-two pages and turn it into something four or five times longer. Fortunately, I had an ace up my sleeve: ostriches. From the beginning, I wanted Suzy to ride an ostrich. When I was handed a packet of information on Madame Marantette (I owe Holly Stephenson of the St. Joseph Historical Society so much), I read through it and the story just came to me. Sometimes words flow from your fingers onto the page with only the gentlest of nudges to help them along. This book wrote itself.
The pandemic actually allowed David and I to connect over the story in ways we couldn't have otherwise. He'd send me the art as he worked on it, and I'd offer suggestions. Then I'd work on my edits, and he'd suggest adding things like chickens to the start of a chapter (because he really wanted to draw spot art of chickens there).
Sometimes words flow from your fingers onto the page with only the gentlest of nudges to help them along."
Your novel is packed full of comedic moments. You're also the editor of the middle grade collection Funny Girl: Funniest. Stories. Ever. (Viking, 2017), and two humorous picture books, The Great Santa Stakeout (Arthur A. Levine Books, 2019) and Giant Dance Party (Greenwillow, 2013). What are the challenges that come with "writing funny"?
You know, I once asked Jon Scieszka why funny books don't win as many awards, and he told me something very wise that I've been turning over in my mind ever since. Jon pointed out that if you present someone with a dead-dog book, then we can all agree that it's sad. The dog is dead. I'm sad. You're sad. We're all sad. But if you present someone with a book that's funny, you're going to get wildly different reactions. I might find it hilarious, but you might not find it funny at all, and another person might just find it mildly amusing. You can imagine what kind of effect that has on award committees.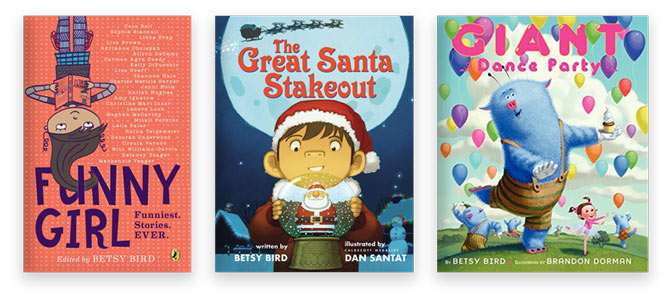 What does humor offer readers that makes meeting those challenges worth it for you? 
I write humor because I honestly don't know how not to. The idea of writing something deadly serious is alien to me. Plus, there's no better way to get kids to love something than to make them laugh.
Betsy Bird Raves About These Recent Reads
Picture Book
My Parents Won't Stop Talking! by Emma Hunsinger and Tillie Walden (Roaring Brook, 2022). When you just want to leave and your parents are talking to other adults for ages and ages, what do you do?
Nonfiction Picture Book
Action! How Movies Began by Meghan McCarthy (Simon & Schuster, August 2022). The silent-film era comes rip-roaringly to life in this fantastic book that ties in old films to movies kids recognize today.
Poetry
Marshmallow Clouds by Ted Kooser and Connie Wanek; illustrated by Richard Jones (Candlewick, 2022). Poetry can be a hard sell, but this compendium of clever verse is probably the best I've seen in years. I think it has serious Newbery Award chances.
Middle Grade Novel
Aviva vs. the Dybbuk by Mari Lowe (Levine Querido, 2022). This remarkable, smartly written, slim little novel expertly dissects shared family trauma, but is also peppered with fun, ridiculous moments.
Graphic Novel
Miss Quinces by Kat Fajardo (Graphix, May 2022). Sue would rather write comics all summer than visit her extended family in Colombia, but no one asked what she wanted. And now she's forced to have a quinceañera, too?
Nonfiction for Older Readers
Star Child: A Biographical Constellation of Octavia Estelle Butler by Ibi Zoboi (Dutton Children's Books, 2022). A stunner of a biography; the life of Octavia Butler is told through poetry, her own observations, and a wonderful recounting of her history.
There's no better way to get kids to love something than to make them laugh."
The desire to "run away to join the circus" plays a key role in your novel. Is there something in your life that represented that same desire for you?
It's so odd that I've almost never been asked this before. When I was younger, I was quite convinced that when I grew up, I'd go away to college, then come back to my hometown and settle down there. So, kind of the opposite of wanting to join the circus. But as I got closer to my high school graduation, I came to the realization that this plan I'd established as a kid was not going to fly with my teenage self. I went to college, and the minute I graduated, I took off. I found I wasn't afraid to try new things. For someone who was so convinced that my hometown was the place to be, I never lived there again. I imagine telling this information to my younger self and watching her jaw drop in shock. I wasn't that adventurous as a kid. I seem to have made up for it later.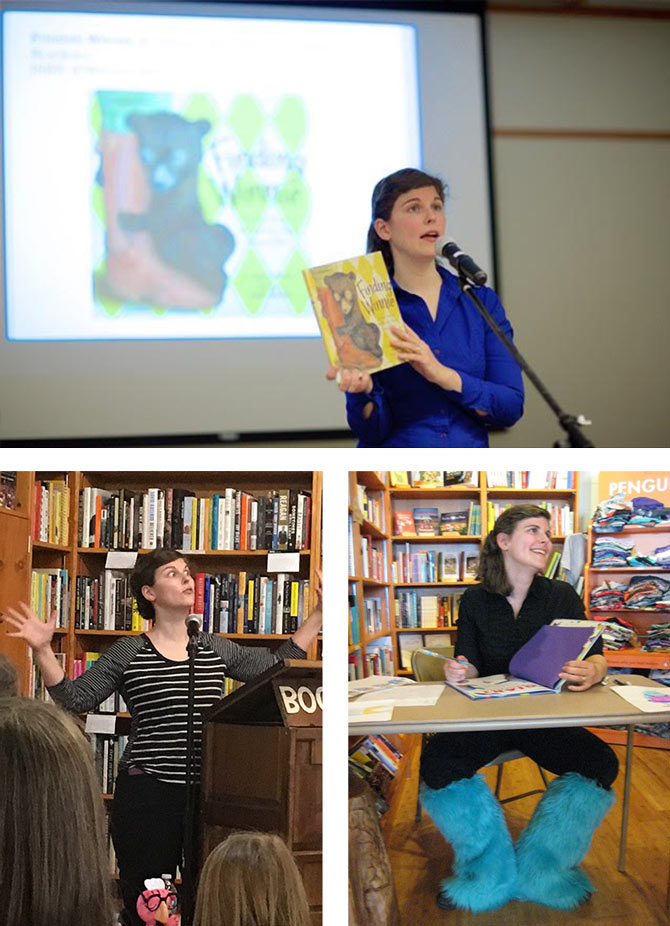 Do you have any tips to offer young writers?
One of my favorite books of writing advice is Jack Gantos's Writing Radar: Using Your Journal to Snoop Out and Craft Great Stories (Farrar Straus Giroux Books for Young Readers, 2017). Ostensibly written for kids, I've poached from it more than once for the writing classes I occasionally teach. The book is ideal for those kids who are told to write about their lives and who say that nothing interesting ever happens to them. It's also filled with all kinds of great writing exercises. One of my favorites is when Jack urges kids to make maps of their homes or their neighborhoods. Then they think of things that happened in those spaces. The more you fill in, the more you have to write about!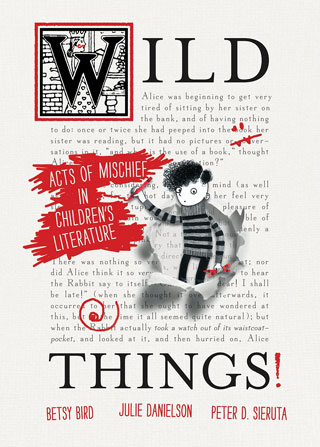 What's the best piece of advice you have to offer educators who want to get their students more engaged with reading?
Hmmm. I'm a big proponent of meeting kids where they are. I remember with crystal clarity a time a dad dragged his ten-year-old son into my library's children's room to grab a copy of Treasure Island from our shelves. The kid was obviously not a huge reader and was moaning like crazy as his dad informed him that he'd be reading the entire book. It was all I could do not to grab the graphic novel version from the shelf and tell the dad to start slow and work up to the final text. You can't run before you walk. You want kids to be engaged with books? Find out what their interests are. It could be that you have a kid who only loves expository nonfiction (facts and figures, like in a Guinness Book of World Records). They like comics? You increase the complexity with some of the best on the market. You feed into what they love and go from there. For example, for the kid who likes comics but won't touch history, give them something from the Nathan Hale's Hazardous Tales series (Amulet Books). There's a book for every reader, but it takes some investigative work to find the right one. It's worth it, though. When you get it right, there's magic.
There's a book for every reader, but it takes some investigative work to find the right one. It's worth it, though. When you get it right, there's magic."
What are the best ways for readers to connect with you or to follow you on social media?
You can find me on Twitter at @FuseEight and on Instagram at @fusenumber8. The best way to read me, however, is on my School Library Journal blog, "A Fuse #8 Production," found at afuse8production.slj.com. And, of course, there's my website, betsybirdbooks.com. And if you'd like to hear the melodious strains of my vocal modulations, I have a nearly weekly podcast with my sister at Fuse 8 n' Kate and a slightly less frequent but more professional podcast that I host called Story Seeds.