While scrolling through television, streaming services, magazines, and social media, you are likely to come across quite a few cooking shows, competitions, articles, and posts featuring amazing kitchen creations. As someone who has never been a great cook myself, I am always impressed by what people can create out of seemingly simple ingredients. It also fascinates me to think of how universal the act of cooking is; every culture in the world has its own special recipes and traditions.
December brings children home from school, and holiday breaks are filled with hustle and bustle, gatherings, and lots of food. When it comes to my own family gatherings, it amazes me to see what my mom and many other members of my family create in the kitchen and how it brings us all together around the table. I've also observed my mom teaching her grandchildren how to bake and watched their eyes light up when they made something special with her help. The lessons that are passed on are invaluable, and the memories created are priceless. 
Children learn a lot by cooking and baking. Following and executing a recipe requires math and science skills and is an engaging way to practice reading instructional texts while synthesizing information. It can also foster collaboration and mentorship, as well as intergenerational, historical, and cultural connections. Children may feel inspired to write their own recipes or connect with a friend or relative to discover their favorite recipes. No matter what food you are making, cooking and baking with friends and family can feed your body and soul, as well as bolster a sense of community, especially in these times of isolation. 
If you're like me, you may not be quite sure where to begin when it comes to creating anything in the kitchen. Thankfully, books always hold the key to getting started and finding the inspiration needed.  Whether you're at home or in the classroom, you'll find plenty of ideas in these books featuring food, community, and recipes for any age!
To see more about each title, check them out on Mackin.com!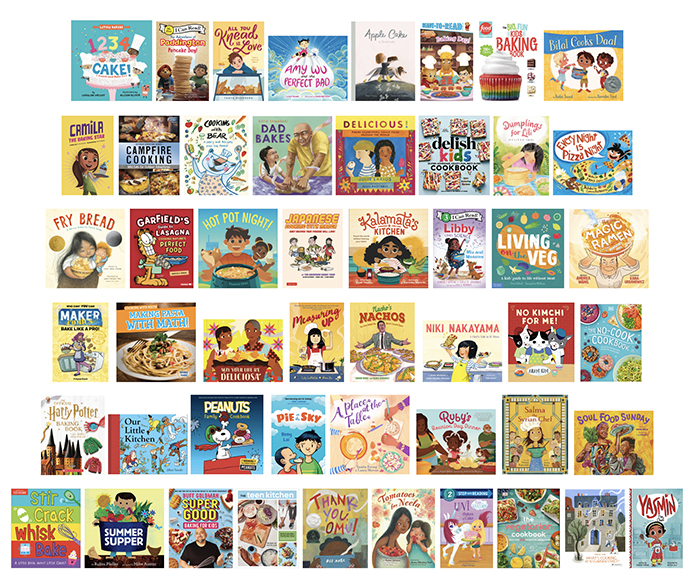 1234 CAKE! A COUNT-AND-BAKE BOOK – WRIGHT, CAROLINE
ADVENTURES OF PADDINGTON: PANCAKE DAY!

 

– CAPUCILLI, ALYSSA SATIN
ALL YOU KNEAD IS LOVE – GUERRERO, TANYA
AMY WU AND THE PERFECT BAO – ZHANG, KAT
APPLE CAKE – CASEY, DAWN
BAKING DAY! – SHAW, NATALIE
THE BIG, FUN KIDS BAKING BOOK – CARPENTER, MAILE
BILAL COOKS DAAL – SAEED, AISHA
CAMILA THE BAKING STAR – SALAZAR, ALICIA
CAMPFIRE COOKING: WILD EATS FOR OUTDOOR ADVENTURES – HOENA, BLAKE
COOKING WITH BEAR: A STORY AND RECIPES FROM THE FOREST – HODGE, DEBORAH
DAD BAKES – YAMASAKI, KATIE
DELICIOUS! POEMS CELEBRATING STREET FOOD AROUND THE WORLD – LARIOS, JULIE
DELISH KIDS (SUPER-AWESOME, CRAZY-FUN, BEST-EVER) COOKBOOK – SALTZ, JOANNA
DUMPLINGS FOR LILI – IWAI, MELISSA
EVERY NIGHT IS PIZZA NIGHT LOPEZ – ALT, J KENJI
FRY BREAD: A NATIVE AMERICAN FAMILY STORY – MAILLARD, KEVIN NOBLE
GARFIELD'S GUIDE TO LASAGNA: COOKING NATURE'S PERFECT FOOD – HIRSCH, REBECCA E
HOT POT NIGHT! – CHEN, VINCENT
JAPANESE COOKING WITH MANGA: EASY RECIPES YOUR FRIENDS WILL LOVE! – ALDEGUER, ALEXIS
KALAMATA'S KITCHEN – THOMAS, SARAH
LIBBY LOVES SCIENCE: MIX AND MEASURE – DERTING, KIMBERLY
LIVING ON THE VEG: A KIDS' GUIDE TO LIFE WITHOUT MEAT – GIFFORD, CLIVE
MAGIC RAMEN: THE STORY OF MOMOFUKU ANDO – WANG, ANDREA
MAKER COMICS: BAKE LIKE A PRO! – KOCH, FALYNN
MAKING PASTA WITH MATH! – HUNT, SANTANA
MAY YOUR LIFE BE DELICIOSA – GENHART, MICHAEL
MEASURING UP – LAMOTTE, LILY
NACHO'S NACHOS: THE STORY BEHIND THE WORLD'S FAVORITE SNACK – NICKEL, SANDRA
NIKI NAKAYAMA: A CHEF'S TALE IN 13 BITES – MICHALAK, JAMIE
NO KIMCHI FOR ME!

 

– KIM, ARAM
THE NO-COOK COOKBOOK – WOOLLARD, REBECCA
THE OFFICIAL HARRY POTTER BAKING BOOK – FARROW, JOANNA
OUR LITTLE KITCHEN – TAMAKI, JILLIAN
THE PEANUTS FAMILY COOKBOOK: DELICIOUS DISHES FOR KIDS TO MAKE WITH THEIR FAVORITE GROWN-UPS – MARR, AMY
PIE IN THE SKY – LAI, REMY
A PLACE AT THE TABLE – FARUQI, SAADIA
RUBY'S REUNION DAY DINNER – DALTON, ANGELA
SALMA THE SYRIAN CHEF – RAMADAN, DANNY
SOUL FOOD SUNDAY – BINGHAM, WINSOME
STIR CRACK WHISK BAKE: A LITTLE BOOK ABOUT LITTLE CAKES – SOURCEBOOKS JABBERWOCKY
SUMMER SUPPER – PFEFFER, RUBIN
SUPER GOOD BAKING FOR KIDS – GOLDMAN, DUFF
THE TEEN KITCHEN: RECIPES WE LOVE TO COOK – ALLEN, EMILY
THANK YOU, OMU! – MORA, OGE
TOMATOES FOR NEELA – LAKSHMI, PADMA
UNI THE UNICORN: UNI BAKES A CAKE – ROSENTHAL, AMY KROUSE
THE VEGETARIAN COOKBOOK: MORE THAN 50 RECIPES FOR YOUNG COOKS – LOVE, CARRIE
WHAT'S COOKING AT 10 GARDEN STREET? – SALA, FELICITA
YASMIN THE CHEF – FARUQI, SAADIA