How does it impact your writing process when you've grown up reading books about people who do not look like you, sound like you, or share your experiences? In today's guest post on the Mackin Community blog, author Maleeha Siddiqui shares how this came into play while writing her novel, Barakah Beats.
---
I've been writing since I was eleven years old. I wrote fanfiction that I never posted online, then a bunch of fantasy ideas that I was never able to get off the ground, and then contemporary stories, before I decided to take a legitimate shot at turning writing into a career at eighteen. Though I tried my hand at different genres, there was something that all these stories had in common—my main character was never brown nor Muslim, like me.
Not even close.
Growing up, I never saw characters in books, television shows, or movies who looked like me, so I thought it was completely normal to exclude them from the narrative. Those types of characters were undeserving of the spotlight; their lives—our lives—weren't interesting or relatable enough for readers to root for them.
The books I read as a kid were the opposite of my own reality. I was raised in a diverse area with people who came from all different kinds of backgrounds, including those in the Muslim community. I'm part of a big, boisterous South Asian family that has grown over the years, both in number and diversity as we've welcomed people who are not Pakistani descent into our fold and continue to do so.
Joy. Love. Laughter. Friendship. Grief. Anger. Triumph. Loss. These are the words that come to my mind when I think about my Muslim community, not bland caricatures depicting stereotypes. That's why it was so important for me to tell a collective story depicting varied Muslim experiences. I know firsthand what it's like.
It wasn't until the idea to write Barakah Beats came to me that I found the courage to include us front and center. A huge part of the book revolves around the central character, a Muslim girl named Nimra, struggling with her faith, one that she shares with more than a billion people in this world. One narrative cannot speak for an entire group of people, so I wanted to be sure that in Nimra's story, one character's opinions or way of life wasn't understood to be universal or to reflect all Muslims.
Barakah Beats is a tale about a young Muslim girl navigating faith, family, and friendships, but it took me coming to a screeching halt while writing a particularly difficult scene—and leaving the manuscript unfinished for weeks—before I had a revelation that changed the course of the entire book. I was done hiding; done with us being silenced and made invisible.
I was going to share our joy.
Nimra was not the one who was shy at first—I was. But once I scaled those walls and came to terms with who I was, she sang loud and clear.
She gave me my voice.
---
About the book: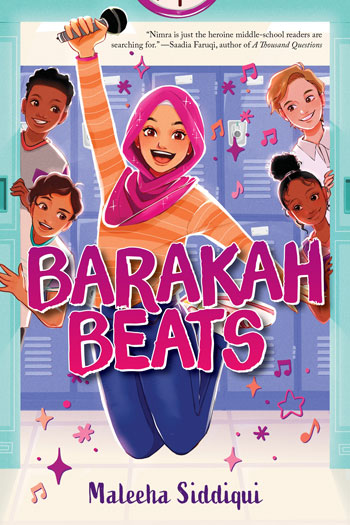 For fans of The First Rule of Punk and Save Me a Seat, Barakah Beats is a sweet, powerful, and joyous novel about a Muslim girl who finds her voice on her own terms by joining her school's most popular boy band.
Twelve-year-old Nimra Sharif has spent her whole life in Islamic school, but now it's time to go to "real school." Nimra's nervous, but as long as she has Jenna, her best friend who already goes to the public school, she figures she can take on just about anything.
Unfortunately, middle school is hard. The teachers are mean, the schedule is confusing, and Jenna starts giving hijab-wearing Nimra the cold shoulder around the other kids.
Desperate to fit in and get back in Jenna's good graces, Nimra accepts an unlikely invitation to join the school's popular 8th-grade boy band, Barakah Beats. The only problem is, Nimra was taught that music isn't allowed in Islam, and she knows her parents would be disappointed if they found out. So, she devises a simple plan: join the band, win Jenna back, then quietly drop out before her parents find out.
But dropping out of the band proves harder than expected. Not only is her plan to get Jenna back working, but Nimra really likes hanging out with the band—they value her contributions and respect how important her faith is to her. Then Barakah Beats signs up for a talent show to benefit refugees, and Nimra's lies start to unravel. With the show only a few weeks away and Jenna's friendship hanging in the balance, Nimra has to decide whether to betray her bandmates—or herself.