As a new school library project manager, I team with librarians and principals to curate new book collections. When putting together a title list, I always keep in mind the parents and caregivers of these students as well as the teachers and staff. Opening day collections need to address topics and themes the entire school population will find enjoyable and resourceful, and that includes books that cover tough subjects. For example: How do you explain cancer to young children?
After receiving a breast cancer diagnosis in October 2009, one of the first things I did was go to the library in search of an age-appropriate book that explained the basics of cancer. My sons were just 3 and 6 years old. I wanted a book that instilled hope, a book that would help my kids be courageous when I would be looking and acting so differently. Because I never found that book, I decided to explain what was going to happen to me in my own way. I described cancer as a bad weed in my garden. To be healthy, I needed the weed removed and took medicine to make sure the weed did not grow back.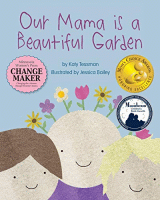 Finishing my cancer fight with children who stayed optimistic gave me the confidence to self-publish my family's story to help others get through their own personal health battles. My book (available in MackinBound) is called Our Mama is a Beautiful Garden (CARIBOU LAKE BOOKS, 2018). It is written in the voice of my two young sons, and features thoughtful illustrations by Jessica Bailey. My goal was to give other families the strength and courage they need during an awful time that can feel hopeless.
Over the past several years, more and more books that cover coping with cancer and facing difficult challenges have become available for young children. Here are three new titles, along with their publishers' summaries. These titles highlight the bond between mother and son, and the way they face sensitive subjects together. These books are available in print and digital formats. I recommend these books as a valuable addition to any school library collection.
---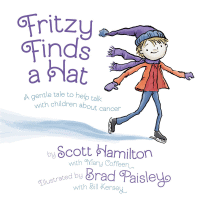 Fritzy Finds a Hat by Scott Hamilton, illustrations by Brad Paisley (FOREFRONT BOOKS, 2020)
Fritzy's mom has cancer, which is pretty scary. But Fritzy is on a mission to find his mom the perfect hat she can wear to her treatments. What will he find? In this charming children's book, Olympic Gold Medal-winning figure skater and bestselling author Scott Hamilton teams up with country music superstar Brad Paisley to share a story that will help parents talk with their children about cancer. The story centers around an ice-skating little boy named Fritzy who learns his mom has cancer. Each new page has him searching for a different hat for his mom to wear as she undergoes cancer treatments. The delightful illustrations by Paisley lend an air of whimsy and thoughtfulness while the gentle storyline by cancer survivor Scott Hamilton teaches children a powerful message of how their love and support can sometimes be the best medicine. Fritzy Finds a Hat can be read to younger children or given to older children to read themselves.
---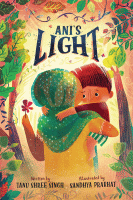 Ani's Light by Tanu Shree Singh, illustrations by Sandhya Prabhat (MAGINATION PRESS, 2020)
This sensitive, hopeful story will help kids explore their sadness when a close family member is undergoing medical treatment, while highlighting sources of light that can bring stability during uncertain times. It is also a terrific resource for anyone who wants to understand the ups and downs of coping with a parent's illness. Ani's stuck in a dark cloud because his mother hasn't been home. His friends and family try to brighten his mood, but nothing helps. When Mama finally comes back, but with her hair missing, Ani's light gets brighter and brighter, chasing away his darkness. The unconditional love between Ani and his mother shines through as the two enjoy their precious time together, whether it's forever, or just for now.
---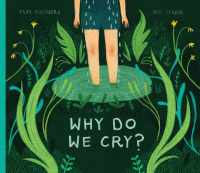 Why Do We Cry? by Fran Pintadera, illustrations by Ana Sender (KIDS CAN PRESS, 2020)
This sensitive, poetic picture book uses metaphors and beautiful imagery to explain the reasons for our tears, making it clear that everyone is allowed to cry, and that everyone does. In a soft voice, Mario asks, "Mother, why do we cry?" His mother thinks for a moment, and then begins to tell him about the many reasons for our tears. We cry because our sadness is so huge it must escape from our bodies. Because we don't understand the world, and our tears go in search of an answer. Because we can't find the right words, and our tears speak a universal language. Most importantly, she tells him, we cry because we feel like crying. And, as she shows him then, sometimes we feel like crying for joy. Ana Sender's artwork uses color and symbolic images along with facial expressions and body language to beautifully capture the mood and emotion being described on each spread. This warm, reassuring hug of a book provides just the response every adult would want to have to the central question. Supporting social-emotional learning, it makes an excellent choice for discussions about feelings and crying. To extend the concepts in the story, back matter describes the physical aspects and benefits of tears, and provides two activities.