Recently we have experienced the perfect storm of a global pandemic and racial injustice that has put both these issues at the forefront of our collective consciousness. It is hard for many adults to wrap their minds around the seemingly abstract concepts of implicit bias and systemic racism. People are striving to educate themselves, as reflected by the huge uptick in anti-racist books being purchased across the country1. As teachers and librarians, we have the additional challenge of not only learning about these concepts for ourselves, but teaching them to the next generation. It can be tough to find anti-racist resources at an appropriate level for children, so I pulled together some of my favorite anti-racist books for elementary and middle school students. All descriptions come directly from the publishers.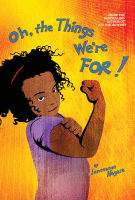 OH, THE THINGS WE'RE FOR
9781644210147 | Interest Levels PS-3
This is a celebration of the better world that is not only possible, but is here today if we choose it. Today's kids are well aware of the many challenges that they face in the world they are inheriting, from climate change to police violence, crowded classrooms to healthcare. Poetically written and beautifully illustrated in Innosanto Nagara's (A is for Activist) signature style, this book offers a vision of where we could go–and a future worth fighting for. Oh, the Things We're For! is a book for kids, and for the young at heart of all ages.
---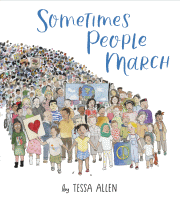 SOMETIMES PEOPLE MARCH
9780062991188 |Interest Levels PS-3
With spare, inspiring text and gorgeous watercolor illustrations, this is a timeless and important book for activists of all ages. This hardcover picture book is perfect for sharing and for gifting. It describes how sometimes people march to resist injustice, to stand in solidarity, and to inspire hope. Throughout American history, one thing remains true: no matter how or why people march, they are powerful because they march together.
---

RACISM
9781515845423 | Interest Levels K-2
The effects of racism last a lifetime, and it cannot be tolerated. Using child-friendly text, and encouraging child participation and interaction, this picture book from the Questions and Feelings About … series teaches this valuable lesson in a memorable way. It includes a helpful section with advice, practical tips, and activities for caregivers and teachers.
---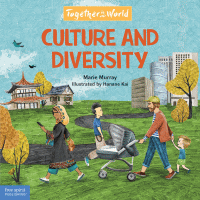 CULTURE AND DIVERSITY
9781631985768 | Interest Levels 1-4
"You will have opportunities to get to know people who are very different from you." Culture and Diversity helps kids understand different cultures and build empathy. This children's book on diversity explains what culture is and how it influences our lives. By learning about the traditions, values, and beliefs of people around them, children can build respect and open doors to understanding and friendship. "What other ways can you think of that would make people feel welcome, help you learn about their culture, and share your culture with them?"
---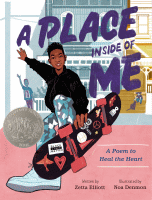 PLACE INSIDE OF ME: A POEM TO HEAL THE HEART
9780374307417 | Interest Levels 1-4
Summertime is filled with joy—skateboarding and playing basketball—until a Black child's community is deeply wounded by a police shooting. As fall turns to winter and then spring, fear grows into anger, then pride and peace. In her stunning debut, illustrator Noa Denmon articulates the depth and nuances of a child's experiences following a police shooting—through grief and protests, healing and community—with vibrant washes of color. Here is a groundbreaking narrative that can help all readers—children and adults alike—talk about the feelings hiding deep inside each of us.
---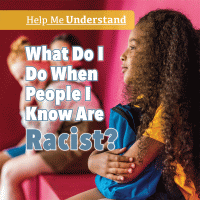 WHAT DO I DO WHEN PEOPLE I KNOW ARE RACIST? 9781725309487 | Interest Levels 2-4
In a time of increasing political and social tensions, students are sure to find themselves in complicated ethical situations. What happens if someone they know and love is racist? This book introduces readers to the concepts of prejudice and racism, and gives them guidance on how to deal with these concepts in daily life. Readers will learn how to show their support for equality by celebrating diversity and standing up for what they believe in. This book tackles a complex subject in an accessible and sensitive way, so young readers can discover new ways to approach this tough topic.
---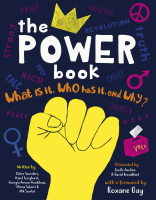 POWER BOOK: WHAT IS IT, WHO HAS IT AND WHY?
9781782409274 | Interest Levels 3-5
This inspiring and brightly illustrated guide to power describes the different types of power, what it means to have power, and what you can do with your own power to create positive change in the world, no matter who or how old you are. What makes you the boss of me? What makes a king a king, or a queen a queen? Why can some people vote for their leaders, but other people can't? Does having lots of money make you powerful? Why are there fewer female scientists, leaders, and artists than men in history books? These are things that kids wonder about. The Power Book answers these and other questions in a relatable way for young people, including thought-provoking discussions on challenging topics, like war, bullying, racism, sexism, and homophobia. You will gain an understanding of your place in your family, your school, and the world, and will discover ways in which you can use your own power to shape the future.
---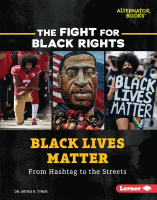 BLACK LIVES MATTER: FROM HASHTAG TO THE STREETS
9781728429564 | Interest Levels 3-6
What is the Black Lives Matter movement? How have people been protesting the ongoing violence against the Black community? From its inception as a social media hashtag in 2013, to a movement with supporters around the world, Black Lives Matter has become more than a slogan. It has changed the way people protest using social media, as well as the public discourse around police brutality. Learn about Black Lives Matter's roots in America's long struggle for racial justice and how the movement will change the future.
---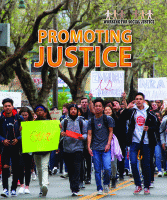 PROMOTING JUSTICE
9781978507869 | Interest Levels 4-6
As more people become politically engaged, the concept of social justice is rapidly becoming a hot topic. Help students learn about the concept of justice and how it relates to their lives. This book highlights not only the importance of justice, but also the ways the criminal justice system can be unfair to minority groups. Students will learn about how unconscious biases affect the justice system and how they can combat them. With simple, accessible text, this book tackles the complicated topic of justice and teaches students how they can help create a better, more just society.
---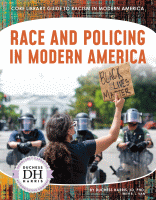 RACE AND POLICING IN MODERN AMERICA
9781532194689 | Interest Levels 4-8
The United States has the highest incarceration rate in the world, and there is great racial inequality in the criminal justice system. Race and Policing in Modern America explores how the U.S. criminal justice system perpetuates inequality, from the police as slave patrols in the American South, to the school-to-prison pipeline today. Easy-to-read text, vivid images, and helpful back matter give readers a clear look at this subject. Features include a table of contents, infographics, a glossary, additional resources, and an index. Aligned to Common Core Standards and correlated to state standards. Core Library is an imprint of Abdo Publishing, a division of ABDO.
---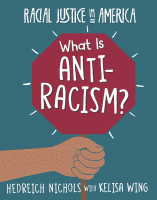 WHAT IS ANTI-RACISM?
9781534180215 | Interest Levels 5-8
Race in America has been avoided in children's education for too long. What Is Anti-Racism? explores the idea of actively working against racism in a comprehensive, honest, and age-appropriate way. It was developed in conjunction with educator, advocate, and author Kelisa Wing to reach children of all races and encourage them to approach race issues with open eyes and minds. Includes 21st Century Skills and content, as well as a PBL activity across the Racial Justice in America series. Also includes a table of contents, glossary, index, author biography, sidebars, educational matter, and activities.
---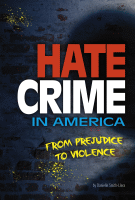 HATE CRIME IN AMERICA: FROM PREJUDICE TO VIOLENCE 9780756564094 (Interest Levels 6-8)
Hate crime in the United States is on the rise. The FBI has reported that hate crimes rose by 17 percent in 2017, increasing for the third straight year, and the trend continued into 2018 and 2019. The crimes are most commonly motivated by hatred related to race, ethnicity, or country of origin. Many crimes are also motivated by bias against sexual orientation or gender identity. Students will learn why hate crime is on the rise and how they can help combat it.
---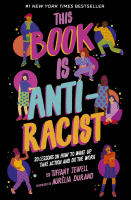 THIS BOOK IS ANTI-RACIST
9780711245211 | Interest Levels 6-10
This book is written for EVERYONE who lives in this racialized society—including the young person who doesn't know how to speak up to the racist adults in their life, the kid who has lost themself at times trying to fit into the dominant culture, the children who have been harmed (physically and emotionally) because no one stood up for them or they couldn't stand up for themselves, and for families, teachers, and administrators. Use this book to be empowered to actively defy racism and xenophobia to create a community (large and small) that truly honors everyone.
---
References
1Harris, E. A. (2020). People are marching against racism. They're also reading about it. The New York Times. https://www.nytimes.com/2020/06/05/books/antiracism-books-race-racism.html