by Katy Tessman, New School Services Project Manager & Makerspace Specialist
---
The bond between a father and daughter is very unique. Fathers lay the foundation of love, trust, and security for their daughters. Dads build their daughters' self-esteem and are important role models. My father taught me many things including a love of the great outdoors and to be a lifelong learner, but mostly he taught me I can depend on him through thick and thin.
Growing up, I knew I could count on my dad to read Laura Ingalls Wilder's novels to me, he was always game to play HORSE basketball in the driveway, and I always saw his smiling face in the audience at my choir concerts. Four years ago, I bought a fixer-upper and Dad has been an integral part of helping me make my house into a home for me and my two sons. Together, we knocked down walls and built them up again, planned, painted, polished, and planted.
I am now in the "middle-place" where I'm a daughter to my parents as well as a parent to my sons. I am fortunate that my dad is a grandfather my sons can look to as an example to follow: a feminist man who loves his daughters, son, and grandchildren to the moon and back. I don't need my dad to hold my hand anymore, because I know he will always have my back.
As a new school library project manager, I team with librarians and principals to curate new book collections. Oftentimes, specific title requests lead me to discover new books that speak to me personally. The following are five new titles, along with the publishers' summaries, that celebrate the bond between fathers and daughters. These books are available in print and digital formats.
---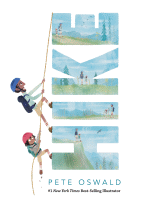 Hike by Pete Oswald
(Candlewick Press, 2020)
In the cool and quiet early light of morning, a father and child wake up. Today they're going on a hike. Follow the duo into the mountains as they witness the magic of the wilderness, overcome challenges, and play a small role in the survival of the forest. By the time they return home, they feel alive — and closer than ever — as they document their hike and take their place in family history. In detail-rich panels and textured panoramas, Pete Oswald perfectly paces this nearly wordless adventure, allowing readers to pause for subtle wonders and marvel at the views. A touching tribute to the bond between father and child.
---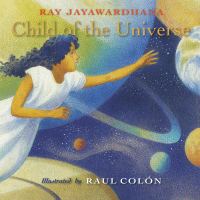 Child of the Universe by Ray Jayawardhana, Illustrated by Raul Colon
(Make Me A World, 2020)
A lyrical meditation on the preciousness of one child and the vastness of the universe, this gorgeously illustrated picture book shares the immensity of a parent's love along with the message that we are all connected to the broader cosmos in important and intimate ways. A perfect bedtime read-aloud, Child of the Universe is a book to cherish forever.
---
Hair Twins by Raakhee Mirchandani, Illustrated by Holly Hatam
(Little, Brown Books For Young Readers, 2021)
Sikh father and daughter share a special hair bond, and proudly celebrate a family tradition in this charming story. Every morning Papa combs through his daughter's waves like he does his own—parting it down the middle, using coconut oil to get all the tangles out. Some days he braids her hair in two twists down the side of her face. Other days he weaves it into one long braid hanging down her back, just like a unicorn tail.  But her favorite style is when he combs her hair in a tight bun on the top of her head, just like the joora he wears every day under his turban. They call this their hair twin look!
---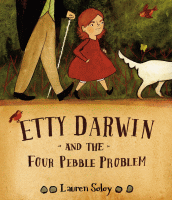 Etty Darwin and the Four Pebble Problem by Lauren Soloy
(Tundra Books, 2021)
Etty Darwin and her famous father go for a walk to ponder life, science . . . and fairies! A gorgeous rumination on belief and imagination inspired by the real-life daughter of Charles Darwin, Henrietta (Etty) Darwin. Etty went on to become a valued and keen editor of Charles's work and a thoughtful and intellectual being in her own right. This imagined conversation between Etty and Charles as they stroll around Charles's real-life "thinking track" explores their close relationship and shows that even science is nothing without an open mind and imagination.
---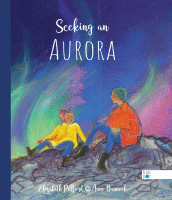 Seeking an Aurora by Elizabeth Pulford
(Blue Dot Kids Press, 2021)
In the quiet of the night, a child's father bundles them up and shows them the majesty of an aurora. Through the silent frost, across fields, and up hills they climb . . . And then they wait. Together they share an unforgettable moment and the majestic splendor of the northern and southern lights. This moving and lyrical story is paired with scientific information about the awe-inspiring lights to inspire readers to seek their own natural wonders.