"You should've won a . . ." a student complimented me during my recent virtual visit to her private school. Right after her, other students in fifth through eighth grade named other awards they wanted my book What Lane? to win. I joked, "How can we get YOU on awards committees?"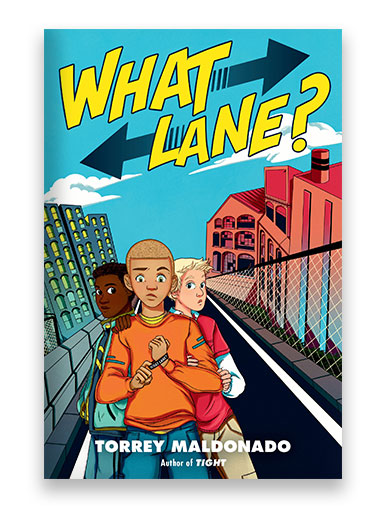 Children who know book awards are in a different lane of knowledge than I was in at that age, and they're in a different lane than the middle grade students at the public school where I've been teaching for nearly twenty-five years. I only recently learned what a Newbery is when a friend won one, and many of my students also don't know what it is. I'm a mirror to a lot of students and readers in this way and others; it is why I teach and write.
Two decades before "equity" trended, I decided equity would drive my teaching and writing. Equity means everyone gets what they need, and I want that for children because my needs weren't met by books, schools, and educators. When children's needs aren't met, they're steered into limited futures. I'm a storyteller and I ask myself, "Through teaching and writing, how can I steer all readers into the best lane? How can I be most responsive to children?"
If more educators of my upbringing practiced equity and responsiveness, then I wouldn't have been tracked away from literacy like my peers and generations of their families and mine. Most of us became reluctant readers. It may have been unintentional, but it was structural that most books didn't have our Black and Brown lives in them; cast us as side characters, caricatures, criminals, or negative stereotypes; or reduced how much we matter. Life magazine called the Brooklyn Red Hook projects where I was born and raised "One of the Worst Neighborhoods in the Country." Schools there added a layer of pain by derailing children's love of school and literacy. This is why in a NYU "Center for Innovation in Teaching and Learning" video I said, "When kids are not exposed to books that are reflections of their lives, they disconnect from literacy. What that means is we're killing generations of writers before they're even born." As a writer and teacher, I almost was never born. Being steered away from literacy, my drive for school tanked and I was left back. What do you think happened when I repeated a grade? The same thing that happened to my peers who were left back—we were sidelined; many became casualties.
I was one of the few fortunate ones. Eventually, I was introduced to comic books, responsive teachers, and then the right books that centered my community and me as important and heroic. That elixir was fuel that revved me up and steered me here. I try to fuel students how I was fueled. Beth Parmer, a K-5 librarian in Columbus, Ohio, shared a conversation that her fifth graders had that shows how I do that with What Lane? She said that an Asian student told their class that the racism that happens in What Lane? happened to her dad. Parmer reflected, "And I think about how hard that must be for a child to deal with, and while I can't take that pain or challenge away, your book gave us a space to process it."
Giving students space to process shouldn't add an extra layer of strain. Like me, many students I meet—regardless of race, income level, or background—too often feel an unresponsiveness from books, educators, and author visits. Not feeding students' needs strains them. Why add extra strain? Isn't life hard enough? It's why I start virtual visits by telling students, "After my presentation and reading, let me know if what I share matters and if you want more." By giving kids what they need, I'm also being who I needed as a youngster. I think it's why I've been called a top culturally responsive teacher and author. My efforts try to make all kids realize they're multidimensional, everyday heroic, and important. That powerfully hooks them to books.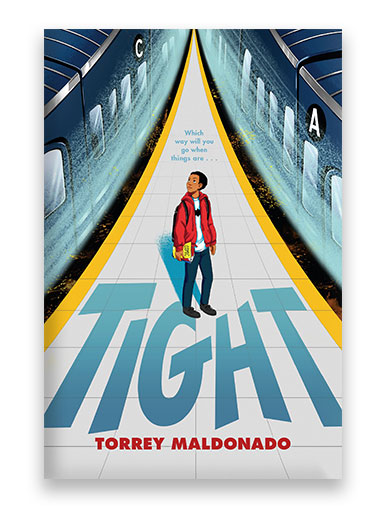 I did a recent visit and the school did a survey right after. Many students said the same thing conveyed in the following student response: "I like how Torrey answered questions about his books and life by connecting to shows and movies and things that kids are into." My talks and lessons are like my books. What Lane? is a slim, 126-page, engaging book that has what tweens and teens are into. From its start and throughout, it references comics, movies, sci-fi, and fantasy that are popular with students. My books are thin in size but thick in complexity. My talks also have that brevity, levity, and fast-paced rollercoaster energy. Students don't realize until it's over that along the way we built everyday allyship, strengthened their confidence to blaze a way to being their best selves, and showed them that they're everyday heroic. It's why Jacqueline Woodson—National Book Award–winning author of Brown Girl Dreaming—loved my book Tight, saying, "I was riveted by Bryan's journey, and becoming his own kind of superhero." Woodson recommended What Lane? to Oprah magazine as essential for discussing everyday racism and allyship.
I believe children of all races, income levels, and backgrounds connect with my stories and me, and schools invite me to visit because I help youth see that books, authors, and educators can be responsive, learning can be a fun magical rollercoaster, and tough topics can be discussed in ways that feel light and accessible. In doing for children what a few inspirations did for me, I hope to help steer them into heroic futures and brighter and less stressful days that they deserve.
Connect With Torrey Maldonado