February is known for Valentine's Day, a celebration of romantic love. But it can also be a time to honor friendships. Friends can be the most important people in our life. In an article published by the Mayo Clinic, research showed that good friends are good for your health. During this COVID-19 pandemic, many of us are feeling isolated and withdrawn. Connecting with friends can prevent loneliness and can comfort us during these uncertain times.
As educators build their library collections, it's always important to provide titles that reflect their readers. As classrooms become more and more diverse, it is very likely that youth have friends in different racial and ethnic groups. The following are new books that celebrate diverse friendships along with their publishers' summaries. These picture books, middle-grade fiction, and YA novels are written by debut authors. These books are available in print and digital formats.
---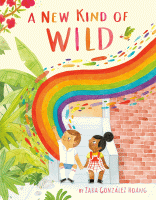 NEW KIND OF WILD by ZARA GONZALEZ HOANG (2020, DIAL BOOKS, Interest Level: Ps-2)
This sweet author-illustrator debut celebrates imagination, the magic of friendship, and all the different ways we make a new place feel like home. For Ren, home is his grandmother's little house, and the lush forest that surrounds it. Home is a place of magic and wonder, filled with all the fantastical friends that Ren dreams up. Home is where his imagination can run wild. For Ava, home is a brick-and-cement city, where there's always something to do or see or hear. Home is a place bursting with life, where people bustle in and out like a big parade. Home is where Ava is never lonely because there's always someone to share in her adventures. When Ren moves to Ava's city, he feels lost without his wild environment. How will he ever feel at home in a place with no green and no magic, where everything is exactly what it seems? Of course, not everything in the city is what meets the eye, and as Ren discovers, nothing makes you feel at home quite like a friend. Inspired by the stories her father told her about moving from Puerto Rico to New York as a child, Zara González Hoang's author-illustrator debut is an imaginative exploration of the true meaning of "home."
---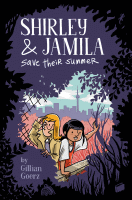 SHIRLEY AND JAMILA SAVE THEIR SUMMER (GRAPHIC NOVEL) by GILLIAN GOERZ (2020, DIAL BOOKS, Interest Level: 3-6)
This middle-grade graphic novel for fans of Roller Girl and Smile introduces Jamila and Shirley, two unlikely friends who save each other's summers while solving their neighborhood's biggest mysteries. Jamila Waheed is staring down a lonely summer in a new neighborhood until she meets Shirley Bones. Sure, Shirley's a little strange, but both girls need a new plan for the summer, and they might as well become friends. Then this kid Oliver shows up begging for Shirley's help. His pet gecko has disappeared, and he's sure it was stolen! That's when Jamila discovers Shirley's secret: She's the neighborhood's best kid detective, and she's on the case. When Jamila discovers she's got some detective skills of her own, a crime-solving partnership is born. The mystery of the missing gecko turns Shirley and Jamila's summer upside down. And when their partnership hits a rough patch, they have to work together to solve the greatest mystery of all: What it means to be a friend.
---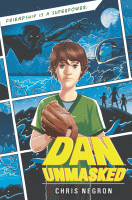 DAN UNMASKED by CHRIS NEGRON (2020, HARPERCOLLINS PUBLISHERS, Interest Level: 4-7)
This heartfelt middle-grade debut about grief, creativity, and the healing power of friendship, shows that not all heroes wear capes and is perfect for fans of John David Anderson and Ali Benjamin. Whether they're on the baseball field or in Nate's basement devouring the newest issue of their favorite comic book, Dan and Nate are always talking. Until they're not. After an accident at baseball practice, Nate's fallen into a coma. And if Dan ever wants to talk to Nate again, he's got to take a page out of his hero Captain Nexus's book, and do whatever it takes to save the day. But heroes have powers—and without Nate, all Dan has is a closet stuffed with comics and a best-friend-shaped hole in his heart. There's no way a regular kid can save the day all on his own, right?
---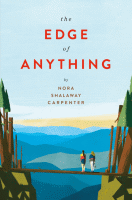 EDGE OF ANYTHING by NORA SHALAWAY CARPENTER (2020, RUNNING PRESS KIDS, Interest Level 8-12)
A vibrant #ownvoices debut YA novel about grief, mental health, and the transformative power of friendship. Len is a loner teen photographer haunted by a past that's stagnated her work and left her terrified she's losing her mind. Sage is a high school volleyball star desperate to find a way around her sudden medical disqualification. Both girls need college scholarships. After a chance encounter, the two develop an unlikely friendship that enables them to begin facing their inner demons. But both Len and Sage are keeping secrets that, left hidden, could cost them everything, maybe even their lives.
---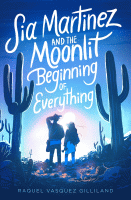 SIA MARTINEZ AND THE MOONLIT BEGINNING OF EVERYTHING by RAQUEL VASQUEZ GILLILAND (2020, SIMON PULSE, Interest Level: 9-12)
It's been three years since ICE raids and phone calls from Mexico and an ill-fated walk across the Sonoran. Three years since Sia Martinez's mom disappeared. Sia wants to move on, but it's hard in her tiny Arizona town where people refer to her mom's deportation as "an unfortunate incident." Sia knows that her mom must be dead, but every new moon Sia drives into the desert and lights San Anthony and la Guadalupe candles to guide her mom home. Then one night, under a million stars, Sia's life and the world as she knows it cracks wide open. Because a blue-lit spacecraft crashes in front of Sia's car…and it's carrying her mom, who's very much alive. As Sia races to save her mom from armed-quite-possibly-alien soldiers, she uncovers secrets as profound as they are dangerous in this stunning and inventive exploration of first love, family, immigration, and our vast, limitless universe.
---