Generation Z (born between 1996 and 2009) and Generation Alpha (born in 2010 or later) have the potential to be the most politically informed and engaged generations this country has ever seen. They are digital natives, born with a world of information at their fingertips thanks to smartphones and tablets. Generation Z is being called "Generation Connected," and Generation Alpha is being called the "Global Gen"1, due to these generations' propensities to be more aware of people both within their own country and across the world.
We're already seeing young people from these generations engage in activism. Greta Thunberg was named TIME's Person of the Year in 2019, due to her activism around climate change2. Joshua Wong was nominated for a Nobel Peace Prize in 2018, for his leadership of the Occupy protests in Hong Kong3. Students from Marjory Stoneman Douglas High School helped spearhead the #neveragain movement in protest to gun violence in schools4.  It's not just Gen Z kids who are making a difference; as many as one in five Gen Alpha kids between five to nine years old have already been to a protest or march5. Our students are poised to make a true difference in this world. They may be young, but they're striving to be informed, to learn what they can, and to impact the lives of people around the world in a positive way.
As teachers and librarians, we can encourage our kids to engage with the political system in a myriad of ways. One of the best ways to make a difference is to vote. While most of our students are too young to cast a ballot, instilling excitement about elections in children at a young age sets them up to exercise their civic duty to vote when they are old enough.
I wanted to pull together a selection of the best new titles about elections and voting. There are titles for elementary, middle, and high school students on this list. All titles are available in both print and digital formats, so they will be accessible for those doing virtual learning, in-person learning, or a hybrid model. All descriptions come from the publishers.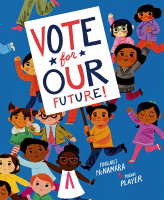 Vote for Our Future! by Margaret McNamara and Micah Player. 9781984892805 (Interest Level: 1-3, Penguin Random House, 2020)
In this charming and powerful picture book about voting and elections, the students of Stanton Elementary School learn how they can find–and use–their voices for change. Every two years, on the first Tuesday of November, Stanton Elementary School closes for the day. For vacation? Nope! For repairs? No way! Stanton Elementary School closes so that it can transform itself into a polling station. People can come from all over to vote for the people who will make laws for the country. Sure, the Stanton Elementary School students might be too young to vote themselves, but that doesn't mean they can't encourage their parents, friends, and family to vote! After all, voting is how this country sees change; by voting today, we can inspire tomorrow's voters to change the future.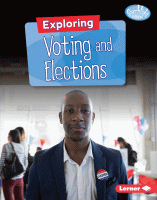 Exploring Voting and Elections by Jennifer Joline Anderson. 9781541555846 (Interest Level: 3-6, Lerner Publications Company, 2020)
Provide readers with an engaging and relevant introduction to voting and elections in a presidential election year. Illustrate the importance of voting and how election outcomes affect readers' day-to-day lives through background context, modern examples, and informative sidebars.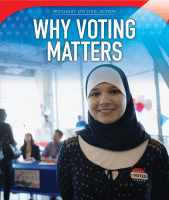 Why Voting Matters by Kip Almasy. 9781508163954 (Interest Level: 4-8, Power Kids Press, 2018)
How do citizens make their voices heard? There is perhaps no greater example of democracy in action than voting. Historically, marginalized groups were excluded from the equal citizenship represented by suffrage. Readers will study the importance of voting, the history of the vote being denied to minority groups, how those groups struggled to attain that right, and what voting means to American citizens today. The comprehensive subject matter supplements the elementary social studies curriculum. Primary sources and full-color photographs make the information pop.
Is Every American Adult Allowed to Vote? by Alex Acks. 9781978507081 (Interest Level: 5-8, Enslow Publishing, 2020)
When the United States of America began as a country, only white men who owned land could vote. Over the last 230 years, people have fought and protested and even died to expand the right to vote to include every adult over the age of eighteen. Today, are there ways you can lose your right to vote? If it's too difficult to vote, can we really say that you still have that right? Voting is the best and sometimes only way Americans can have a say in their government, and readers will learn why it's worth fighting for.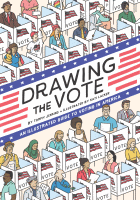 Drawing the Vote by Tommy Jenkins. 9781419739989 (Interest Level: 8-12, Abrams, 2020)
Coinciding with the 2020 U.S. presidential election, Drawing the Vote, an original graphic novel, looks at the history of voting rights in the United States and how it affects the way we vote today. Throughout the book, the author identifies events and trends that led to the results of the 2016 presidential election and left American political parties more estranged than ever. To balance these complex ideas and statistics, Kati Lacker's original artistic style makes the book accessible for readers of all ages. At a time when many citizens are experiencing challenges and apathy about voting, and skepticism concerning our bitterly divided government, Drawing the Vote seeks to offer some explanation for how we got here and how every American can take action to make their vote count.
Yes No Maybe So by Becky Albertalli and Aisha Saeed. 9780062937049 (Interest Level: 8-12, HarperCollins, 2020)
YES: Jamie Goldberg is cool with volunteering for his local state senate candidate–as long as he's behind the scenes. When it comes to speaking to strangers (or, let's face it, speaking at all to almost anyone) Jamie's a choke artist. There's no way he'd ever knock on doors to ask people for their votes, until he meets Maya. NO: Maya Rehman's having the worst Ramadan ever. Her best friend is too busy to hang out, her summer trip is canceled, and now her parents are separating. Why her mother thinks the solution to her problems is political canvassing–with some awkward dude she hardly knows–is beyond her. MAYBE SO: Going door to door isn't exactly glamorous, but maybe it's not the worst thing in the world. After all, the polls are getting closer–and so are Maya and Jamie. Mastering local activism is one thing. Navigating the cross-cultural crush of the century is another thing entirely.
---
References
1 McCrindle Research. (n.d.). Changing generations. Generationz. https://generationz.com.au/wp-content/uploads/2018/09/GenZGenAlpha.pdf
2 Alter, C., Hayes, S., & Worland, J. (2019). Time person of the year: Greta Thunberg. TIME. https://time.com/person-of-the-year-2019-greta-thunberg/
3 Kang-chung, N. (2018). Joshua Wong and other occupy leaders nominated for Nobel Peace Prize by US congressmen. South China Morning Post. https://www.scmp.com/news/hong-kong/politics/article/2131544/joshua-wong-and-other-occupy-leaders-nominated-nobel-peace
4 Alter, C. (2018). The school shooting generation has had enough. TIME. https://time.com/longform/never-again-movement/
5 Booth, R. (2019). March of the under 10s – generation growing up as protestors. The Guardian. https://www.theguardian.com/media/2019/jun/19/march-of-the-under-10s-generation-growing-up-as-protesters