by Katy Tessman, New School Services Project Manager & Makerspace Specialist
---
Educators around the world have the same goals of raising readers and instilling a love of learning in their students. But now, more than ever, educators are collectively focusing on how to do that safely. We are all learning how to find our new normal during this global pandemic, and with the new school year starting, educators across the country are focused on how to help transition their students into new learning environments. Whether it be socially distant classrooms, a hybrid of in-school and online classes, or full-time e-learning, schools are faced with a unique challenge.
These uncertain times have stirred up many emotions for the people in this country and around the world. In addition to adjusting to our new "pandemic lifestyle," educators are also navigating new conversations about race and anti-racism. Even in this uncharted territory, educators' and students' roles have not changed. It's important to remember to celebrate our similarities and differences.
Shared reading experiences create community, and stories can provide a foundation of togetherness for students during this unique time. There are some excellent read-aloud books that can help kick-off the new school year with a positive start. The following are three new titles and their publishers' summaries describing stories of kindness, courage, and honor. This matter of common concern affects all of us, and it's important to remember we're all in this together.
---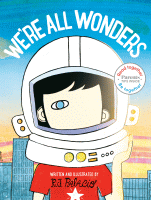 We're All Wonders: Read Together Edition by R.J. Palacio (Knopf Books for Young Readers, 2020)
Countless fans have asked R.J. Palacio to write a book for younger readers. With We're All Wonders, she makes her picture-book debut as both author and artist, with a spare, powerful text and striking, richly imagined illustrations. Palacio shows readers what it's like to live in Auggie's world—a world in which he feels like any other kid but is not always seen that way. We're All Wonders may be Auggie's story, but it taps into every child's longing to belong, and to be seen for who they truly are. It's the perfect way for families and educators to talk about empathy and kindness with young children.
---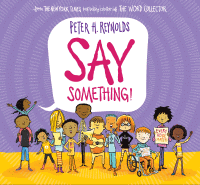 Say Something! by Peter H. Reynolds (Orchard Books/Scholastic, 2019)
In this empowering new picture book, beloved author Peter H. Reynolds explores the many ways that a single voice can make a difference. Each of us, each and every day, have the chance to say something: with our actions, our words, and our voices. Perfect for kid activists everywhere, this timely story reminds readers of the undeniable importance and power of their voice. There are so many ways to tell the world who you are, what you are thinking, and what you believe. And how you'll make it better. The time is now: SAY SOMETHING!
---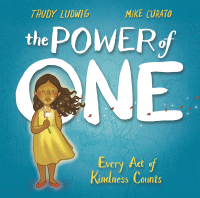 Power of One: Every Act of Kindness Counts by Trudy Ludwig  (Knopf Books for Young Readers, 2020)
One small act of kindness can change the world. From esteemed bullying expert and author of The Invisible Boy, Trudy Ludwig, and Little Elliot illustrator Mike Curato comes a tale as simple—and simply inspiring—as the Golden Rule. When one child reaches out in friendship to a classmate who seems lonely, she begins a chain reaction of kindness that ripples throughout her school and her community. One kind act creates another, small good deeds make way for bigger ones, and eventually the whole neighborhood comes together to build something much greater than the sum of its parts. The Power of One not only conveys a message of kindness, it offers concrete steps that kids can take to make a difference in their own communities.