By Katy Tessman, New School Services Project Manager & Makerspace Specialist
---
No other form of writing expresses emotions and creates imagery quite like poetry. Poets select words for their meaning and arrange them on the page to create a rhythm and tempo for readers. Poetry has been an important part of art and culture for over four thousand years. There are several types of poetry including haiku and cinquain (poems with a specific number of lines and syllables), sonnets (made famous by William Shakespeare), epic poems (such as "The Iliad" and "The Odyssey"), free verse and blank verse, and acrostic, found, and concrete poems.
Since 1937, the Library of Congress Poetry and Literature Center has named a Poet Laureate Consultant in Poetry. During their one-year term, the Poet Laureate works to raise awareness and foster a greater appreciation of writing and reading poetry. Gwendolyn Brooks, Juan Felipe Herrera, and Robert Frost have all been named the American Poet Laureate. Currently, the nation's Poet Laureate is Joy Harjo—the first Native American poet to serve in the position. She has authored several books of poetry, including her memoir, Crazy Brave (Interest level: 11-Adult, W. W. Norton, 2012), which won the 2013 PEN Center USA literary prize for creative nonfiction, as well as a children's book, The Good Luck Cat (Interest level: PS-2, Harcourt Brace, 2000), and a middle grade book, For a Girl Becoming (Interest level: 6-8, University of Arizona Press, 2009).
Picture books with rhyming poetry are wonderful read-alouds. These easy/everybody books usually have illustrations accompanying the text to support the emotions and imagery of the poetry. Memoirs written in poetry are some of the most moving biographical stories published. Personally, my favorite type of poetry is the novel in verse. I find great enjoyment reading this type of narrative told through the medium of poetry rather than prose. As the summer reading program director at my two sons' elementary school, I found these types of novels are the easiest to get a reluctant student interested in reading for fun. These books have a lot of white space on the pages and tend to read quicker than a traditional story in prose.
The following are my favorite new poetry books and the publishers' summaries. I hope these titles will help encourage students to gain a greater appreciation of writing and reading poetry.
---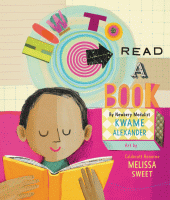 How to Read a Book (Easy Picture Book) by Kwame Alexander, Illustrated by Melissa Sweet
(Interest Level: K-3, HARPERCOLLINS PUBLISHERS, 2019)
A stunning new picture book from Newbery Medalist Kwame Alexander and Caldecott Honoree Melissa Sweet! This New York Times bestselling duo has teamed up for the first time to bring you How to Read a Book, a poetic and beautiful journey about the experience of reading. Alexander's evocative poetry and Sweet's lush artwork come together to take readers on a sensory journey between the pages of a book.
---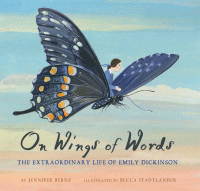 On Wings of Words: The Extraordinary Life of Emily Dickinson (Easy Picture Book) by Jennifer Berne, Illustrated by Becca Stadtlander
(Interest Level: K-3, CHRONICLE BOOKS, 2020)
This is an inspiring and kid-accessible biography of one of the world's most famous poets. Emily Dickinson, who lives in a small New England town, is a girl in love with small things—a flower petal, a bird, a ray of light, a word. In those small things, her brilliant imagination sees the whole world, and in her words, she takes wing. Celebrated children's author Jennifer Berne offers a lyrical and lovely account of Dickinson's life, describing her courage, her faith, and her gift to the world. With Dickinson's own inimitable poetry woven throughout, this lyrical biography is not just a tale of prodigious talent, but also of the power we have to transform ourselves and to reach one another when we speak from the soul.
---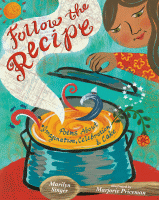 Follow the Recipe: Poems About Imagination, Celebration, and Cake (Easy Picture Book) by Marilyn Singer, Illustrated by Marjorie Priceman
(Interest Level: K-3, DIAL, 2020)
This delicious collection of poems by the innovative Marilyn Singer is accompanied by vibrant splashy artwork by two-time Caldecott Honoree Marjorie Priceman. Presented in a smaller format to appeal to older readers (as well as young), the book has the look of a vintage collector's compendium that includes pictures, ephemera, and annotations to add interest. Even young children are familiar with recipes—a series of steps to help them make something—and the book begins with simple dishes and ideas (such as a recipe for reading a recipe and a recipe for measuring), and then adds more ideas and grows in sophistication until the last recipes broach lofty concepts (a recipe for understanding and a recipe for peace). A treasure of words, images, and ideas.
---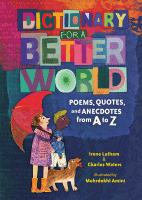 Dictionary for a Better World: Poems, Quotes, and Anecdotes from A to Z by Irene Latham and Charles Waters, Illustrated by Mehrdokht Amini
(Interest Level: 3-6, CAROLRHODA, 2020)
How can we make the world a better place? This inspiring resource for middle-grade readers is organized as a dictionary; each entry presents a word related to creating a better world, such as ally, empathy, or respect. For each word, there is a poem, a quote from an inspiring person, a personal anecdote from the authors, and a "Try It" prompt for an activity. This second poetic collaboration from Irene Latham and Charles Waters builds upon themes of diversity and inclusiveness from their previous book Can I Touch Your Hair? Poems of Race, Mistakes, and Friendship. Illustrations from Iranian-British artist Mehrdokht Amini offer readers a rich visual experience.
---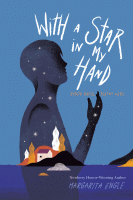 With a Star in My Hand: Rubén Darío, Poetry Hero (Novel in Verse) by Margarita Engle
(Interest Level: 6-9, ATHENEUM BOOKS FOR YOUNG READERS, 2020)
As a little boy, Rubén Darío loved to listen to his great uncle, a man who told tall tales in a booming, larger-than-life voice. Rubén quickly learned the magic of storytelling, and discovered the rapture and beauty of verse. A restless and romantic soul, Rubén traveled across Central and South America seeking adventure and connection. As he discovered new places and new loves, he wrote poems to express his wild storm of feelings. But the traditional forms felt too restrictive, so he began to improvise his own poetic forms so he could capture the entire world in his words. At the age of twenty-one, he published his first book Azul, which heralded a vibrant new literary movement called Modernismo that blended poetry and prose into something magical. In gorgeous poems of her own, Margarita Engle tells the story of this passionate young man who revolutionized world literature.
---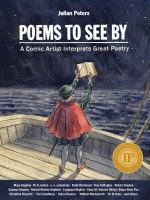 Poems to See by: A Comic Artist Interprets Great Poetry (Graphic Novel) by Julian Peters
(Interest Level: 7-12, PLOUGH PUBLISHING HOUSE, 2020)
This stunning anthology of poems visually interpreted by comic artist Julian Peters breathes new life into some of the greatest English-language poets of the nineteenth and twentieth centuries. These are poems that can change the way we see the world, and encountering them in graphic form promises to change the way we read the poems. In an age of increasingly visual communication, this format helps unlock the world of poetry and literature for a new generation of reluctant readers and visual learners. Grouping unexpected pairings of poems around themes such as family, identity, creativity, time, mortality, and nature, Poems to See By will also help young readers see themselves differently.
---
Three Things I Know Are True (Novel in Verse) by Betty Culley
(Interest Level: 9-12, HARPERTEEN, 2020)
Life changes forever for Liv when her older brother, Jonah, accidentally shoots himself with his best friend Clay's father's gun. Now Jonah needs round-the-clock care just to stay alive, and Liv feels like she's the only person who can see that her brother is still there inside his broken body. With Liv's mom suing Clay's family, there are divisions in the community that Liv knows she's not supposed to cross. But Clay is her friend, too, and she refuses to turn away from him—just like she refuses to give up on Jonah. This powerful novel is a stunning exploration of tragedy, grief, compassion, and forgiveness.
---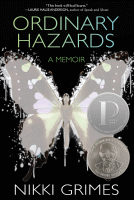 Ordinary Hazards: A Memoir (Memoir in Poetry) by Nikki Grimes
(Interest Level: 9-12, WORDSONG, 2019)
Growing up with a mother suffering from paranoid schizophrenia and a mostly absent father, Nikki Grimes found herself terrorized by babysitters, shunted from foster family to foster family, and preyed upon by those she trusted. At the age of six, she poured her pain onto a piece of paper late one night—and discovered the magic and impact of writing. For many years, Grimes' notebooks were her most enduring companions. In this accessible and inspiring memoir that will resonate with young readers and adults alike, Grimes shows how the power of those words helped her conquer the hazards—ordinary and extraordinary—of her life.
---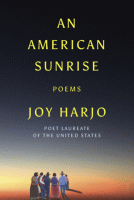 An American Sunrise: Poems by Joy Harjo
(Interest Level: 11-Adult, W. W. NORTON & COMPANY, 2019)
A collection of poems from Muscogee Creek Nation poet Joy Harjo, speaking to the history of her people and to her own familial sorrows and joys, from tribal histories and stories of interactions between her ancestors and the U.S. government, to memories of her mother's death and her experiences in the Native rights movement.