He sat alone. The bench he had once shared with his wife looked into Kao Kalia Yang's yard, but the solitary man did not see the yard. He saw and felt only emptiness.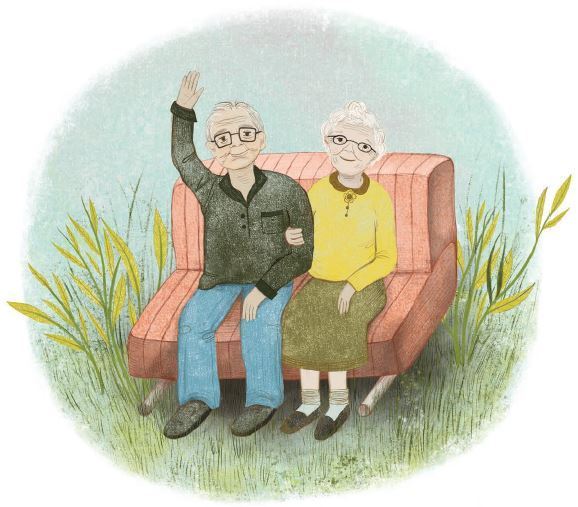 Children do not always see emptiness where there is an open space, but they seem compelled to help relieve the sadness of others.
It was that desire to help a grieving man find his way back to life that also led Yang into the world of children's picture books.
An accomplished and award-winning author in her own right, Yang had focused her writing on giving voice to the Hmong community and culture in America. That is, until she met Bob.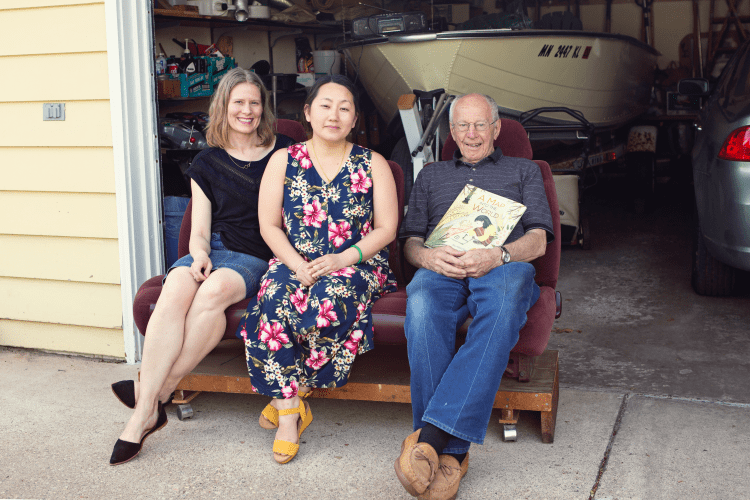 Editor Carol Hinz, author Kao Kalia Yang, and Bob in May 2019
"Bob is our neighbor," Yang shares. "His wife passed away after we moved in [the neighborhood]. Bob grieved on the bench they shared in their open garage, looking upon our yard. I'd crossed the street with the children to visit with him. One particularly hard day, we walked over and my daughter and my sister's children asked if they could draw on his driveway. He agreed. Afterward, he asked, 'What did you draw for me?' They had really drawn a map into the world for him. Bob and I were tremendously moved. The idea [for the book] was born."
That book, A Map Into the World (Carolrhoda Books, 2019), is the story of a young girl's discovery of the changing seasons in a year, the cycle of life, and the power of kindness and love. According to Yang, it is a message that all young people need to hear. "Regardless of age or circumstances, inside each and every one of them is a store of beauty and joy, a world, that will be for others in moments of need, a map or a story cloth into life."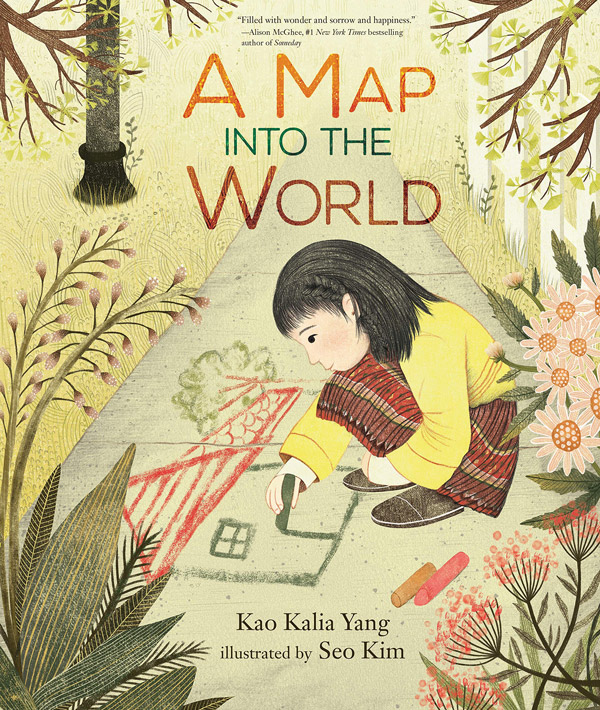 Though A Map Into the World features a young Hmong girl, Paj Ntaub, and elements that are distinctly Hmong such as the story cloth, the book is a beautifully touching story about life, kindness, and community.
Yang describes how the textures depicted in her book illustrate more than just the story on the pages. "There are many different levels to the reading and emotional experience of the story. From Paj Ntaub's clothing, the pairing of the Hmong skirts with the everyday shirts, the rugs the boys are playing on as Paj Ntaub's father tells her that Ruth has died, to the egg rolls her Tais Tais is making. Any child, as I've seen in my school visits, will connect deeply to the message and the story of the book. Hmong children will see themselves and their homes reflected. Hmong scholars and adults will see that the baby brothers, in that moment where Ruth's death is revealed, are playing on top of a rug that bears the symbols for 'infinity' or 'eternity.' The book is quite poetic and lovely in its layers. (For example, I love how when people are visiting Bob and Ruth, they seem to be walking on sky…which for me recalls the very real and beautiful possibility that it could also be ancestors depending on the child's cosmology of the world.)"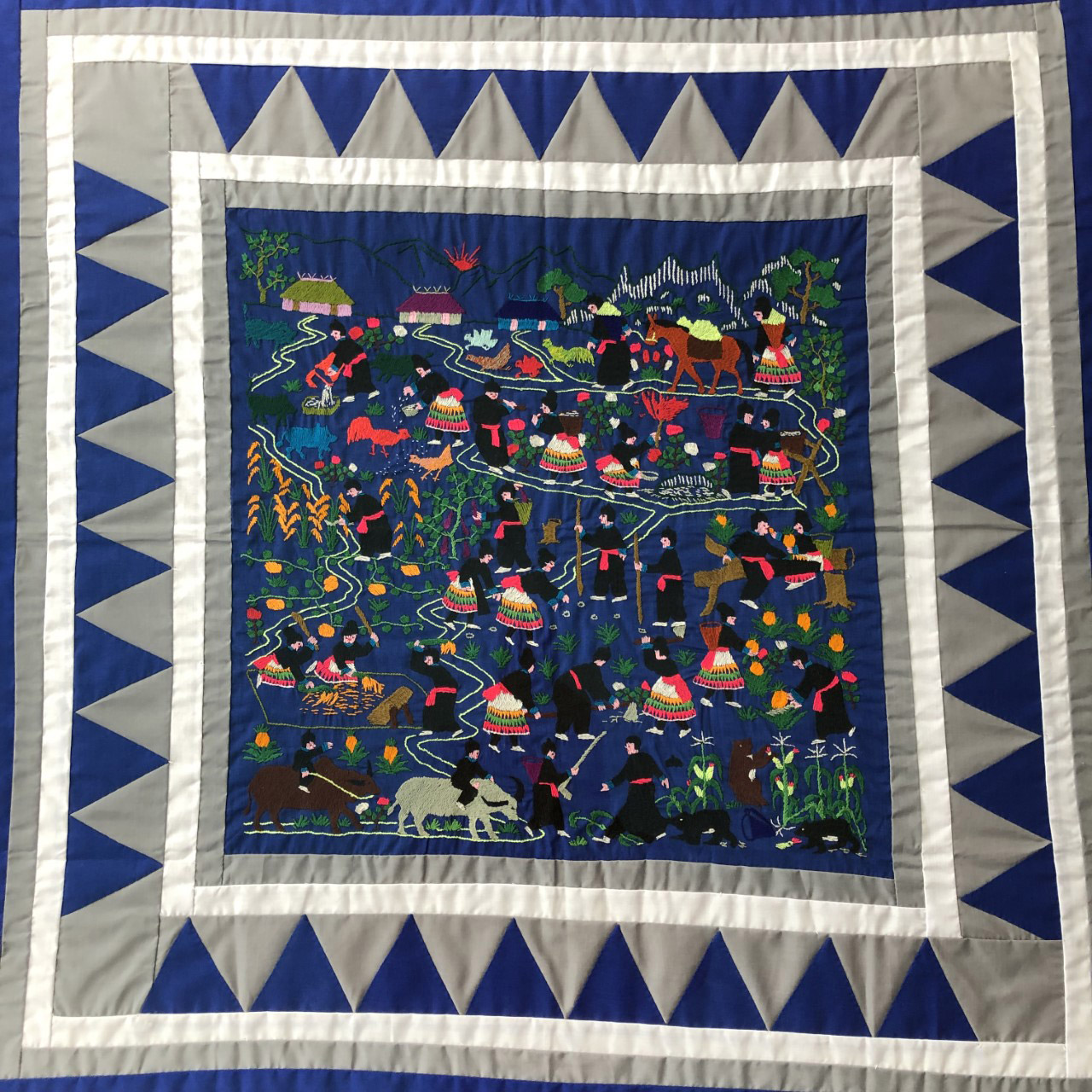 Kao Kalia Yang's story cloth
A Map Into the World is more than just a touching story, however. It is a waymaker for more Hmong authors and illustrators to share their voices and visions. "There aren't many Hmong writers in literary America. I can count them on one hand," admits Yang. "However, there is a fast-growing body of self-published Hmong writers. There are also emerging community presses publishing emerging authors. And two of the children's books I will be publishing from the University of Minnesota Press will introduce two Hmong illustrators for the very first time to literary America. It is well past time."
As a child, Yang first recognized the lack of diverse perspectives and representation in publishing when she received her public library card. "I raced home to share it with my elderly grandmother. She asked, 'What is that?' I told her, 'My license to check out books, Grandma, to discover all the stories of the world.' After a quiet moment, my grandma asked, 'Do libraries have stories like mine in it?' I've spent most of my life looking; I've not found any."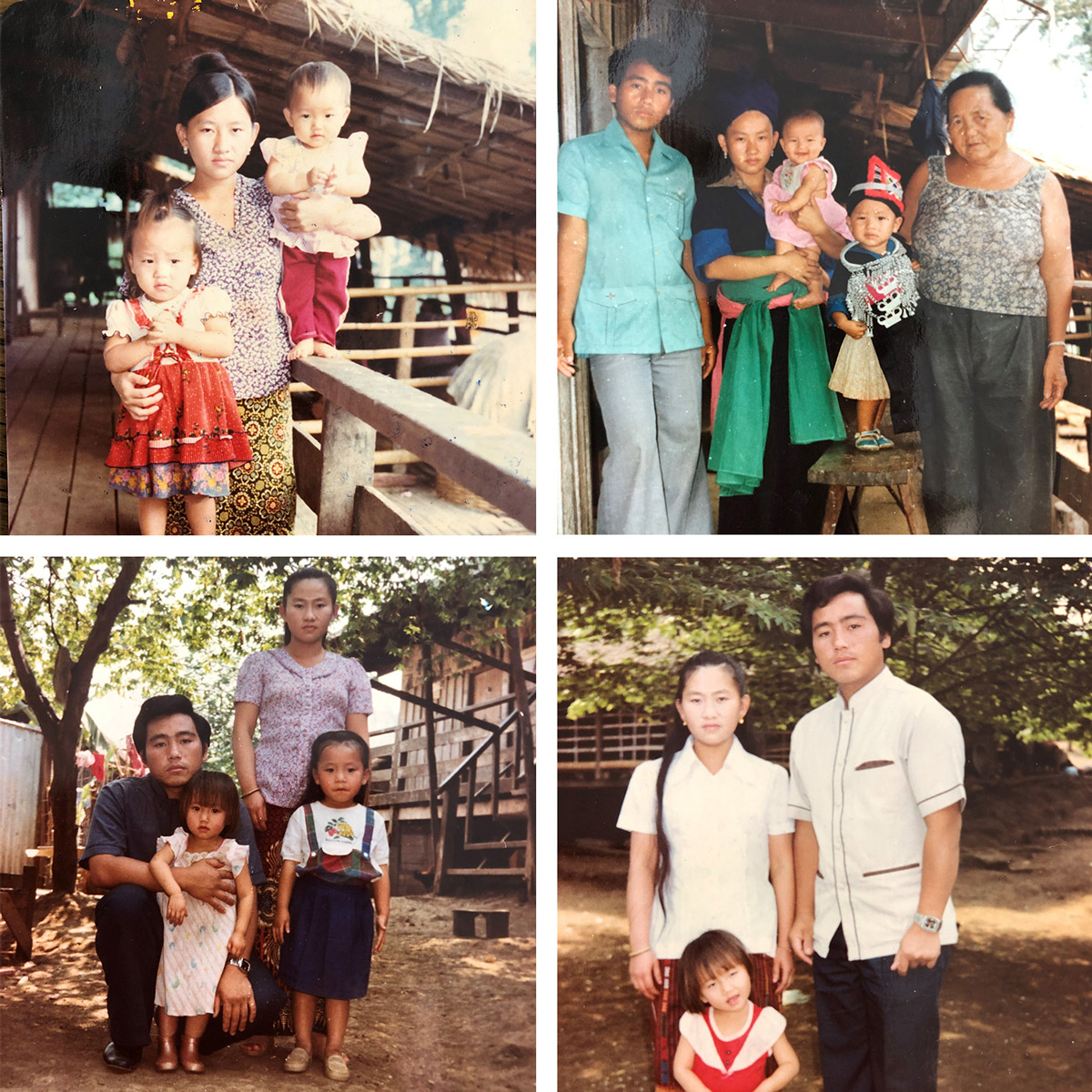 Kao Kalia Yang's family in Ban Vinai Refugee Camp, 1981-87
Now that she is a mother, she has once again felt and seen the lack of diversity. "I've dipped deeply into the world of children's literature, exploring ideas and concepts with my children, learning about different communities and ways of life, and it's finally dawned on me: I have a lot to contribute to children's literature. A Map Into the World is only the beginning. This year I have two more children's books coming, as well as a book for adults. In May, The Shared Room will come forth from the University of Minnesota Press. In October, The Most Beautiful Thing will be published from Carolrhoda Books. I will have at least two more children's book titles coming for the next several years."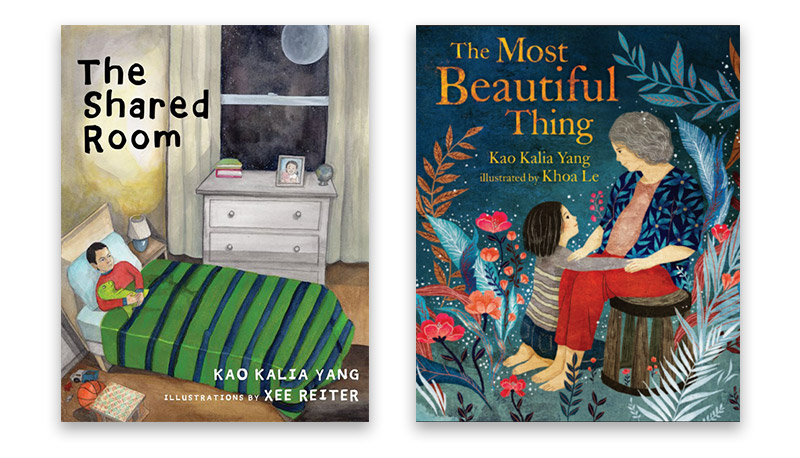 It is a steady pace and an ambitious plan for one who once chose to remain silent for many years. On her website, Yang shares how she chose not to speak when she was a child. Why? "It was a particularly mundane and yet violent moment: my beautiful mother struggling to be understood in English. We were looking for light bulbs. My mother didn't have the word. She pointed to the bright lights on the ceiling and said, 'I'm looking for the thing that makes the world shiny.' The clerk walked away and did not come back. Then, my father's supervisor at work told him, 'Bee, you're here to talk to the machines, not to me.' I decided that if the world we were living in no longer needed to hear my mother and father, it no longer needed to hear me, so I stopped talking. I was seven."
She remained silent for years. And like Bob in A Map Into the World, Yang needed someone to guide her back; that person was her own dad. "What started as a revolution against the world, choked me up for years and years. It was not until I published my first book, April 10, 2008, when my father told me, 'If Hmong tears can reincarnate, they will rain the world in sorrow. They cannot, so they can only green the mountains of Phou Bia. If you speak, if the winds of humanity blow, then maybe our lives were not lost,'—that I started speaking. I wanted the winds of humanity to blow. I wanted the dead to walk again. I wanted to live fully and completely. Finding my voice has been a long and hard journey for me."
"A Map Into the World is an invitation for a child to bring forth the beauty in their own world as a gift for others. Librarians and teachers have had children make story cloths of their lives, draw maps of their worlds, and share them. It's been lovely to witness the richness of art that has come forth from classrooms and schools working with the book. It is a great conversation about what a neighborhood is, what community looks like, and how we can foster love and care across generations and cultures and literal borders: streets, walls, fences, etc."
For more than 15 years, Yang has worked to use her voice and hone her craft as a professional writer. Her work has received numerous accolades and prestigious awards. She is often asked to speak and she is a sought-after instructor as well. Somehow she manages to balance her family and writing with her traveling, speaking, and teaching.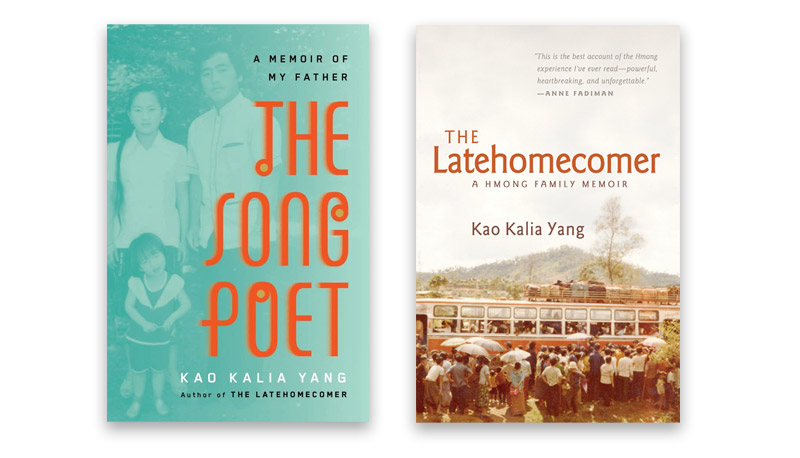 "When I think about what has happened in the last 17 years, I am happy and thankful. The positive reviews, honors, and awards have given me a level of recognition and credibility that makes possible the next series of books I want to put forth. I've learned a great deal and I hope made a pathway for my community into literary America, for our stories to travel. At the same time, I recognize I have a lot more to learn and much further to go, so I'm taking a deep breath, remembering to breathe, and holding fast to my fluttering heart. My community is proud of me; my community has a taste of what is possible in the literary arts world because of my career so far. The young ones are getting inspired and I hope that I'm offering the older ones a level of assurance that a life in the arts is not only possible, but rich with unforeseen potential."
"When we publish diverse authors and give voice to diverse stories, we enrich the coffers of storytelling in serious and exciting ways that acknowledge challenging histories and realities of our lived experiences; that give us all much-needed practice in reckoning with the pertinent issues of our world. There is no age too young for such a journey to begin."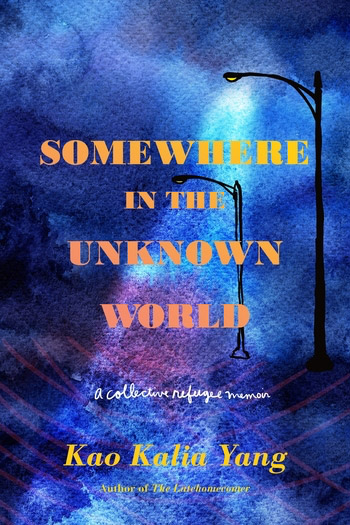 This year, in addition to The Shared Room and The Most Beautiful Thing, Yang has another book due out in August. Somewhere in the Unknown World from Metropolitan Books is a collective refugee memoir. She is also working on a chapter book to be published by Dutton: The Diamond Explorer. "It is about a Hmong boy who searches the world for diamonds—not knowing he is the thing that shines in the dark of his family's world; a boy who is destined to become a great shaman but unsure of how because all the great shamans in his life are dead."
Yang, 39, has plans for many more books to come. In fact, students from a preschool class helped her set a healthy goal of 48 books before she can officially retire from writing. Though she has a long way to go to meet that goal, Yang is not deterred. She is excited about the challenge to use her voice, share the experiences of the Hmong people, and bring beauty into the world.
"I want to be a writer kids can grow up with and adults can grow old with. When all is said and done, I would be so very happy if the world would remember me as, 'A writer who tried, with each book, to make the world a more understanding place, a beautiful place.'"