As part of my role as a Collection Management Librarian at Mackin, I evaluate new contemporary fiction titles for middle school and high school. This means that I get sneak peeks at the new titles that will be released soon. I want to introduce you to three exceptional titles that will be released in January. I love when fiction provides the windows and mirrors that we all want for our students, allowing them to see themselves reflected in literature or to learn about the experiences of other people and broaden their horizons. The titles I'm highlighting in this post feature characters of different races and ethnicity, socioeconomic statuses, and family structures. If you're wanting to kick off 2020 with some new books for your students, check out these three books that will be published in January!
---
Not So Pure and Simple by Lamar Giles (IL 8-12, HarperTeen, 2020)
Del has had a crush on Kiera since they were in kindergarten. However, he has never found the right time to make his move because she's always had a boyfriend hanging around. Now that she's finally single, he jumps at the chance to get to know her better—and accidentally commits to a Purity Pledge through their church while doing so. In the meantime, their community is responding to nine teenage pregnancies in the high school in a variety of ways—from the church's purity program to a new comprehensive sexual education class at the school. Not So Pure and Simple touches on subjects rarely addressed in YA literature—toxic masculinity, religion, gender roles, and double standards. It also features a male protagonist,  somewhat rare in contemporary fiction nowadays, as well as being an own voices story. What more could you ask for? At the time I'm writing this blog post, it has starred reviews from Kirkus, School Library Journal, and Publisher's Weekly. Hand it to students who want to examine what it means to be male in today's society.
---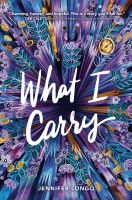 What I Carry by Jennifer Longo (IL 10-12, Random House Books for Young Readers, 2020)
Muriel is seventeen. Her peers are trying to decide which college they will go to, but she is just trying to make it through one last foster placement before she ages out of the system. She's learned to pack light, as both physical items and emotional attachments are hard to carry from house to house. This new placement involves a foster mom who wants to build a relationship with her and potential friends who are intent on getting underneath her defenses. Muriel has to decide if she will fall back on the strategies that have kept her safe throughout the years, or if she is willing to take a chance on a new beginning. At the time I'm writing this blog post, What I Carry has starred reviews from Kirkus and Publisher's Weekly. It's one of the best coming-of-age books I have read in a long time. Hand it to students who are trying to decide what the future holds for them.
---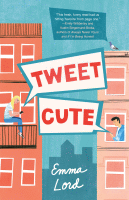 Tweet Cute by Emma Lord (IL 7-12, Wednesday Books, 2020)
Pepper's family owns a mega-popular chain restaurant; Jack's family owns a small neighborhood deli. When her family's chain starts offering a grilled cheese sandwich that is suspiciously similar to Jack's grandma's secret recipe, it kicks off a Twitter war between the two companies. Little do Jack and Pepper know that while tweeting from their restaurant accounts, they're actually tweeting at each other; or that while talking anonymously on their school's social media app, they've also been creating a close relationship for weeks. The romance between Pepper and Jack is sweet, and this book is a ton of fun – but Tweet Cute also explores identity formation, living up to other people's expectations, and charting one's own path. At the time I'm writing this blog post, it has positive reviews from VOYA, Booklist, Kirkus, and Publisher's Weekly. Hand it to students who enjoy light romances and figuring out who they really want to be.
---