Author and cartoonist Raina Telgemeier was only in the fourth grade when fear and anxiety began to control her life.
Affectionately deemed by many as the Queen of Comics, Telgemeier has recently added Guts (Scholastic, 2019) to her growing list of titles. In it, Telgemeier shares her personal story of how her life was taken over by fears and phobias starting at a young age. Telgemeier also shares how various therapies and techniques helped her learn to manage her anxiety and to find the "guts" to open up to others.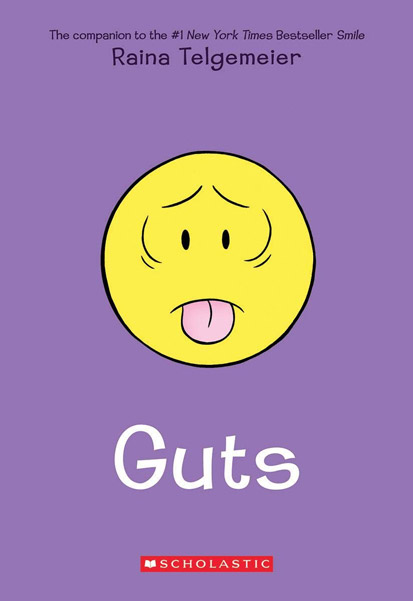 Being open and vulnerable with her readers is one characteristic Telgemeier is known for. She is honest and real about tough aspects of her growing-up years; readers not only get it, they love it. "I hear from tons of readers on a daily basis," shares Telgemeier. "My readers represent the full swath of humanity:
early-elementary schoolers
kids who are just learning to love to read
teens who feel inspired to pick up a pencil and write or draw
college kids waxing nostalgic (yes, already!)
parents who delight at their children's love of my books
grandparents who bring home my books as gifts
"I see the same thing when I'm out touring, and it's empowering to witness how life-changing one special book can be for a reader. They're so passionate and kind and creative, and I'm grateful for them."
Telgemeier began creating her own comics as a young girl. She would read comic strips in the newspaper, and collect bound editions of her favorites. "They were among my favorite books to read and reread! I also loved realistic middle-grade fiction: Beverly Cleary, Judy Blume, and Ann M. Martin were my favorite writers. My all-time favorite book (since first grade!) is Mrs. Frisby and the Rats of NIMH (Atheneum Books, 1971) by Robert C. O'Brien."
"The more we open up and share our stories with others, the less alone we feel."
After high school, Telgemeier went on to study at New York's School of Visual Arts where she graduated as an illustration major. "I was technically an illustration major, but we shared a department chair and lots of classes with the cartooning students. Cartooning was my passion, but at the time I entered school, there wasn't an identifiable market for the kinds of comics I wanted to make. So, I chose to focus on honing my visual craft."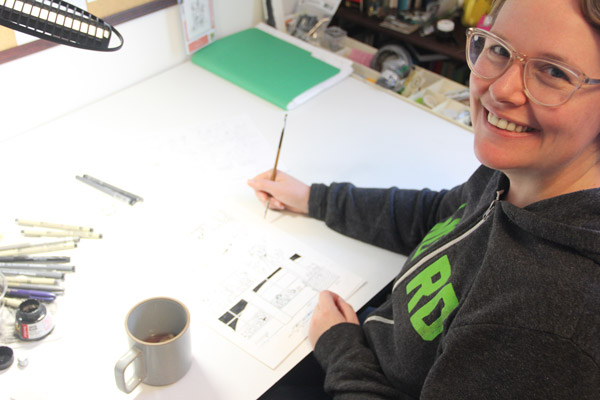 As a School of Visual Arts student, Telgemeier was first introduced to publishing when she landed a job in the industry. "I spent four years learning about the editing, design, and production of books. I loved the people and the work and the product so much, and I think it benefited my eventual career as an author to see the business from the other side."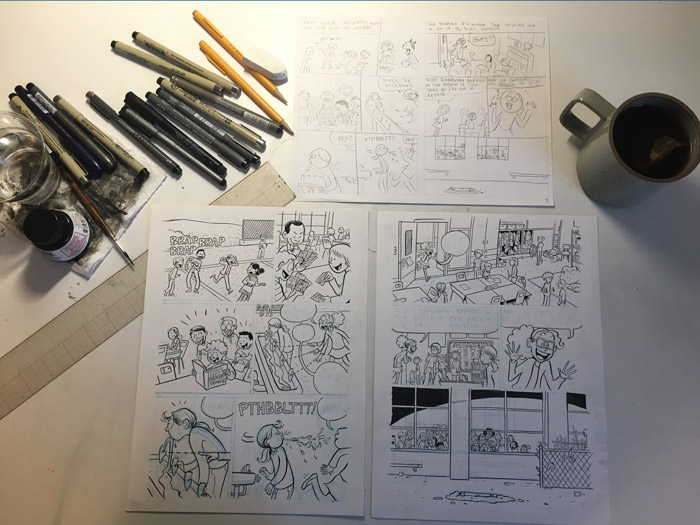 "Making comics is a meditative process for me, and while I wouldn't call it easy, it's very restorative."
Upon graduating, Telgemeier put her illustration degree to work on a few professional illustration jobs, but her heart was always with her true passion. So she began creating self-published works as well as webcomics and attending conventions centered around the world of comics. She also began adapting and illustrating graphic novel versions of The Baby-Sitters Club series by Ann M. Martin.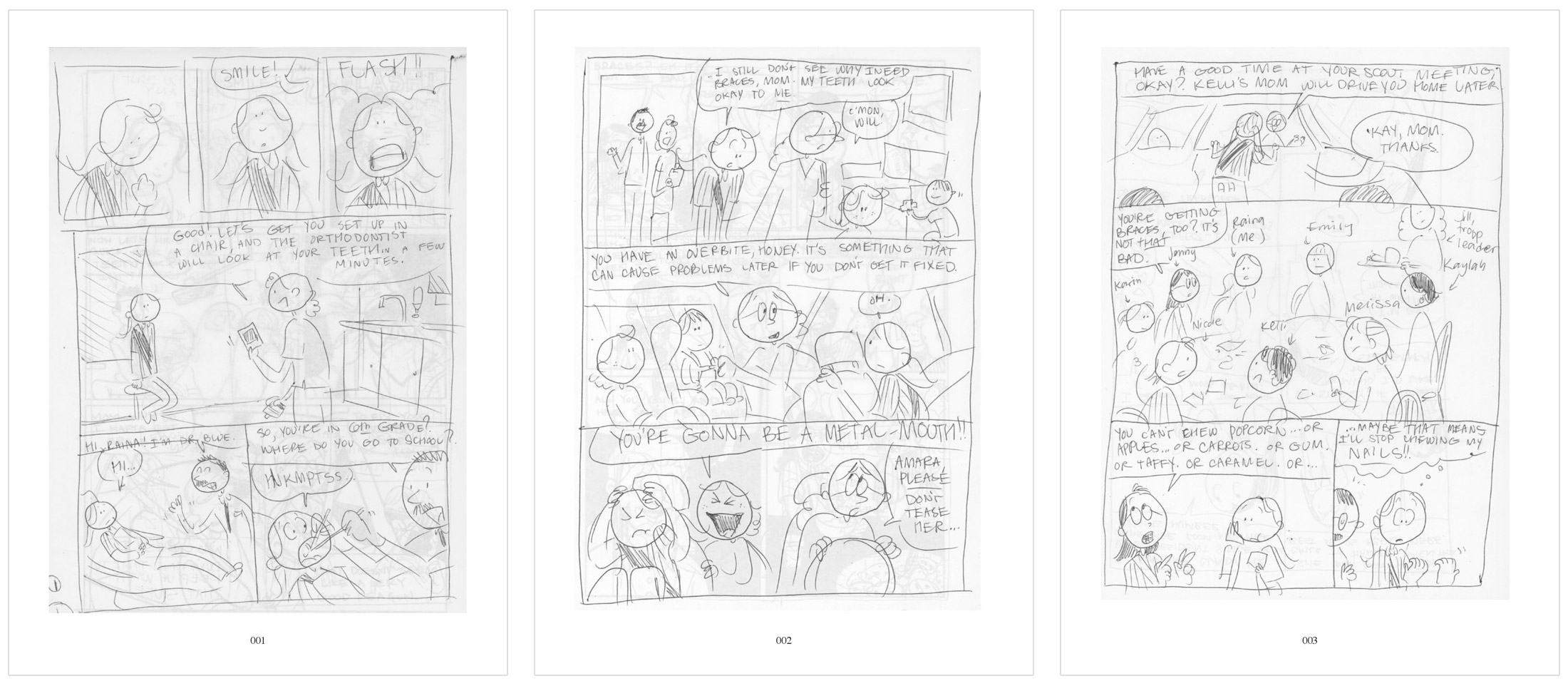 "I began posting Smile online, one page a week, in 2004. I was working on the Baby-Sitters Club (BSC) graphic novels at the same time, and produced four of those as I slowly chipped away at Smile. After my fourth and final BSC was finished, Scholastic offered to publish Smile (2010), followed by Sisters (2014)! I stopped putting those works online before Smile was published, and haven't put anything of significance online since then. It's still a place I could choose to serialize a new work if I wanted to; but at the moment, I'm pretty busy working on books!"

"I'm grateful to educators who embrace kids' love of graphic novels: They see the value in being able to draw in a fully engaged crowd with illustrated stories."
It seems that anything Telgemeier touches turns to gold. Her work has been awarded some of the highest honors in publishing and graphic novels, and she has amassed a gigantic following. So it is no wonder that fans of her work are curious about new books she may be working on. Any new adaptations like Baby-Sitters Club? More autobiographical graphic novels? Or great stories like Drama (Scholastic, 2012) and Ghosts (2016)?

"I think BSC will be my one and only adaptation project because it was so perfect for me. I was a huge fan of the original book series when I was a kid, and two decades later I found myself writing and illustrating autobiographical short story comics about my childhood. I have several things brewing now, but can't talk about any of them yet! At the moment, my energy is focused on the release of Guts, and having a conversation with my readers about anxiety and how I've managed it over the years. I plan to give it everything I have!"
"My one hope is that my work encourages people to be kinder to one another."
Connect With Raina Telgemeier