We are excited to welcome CeCe Bell to the Mackin Community blog today. Her newest book, Chick and Brain: Smell My Foot, is a silly beginning reader in the format of a graphic novel. CeCe Bell is well known for her graphic biography, El Deafo. The blog post describes how she built up the courage to write that book, as well as continue to write after its publication.
---
Sometimes I feel guilty. I think a lot of authors and illustrators do. We are keenly aware that it's a rare privilege to get to do what we love: write words and draw pictures and make books. And then we get paid to do those things while we are comfortably sitting on our butts. It's kind of absurd. So I think we look for ways to justify the cushiness of the job. One way to do that is to try to create books that "make a difference."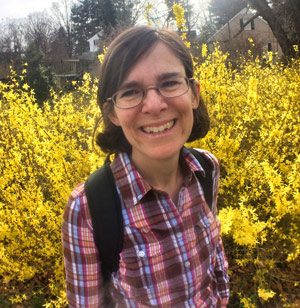 Well, one of my books maybe did make a difference. It was called El Deafo, and within that context of "making a difference," it pretty much blew all of my earlier, goofier books to smithereens.
But I kinda loved those goofy books, even if it seemed like they didn't make that much of a difference. The thing is, I wrote those goofy books before addressing my deafness because I simply wasn't ready to discuss all that just yet. I was also afraid that if my first book was about deafness, then I'd get pigeonholed as "that deaf author and illustrator" instead of "that funny author and illustrator."
But when I was ready to talk about it, I jumped in 100%. And when El Deafo came out, it changed my life!
Suddenly, I was an "it" author and illustrator in a way I had never been before! I was invited to big events! I was invited to sit on panels! I got a freaking Newbery Honor! Katherine Paterson told me that she recommended El Deafo to her doctor! What the heck?
But even more amazingly, I was really reaching people—deaf and hearing, kids and adults. I was getting tons of emails and letters from kids and adults telling me that my book had spoken to them, that it had helped them accept and embrace the things that made them different.
Finally, I wasn't feeling like a selfish author and illustrator with a cushy job. I was making a difference!
It was awesome. And it continued to be awesome for quite a while. But eventually, I started to struggle with complicated emotions. I was asking myself a lot of tough questions: Was I only supposed to be talking about disability and its depiction in children's literature? Were all my future books supposed to matter as much as this one had? Was I getting pigeonholed as "that deaf author and illustrator" after all?
I was feeling like all anyone wanted from me was more El Deafo. I honestly wasn't sure if I had that in me, or if I could capture lightning in a bottle more than once.
I was overwhelmed. I decided to take a year-long sabbatical.
During that time off, I allowed myself to make whatever I wanted. And that stuff turned out to be pretty dang goofy. I was making stuff that was even goofier than any of my previous work had ever been! I was having a great time.
But…that guilty part of me hadn't gone away completely. I hadn't forgotten how good it felt to think that something I had made was making a difference. So now the big question I was asking myself was: Was it possible to make a goofy book that made a difference?
The answer I came up with was: maybe so! Especially if that goofy book helps a kid learn how to read!
The truth is, I had never deliberately created a book whose main purpose was to help kids learn to read. I normally just wrote what I liked, and hoped it stuck. So this was a new direction for me, and I had to figure out how to get started. I thought back to my own early reading experience. The books that taught me how to read were the Dick and Jane books. Could I create something like those? But way goofier?
That's how I came up with the book Chick and Brain: Smell My Foot! It's a gonzo story told with the super-simple words and repetition you'd find in the Dick and Jane books; the drawings are gonzo too, and are presented within the comics format that I love. I guarantee that there's a lot of foot-smelling to be had within its pages. Arguably, it's my goofiest book to date—and in a lot of ways, it feels most like the real me. I mean, yeah, I go around asking everyone to smell my foot. All day long. Just ask Tom Angleberger.
I had so much fun making this book. And sure, having all that fun did provoke a few pesky twinges of guilt. But I remain hopeful that Chick and Brain will help new readers navigate words the way Dick and Jane helped me. But with a lot more giggling. Maybe—just maybe—Chick and Brain will make a difference. Or a little one, at least.