May is national Mental Health Awareness Month and subsequently Social Emotional Learning, or SEL, is making a revival in educational trends. Kristen Fuller, M.D. with Psychology Today highlights data that shows how mental health affects our youth today. Fuller states, "Approximately one in five youth aged 13–18 (21.4%) experiences a severe mental health disorder at some point during their lifetime. For children aged 8–15, the estimate is 13%" (Fuller, 2018).  Schools are responding to the importance of SEL as well. "90% of K–12 school district leaders have already invested in social-emotional learning products, or plan to do so over the 2019–2020 school year, according to Education Week's 2018 survey of 500+ district administrators" (Committee for Children, 2019). Many school districts also incorporate the The Collaborative for Academic, Social, and Emotional Learning standards and frameworks into their curriculum that provide research-based approaches to incorporating SEL into classroom instruction K-12 (CASEL, 2019). Mental Health America released their slogan #4Mind4Body for the 2019 Mental Health Awareness Month. This slogan focuses on developing healthy habits of the mind as well as the body, as they work together in tandem for overall well- being (Mental Health America, 2019). Some publishers are listening to these trends and have presented a vast new inventory of titles that help promote social and emotional learning. When incorporating SEL content into the classroom, there are many great new titles that can spark conversation around mental health and developing skills for a healthy mind and body.
---
20 Books for Social Emotional Learning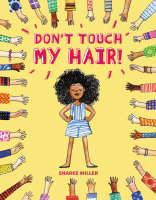 DON'T TOUCH MY HAIR! by MILLER, SHAREE
A picture book that teaches the importance of asking for permission first as a young girl attempts to escape the curious hands that want to touch her hair.
---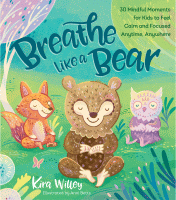 BREATHE LIKE A BEAR : 30 MINDFUL MOMENTS FOR KIDS TO FEEL CALM AND FOCUSED ANYTIME, ANYWHERE by WILLEY, KIRA
Offers children thirty guided mindfulness exercises designed to make them feel more focused,positive, and relaxed.
---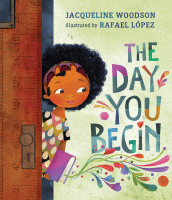 DAY YOU BEGIN by WOODSON, JACQUELINE
There are many reasons to feel different. Maybe it's how you look or talk, or where you're from; maybe it's what you eat, or something just as random. It's not easy to take those first steps into a place where nobody really knows you yet, but somehow you do it.
---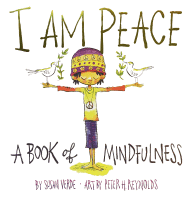 I AM PEACE : A BOOK OF MINDFULNESS by VERDE, SUSAN
Simple text and color illustrations introduce the practice of mindfulness to children to help them handle their emotions, anxiety, busy lives, and stress. Includes a guided meditation.
---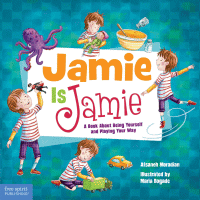 JAMIE IS JAMIE : A BOOK ABOUT BEING YOURSELF AND PLAYING YOU by MORADIAN, AFSANEH
There are so many fun things to play with at Jamie's new preschool– baby dolls to care for, toy cars to drive–and Jamie wants to play with them all! But the other children are confused . . . is Jamie a boy or a girl? Some toys are just for girls and others are just for boys, aren't they? Not according to Jamie! This book challenges gender stereotypes, shows readers that playing is fundamental to learning, and reinforces the idea that all chil­dren need the freedom to play unencumbered.
---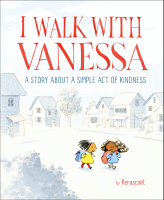 I WALK WITH VANESSA : A STORY ABOUT A SIMPLE ACT OF KINDNESS by KERASCOET
After seeing the new girl, Vanessa, being bullied on her way home from school, a young girl comes up with a way to make Vanessa feel welcomed that eventually grows to involve the whole school. This story is told through illustration in wordless picture book format.
---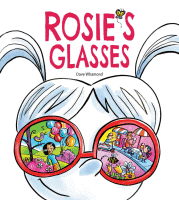 ROSIE'S GLASSES by Whamond, Dave
A wordless picture book that shows a young girl in a bad mood seeing all the sadness around her until she happens upon a pair of magical glasses that allows her to see the good things.
---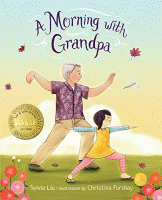 MORNING WITH GRANDPA by LIU, SYLVIA
A curious and active Asian American little girl spends the day learning tai chi from her grandfather, and in turn tries to teach him how to do yoga.
---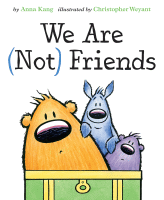 WE ARE (NOT) FRIENDS by KANG, ANNA
Two fuzzy friends are having a fun playdate when a new pal hops in. As the day continues, each friend feels left out at times. It isn't so easy to figure out how to act when everything seems to change
---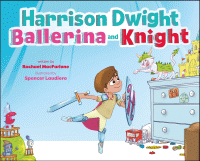 HARRISON DWIGHT, BALLERINA AND KNIGHT by MACFARLANE, RACHAEL
Harrison Dwight, Ballerina and Knight follows a young boy as he cycles through various feelings he experiences in every day life. Harrison feels happiness, sadness, pride, fear, joy, anger, and courage—all while playing and imagining without limitation! With Harrison Dwight, boys everywhere will feel empowered to play in whatever way they choose and learn that it's always okay to express what you're feeling inside!
---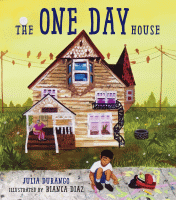 ONE DAY HOUSE by DURANGO, JULIA
When young Wilson visits his elderly friend and neighbor Gigi, he tells her all of the things he wants to do one day to help her improve her run-down house. He draws up his plans and inspires his ethnically diverse community to pitch in and make her house safe, neat, and pretty.
---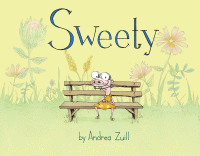 SWEETY by ZUILL, ANDREA
Sweety, an awkward naked mole rat, has an unusual look, including thick glasses and protruding front teeth, and unusual hobbies, like interpretive dance and a love of fungi. Her peers don't get her, but her Aunt Ruth helps Sweety realize she's pretty awesome the way she is and eventually she will find her people.
---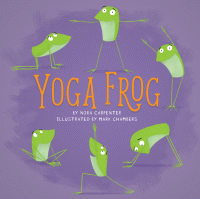 YOGA FROG by CARPENTER, NORA
When Yoga Frog wakes up in the morning, he shows young readers his yoga flow with various yoga poses from warming up to cooling down.
---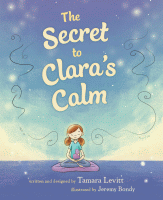 SECRET TO CLARA'S CALM by LEVITT, TAMARA
Clara is a happy girl when things go her way. But when they don't, Clara has a bad temper. After a particularly bad temper tantrum, Clara finds herself alone with no friends. Fortunately, Brodhi the bird appears and over the summer teaches Clara the secret to staying calm when things don't go her way. Clara learns to meditate by closing her eyes, sitting still, and taking deep breaths. When school starts again and everything goes wrong, Clara uses her meditation techniques to stay calm and make good choices, earning her friends once again.
---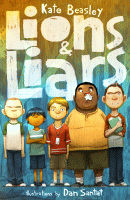 LIONS & LIARS by BEASLEY, KATE
Frederick Frederickson has a food-chain theory about life. There are lions, like the school bully. Gazelles, like the bullied kids. There are meerkats, and the fleas that live on the butts of meerkats. Frederick's a flea. Fifth grade is off to a terrible start when Frederick is sent to a disciplinary camp for troublesome boys. His fellow troop mates—Nosebleed, Specs, The Professor, and little-yet-lethal Ant Bite—are terrifying. But in between trust-building exercises and midnight escape attempts, a tenuous friendship grows between them. Which is lucky, because a Category 5 hurricane is coming and everyone will have to work together—lions and fleas alike—to survive!
---
Coming Soon!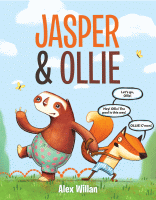 JASPER & OLLIE by WILLAN, ALEX
Best friends Jasper and Ollie decide to go to the pool. On your mark, get set . . . WAIT! As Jasper races ahead–crashing into the mailman, speeding past the ice cream truck–Ollie takes his sweet time, pausing to admire a butterfly, smell a daisy, and help the mailman pick up his letters! Available May 28, 2019
---
EXCEPT WHEN THEY DON'T by GEHL, LAURA
Children are often told by many different people about what toys they're supposed to play with, what interests they should have, and who they should be simply because of their gender. This stereotype-breaking book invites children to examine what they're told "boy" and "girl" activities are and encourages them to play with whatever they want to and to be exactly who they are! This book is published in partnership with GLAAD to accelerate LGBTQ inclusivity and acceptance. Available May 21, 2019
---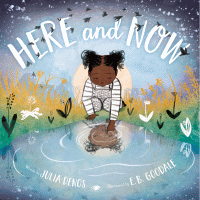 HERE AND NOW by DENOS, JULIA
Explore identity and connection, inspire curiosity, and prompt engaging discussions about the here and now. Available September 3, 2019
---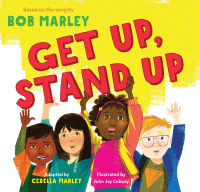 GET UP, STAND UP by MARLEY, BOB
As a young girl goes on with her day in school, she comes across several instances of teasing and intimidation. But with loving action and some help from her friends, she's able to make things right for herself and others. With exuberant pictures by John Jay Cabuay accompanying Marley's iconic lyrics, Get Up, Stand Up is a vibrant testament to the power we all have to make a difference. Available September, 10 2019.
---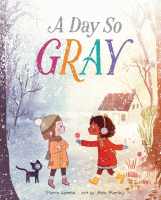 DAY SO GRAY by LAMBA, MARIE
A winter's day is transformed from bleak to beautiful by warm friendship and a new perspective in a gentle story that encourages the appreciation and celebration of cozy pleasures and quiet joys. Available October 29,2019
---
(2019). Approaches. Retrieved April 30, 2019, from https://casel.org/what-is-sel/approaches/
(2019, January 24). Record High Demand for Social-Emotional Learning in US Schools. Retrieved April 30, 2019, from https://www.cfchildren.org/blog/2019/01/record-high-demand-for-social-emotional-learning-in-us-schools/
Fuller, K., M.D. (2018, May 6). May is Mental Health Month: #4Mind4Body. Retrieved May 2, 2019, from https://www.psychologytoday.com/us/blog/happiness-is-state-mind/201805/may-is-mental-health-month-4mind4body
(2019, March 18). Mental Health Month. Retrieved May 2, 2019, from http://www.mentalhealthamerica.net/may