Take a look at these exciting nonfiction titles published in February. Enjoy and learn!
ELEMENTARY NONFICTION
Animal Noses by Mary Holland. 9781607188056. Arbordale. 2019. Gr 1-4.
Holland has already written about animal ears, eyes, legs, tails, and mouths. Here she explains the various ways that animals use their noses.
Bloom Boom! by April Pulley Sayre. 9781481494724. Beach Lane Books. 2019. Gr PK-2.
Rhyming couplets and color photographs celebrate blooming flowers, and an afterword offers a brief lesson on botany along with information about each photograph.
Borrowing Bunnies : A Surprising True Tale of Fostering Rabbits  by Cynthia Lord. 9780374308414. Farrar Straus Giroux. 2019. Gr PK-2.
The author tells how she fostered two neglected foster bunnies, teaching them to trust, love, and feel safe in a home. Lord is the author of the upcoming middle grade novel, Because of the Rabbit, and here she includes tips for adopting your own bunny.
The Frog Book by Steve Jenkins & Robin Page. 9780544387607. HMH. 2019. Gr 1-4.
Learn about the physical characteristics of thirty different types of frogs found all over the world.  Full-color illustrations are used throughout, and back matter includes a table with all the listed frogs and their vital statistics, such as body length, diet, and range.
How to Talk to Your Computer (Let's-Read-and-Find-Out Science) by Seymour Simon (ill. by Mike Lowery). 9780062490872. Harpercollins. 2019. Gr K-3.
This updated edition explains how to get a computer to do something, and introduces topics such as conditions, loops, and functions.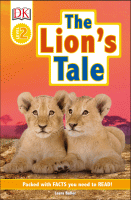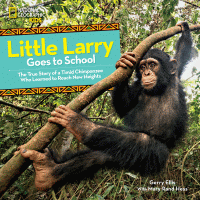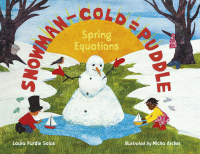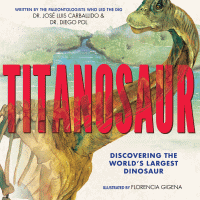 The Lion's Tale (DK Readers) by Laura Buller. 9781465479143. DK. 2019. Gr 1-3.
This reader discusses the life cycle of a lion, the different kinds of lions, and the importance of protecting these endangered wild animals.
Little Larry Goes to School by Gerry Ellis & Mary Rand Hess. 9781426333163. National Geographic. 2019. Gr PK-3.
Meet Little Larry, an injured baby chimpanzee, who was rescued and taken to an African wildlife sanctuary. There he was taught how to be a chimp, including grooming and communicating. But he was afraid to climb trees.  Read about how Little Larry overcame his fears.
Snowman – Cold = Puddle : Spring Equations by Laura Purdie Salas (ill. by Micho Archer). 9781580897983. Charlesbridge. 2019. Gr PK-3.
This fun seasonal math book pairs two words or phrases together with arithmetic signs to indicate a poetic, scientific element of spring. Examples include breeze + kite = ballet and bumblebees x flowers = blueberries. Each one includes an illustration and brief explanation.
Titanosaur : Discovering the World's Largest Dinosaur by Dr. Jose Luis Carballido & Dr. Diego Pol. 9781338207392. Scholastic. 2019. Gr 1-4.
Read about the discovery and eventual archaeological dig of the Patagotitan mayorum—the largest land-based animal ever discovered—in Argentina and what scientists know about the animal. Extensive backmatter includes a glossary, fold-out poster, dinosaur timeline, and photographs from the dig.
ELEMENTARY BIOGRAPHIES
Carter Reads the Newspaper by Deborah Hopkinson (ill. by Don Tate). 9781561459346. Peachtree. 2019. Gr 2-4.
This picture book biography describes the life and achievements of Carter G. Woodson who founded Black History Month. Back matter includes resources for further information, notes from the author and illustrator, a list of Black leaders shown in the book, and a timeline of Woodson's life and accomplishments.
Hedy & Her Amazing Invention by Jan Wahl (ill. by Morgana Wallace). 9780998799995. Penny Candy Books. 2019. Gr 3-6.
This picture book highlights the life, career, and legacy of inventor and actress Hedy Lamarr. Along with a well-known composer of the time, Lamarr developed the method of manipulating radio frequencies to guide torpedoes in World War II, thus avoiding Nazi attempts at jamming the signals. Lamarr battled sexism, prejudice, and stereotypes to become a pioneer in communication technology
Secret Engineer : How Emily Roebling Built the Brooklyn Bridge by Rachel Dougherty. 9781250155320. Roaring Brook Press. 2019. Gr 2-5.
In 1883, Emily Roebling insisted that her husband, chief engineer for the Brooklyn Bridge construction, teach her all about the complex processes used in the building of the bridge. When he passed away mid-construction, Emily used her knowledge to finish the project, though women were not allowed, or thought able, to do such things.
Wilma's Way Home : The Life of Wilma Mankiller (Big Words) by Doreen Rappaport & Linda Kubuk. 9781484747186. Disney-Hyperion. 2019. Gr 2-4.
This biography of Cherokee girl Wilma Mankiller, highlights the events of her life that led to her becoming the first woman chief of the Cherokee Nation.
INTERMEDIATE NONFICTION
Dolphins! Strange and Wonderful by Laurence Pringle (ill. by Meryl Henderson). 9781629796802. Boyds Mills Press. 2019. Gr 3-5.
Learn about dolphin species from all over the world, including their habitats, physiology, communication, intelligence, parenting, and diet. The book also discusses how dolphins can be protected from hunting, pollution, and other threats.
Finding the Speed of Light : The 1676 Discovery That Dazzled the World by Mark Weston (ill. by Rebecca Evans). 9780884485452. WW Norton. 2019. Gr 3-6.
Using only a crude telescope and mechanical timepiece while studying Jupiter's moon, 17th-century Danish astronomer Ole Romer accidentally managed to measure the speed of light with great accuracy.
On the Internet : Our First Talk about Online Safety (World Around Us) by Dr. Jillian Roberts (ill. by Jane Heinrichs). 9781459820944. Orca. 2019. Gr 1-4.
This book examines online safety from a child's perspective. It couples a child's questions about the topics with simple, straightforward answers, from how people use the internet to the ways people are dishonest, mean, or predatory online. It also includes resources for further information.
On the Playground : Our First Talk about Prejudice (World Around Us) by Dr. Jillian Roberts (ill. by Jane Heinrichs). 9781459820913. Orca. 2019. Gr 1-4.
This book examines prejudice from a child's perspective by exploring what prejudice means on the playground. It answers questions such as how people show prejudice to how a child might be able to help. It also includes resources for further information.
A Ray of Light by Walter Wick. 9780439165877. Scholastic. 2019. Gr 3-6.
Through simple text and colorful photographs, the author engages scientific observations that inform readers about the secrets and complexity of light. An adult-directed reading guide is included.
MIDDLE SCHOOL NONFICTION
Astrophysics for Young People in a Hurry by Neil de Grasse Tyson with Gregory Mone. 9781324003281. WW Norton. 2019. Gr 5-8.
This young readers version of Tyson's book addresses issues surrounding the universe, from the Big Bang and black holes to intelligent life beyond Earth.
Becoming Emily : The Life of Emily Dickinson by Krystyna Poray Goddu. 9780897330039. Chicago Review Press. 2019. Gr 4-7.
A timeline, full-length poems, and photographs highlight the personal life and career of American poet Emily Dickinson.
From an Idea to Nike : How Marketing Made Nike a Global Success by Lowey Bundy Sichol. 9781328453624. HMH. 2019. Gr 5-7.
Phil Knight had an idea for an athletic shoe and built on that idea to create Nike. This book describes the history, rise, and brand of Nike, highlighting the role marketing played in building the brand.
The Giver : The Graphic Novel (Giver Quartet Graphic Novel, Book 1) by Lois Lowry & P. Craig Russell. 9780544157880. HMH. 2019. Gr 6-10.
After he is given his lifetime assignment at the Ceremony of Twelve, Jonas becomes the receiver of memories shared by only one other in his community and discovers the terrible truth about the society in which he lives.
Great Bear Rainforest : A Giant-Screen Adventure in the Land of the Spirit Bear by Ian McAllister & Alex Van Tol. 9781459822795. Orca. 2019. Gr 4-7.
Go behind the scenes as the IMAX creators produce a film about the Great Bear Rainforest, located in the northwest corner of British Columbia. This book is a companion to the Ian McAlister film of the same name.
New Kid by Jerry Craft. 9780062691200. Harpercollins. 2019. Gr 4-7.
Seventh grade African American Jordan Banks dutifully travels from his Washington Heights apartment to the upscale private Riverdale Academy Day School. As one of the few kids of color in his new school, Jordan feels out of place. He doesn't really fit in with his new classmates, and it begins to feel like his neighborhood friends live in a different world. He finds comfort in his art as he tries to navigate both worlds.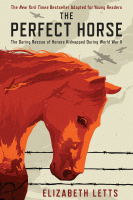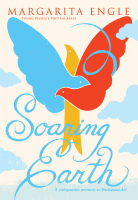 The Perfect Horse : The Daring Rescue of Horses Kidnapped During World War II by Elizabeth Letts. 9780525644743. Delacorte. 2019. Gr 7-10.
Adolph Hitler planned to create a purebred master race of horses, having stockpiled purebred horses across Europe and hidden them on a secret farm behind enemy lines. This plan was discovered by a U.S. Army cavalryman, who led a covert operation to rescue the horses before the starving Russian army could reach them and likely slaughter them for food in the final days of the war.
Soaring Earth by Margarita Engle. 9781534429536. Simon & Schuster. 2019. Gr 6-10.
A Cuban American author documents her teenage years amid the backdrop of the Vietnam War. Though longing for Cuba, she explored the goals of the peace movement in America, but was often wary of the lifestyle that went along with it. Amid all these challenges, she found solace in her education. This book is a companion work to her memoir, Enchanted Air.
HIGH SCHOOL NONFICTION
Good to Go : What the Athlete in All of Us Can Learn from the Strange Science of Recovery by Christie Aschwanden. 9780393254334. WW Norton. 2019. Gr 10-Adult.
A science writer and athlete explains how different techniques and products designed to help athletes recover from injuries work—or don't work—and if non-athletes can benefit as well.
Marvel : Powers of a Girl by Lorraine Cink & Alice X. Zhang. 9781368025263. Marvel Press. 2019. Gr 7-Adult.
This book profiles sixty-five notable female characters in the Marvel comic book universe, including Captain Marvel, Black Widow, Valkyrie, America Chavez, and Mary Jane Watson.
The Master Plan : My Journey from Life in Prison to a Life of Purpose by Chris Wilson with Bret Witter. 9780735215580. Penguin. 2019. Gr 10-Adult.
At the age of eighteen, Chris Wilson killed a man and was sentenced to life in prison without parole. There he began a self-improvement plan he called the Master Plan, which involved education, fitness, learning languages, and starting his own business. In his mid-thirties, he convinced a judge to release him, and ever since, he has been a successful social entrepreneur whose goal is rehabilitation.
Meg, Jo, Beth, and Amy : Little Women by Rey Terciero & Bre Indigo. 9780316522861. Little, Brown. 2019. Gr 7-12.
This graphic novel adaptation of the coming-of-age novel features the four March sisters as they struggle with school woes, health issues, boy troubles, and personal identity.