As I reflect upon my own makerspace journey, I can't help but recognize the exponential growth of makerspace products over the years.  When we first launched our space over 6 years ago, I could almost count the number of makerspace products on the market on one hand.  Since then, there has been a tsunami of products that have entered this space, and while that has been exciting to witness, it also has been daunting.  Educators are often left wondering what products they should purchase and which ones are right for their makerspaces, or even worse yet, they end up purchasing products other people do, just because they are trendy. In my Letter F post of my #MakerspacesAtoZ blog series, I touched upon the importance of 'Fundamental, not ornamental.'  It is critical to select products that work best to support your makerspace.  Be sure to check out my newest book for guidance on that.   It has become a tradition, here at Worlds of Making, to announce our top ten makerspace products each year, hoping to help expand the thinking of educators as they select products for their spaces.  We aim to select products that are unique and offer a different experience than other products in the makerspace market.  Be sure to check out our previous top ten lists.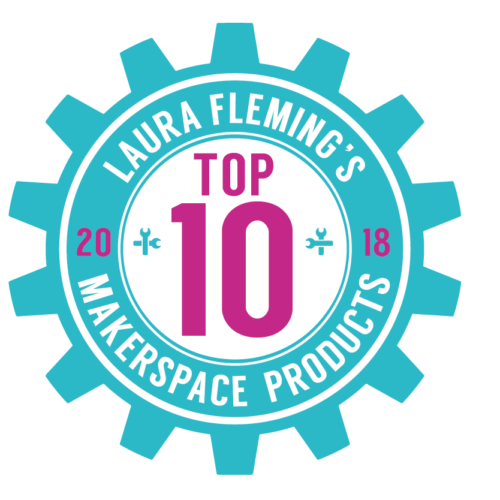 I am proud to introduce to you, the Worlds of Making Top Ten Makerspace Favorites of 2018!
1 – Brickstuff
Brickstuff is the perfect way to light up LEGO® builds.  This starter kit includes everything you need to get started. No electronics or soldering knowledge is necessary to set up these lights and start using them right away. Each flexible 2-LED Light Strip has a self-adhesive backing, which allows easy mounting to almost any surface. The strips are flexible, allowing you to mount them even on curved surfaces. This kit also includes a battery pack, so you can be up and running right away.  This kit is ready to use with any microcontroller or robotics project too. Here is one of our creations: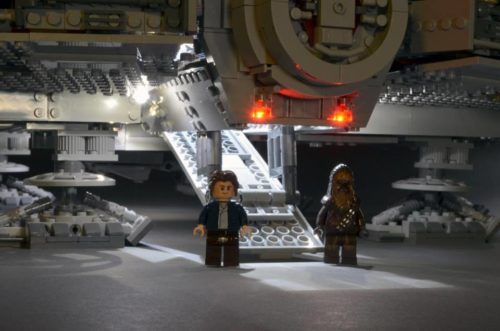 2 – Unruly Splats
Movement, and the value and impact it has on learning, is a research-based practice.  This is also true in relation to STEM. This is why we love Unruly Splats so much.  Unruly Splats describes themselves as seriously fun, recess-style play that teaches kids how to code, and they are not wrong.  Their programmable floor tiles are made to be stepped on!  They pair with a tablet that is preloaded with tons of recess-style play games. Kids first play the preloaded games then they change the code, ultimately learning how to code on their own through active, recess-style play.  We had fun playing running bases in our hallway at school, and completing the challenges in their app.  We even created our own fireworks show: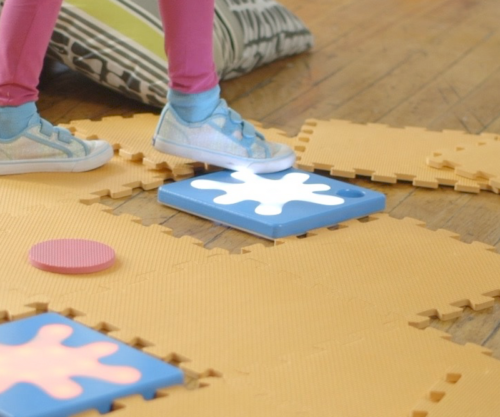 3 – EverBlock Systems
EverBlock is a life-sized modular building block that allows you to build nearly anything. EverBlock is the perfect complement to any STEM and STEAM program and stores compactly in the classroom for use. Blocks allow children to explore principles of design, engineering, and mathematics in a fun and exciting way.   These blocks are so well built and what jumps out the most is their structural integrity.  This makes them ideal for collaborative building and engineering projects. Blocks are light enough for elementary students to work with easily, yet sturdy enough to build full scale, reliable, weight-bearing structures for advanced STEM classrooms.  Be sure to check out their STEM education page here.  Be sure also to check out their cardboard version here.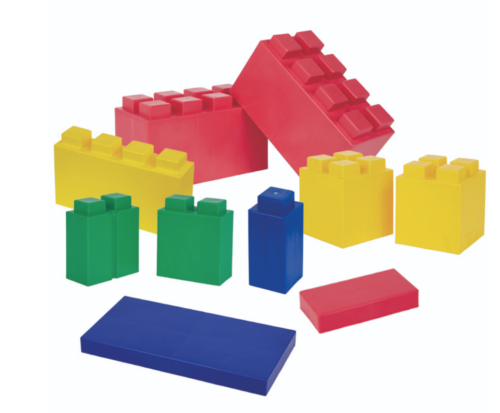 4 – IDEO Method Cards
With so much focus on the design process, the IDEO Method Cards are the perfect companion.  These cards are low-tech and offer 51 ways to inspire design, while keeping humans at the center of the process, the whole time. Each card describes one method and includes a brief story about how and when to use it. These cards are not a "how to" guide. They are a design tool meant to help you explore new approaches and develop your own. The deck can be used to take a new view, to inspire creativity, to communicate with a team, or to turn a corner.  Read more about them here.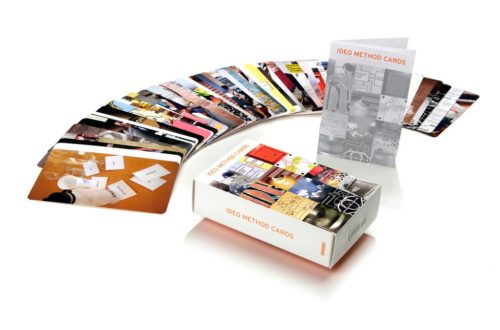 5 – Dowling Magnets Junior Architect Wonderboard®Magnet Set
In a previous post, I outlined ways in which educators can move beyond just creating LEGO® walls in their makerspace, and create other kinds of interactive learning walls (and tables!).  This magnet set fits into that space perfectly.  This set allows children to design and construct their own imaginative building while exploring art, spatial geometry, and engineering principles.  The set Includes 150 magnets (architectural elements), an instruction sheet with designs and background information; as well as a double-sided, magnetic dry-erase board!  They also have printable magnet sheets here.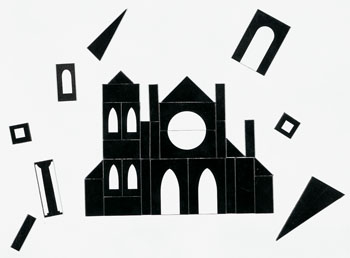 6 – AlphaBriks and MathBriks
For those of you who read my first book, you will know that my point of entry into the maker movement was through literacy.  I am always on a quest to further integrate literacty into makerspaces.  In terms of STEM and makerspaces, I feel that Mathematics is often overlooked, as compared to the other letters in STEM.  This is why I love these AlphaBriks and MathBriks sets from StrictlyBriks so much.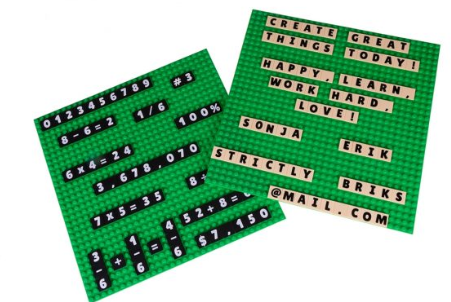 7 – Mini-Materials 
The team at Mini Materials has really created something very unique and special.  Avoiding plastics and paint, they have created mini versions of products familiar to the construction world.  Supplies like cinder blocks, red bricks, jersey barriers, pallets and lumber all made the same way their replicated versions are made. Using real cement, wood and nails these are all handmade in the USA. They are fantastic teaching tools for math and architecture.  We even built a sandbox to house the materials and allow our students to build! Take a look at the blueprints they have available too.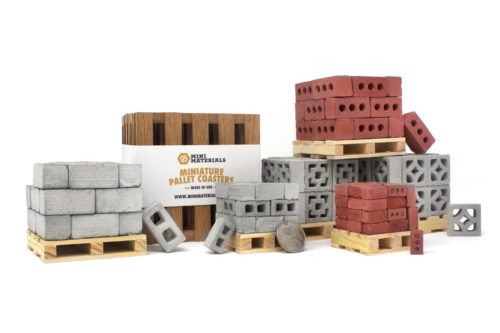 8 – Chalk of the Town
This Chalkboard T-Shirt from Chalk of the Town caught my eye a few years ago now, and we have had fun with it ever since. While it may be unrealisitc to assume that every child in a school could have one of these, they are perfect for makerspace clubs or smaller groups. Students can capture who they are as makers, and wear it with pride, while at the same time, having the ability to express themselves creatively!  These shirts can be used over and over again, as they are markable and erasable. My son and I had fun with a few too!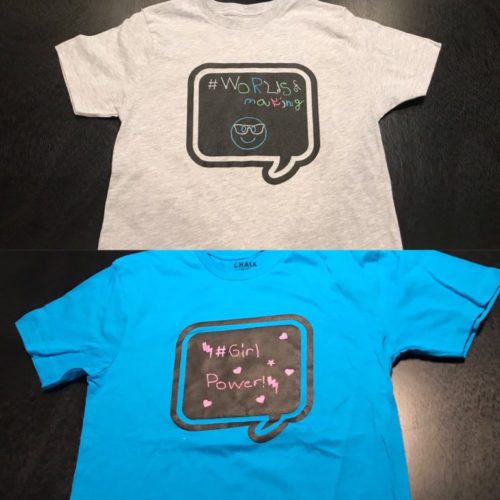 9 – Rockwell Tools- Jawhorse
Last year, marked the first year that we got heavy into woodworking in our makerspace. One of my students even created a shelf for my kitchen! This portable Jawhorse Work Station by Rockwell Tools was something my students found that came in handy during that time. With space being an issue for many educators in their makerspace, and mobility continuing to be more and more of a focus, this tool fits the bill perfectly!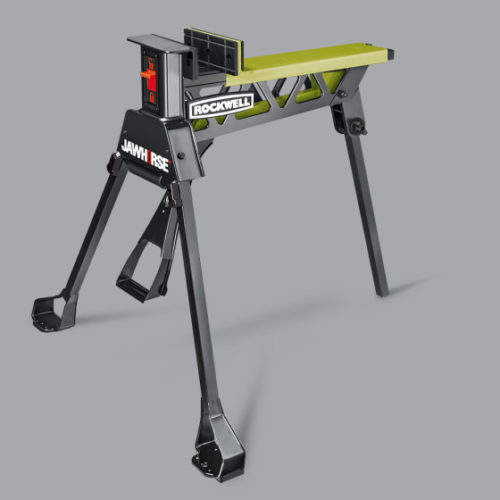 10 – Hands-On Coding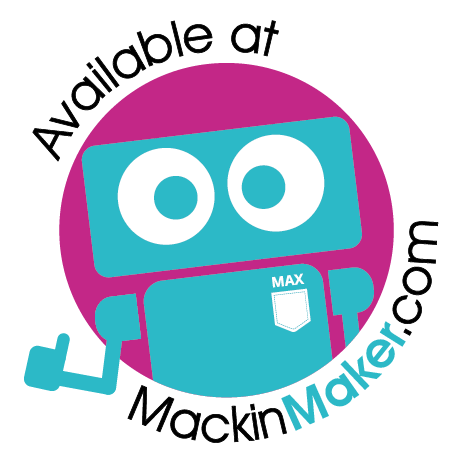 While I understand the conflict of interest by including one of my own products on this top ten list, we are too proud and excited about this product not to include it!  It has been an interesting journey to be able to actually manufacture a product as a member of the amazing Hands-On Coding team!  Being three educators with over 50 years of combined experience, we realized there was a gap and a need in terms of teaching computer science, that we knew we had to fill.  Our Hands-On Coding blocks allow for a screen-free way of learning the fundamentals of computer science, while also allowing children to get up and get moving and act out their algorithms.  We believe in keeping the human at the center of the process and have worked hard to put these blocks into the hands of children far and wide.  Hands-On-Coding is now in countries around the world and have had a profound impact on many.  We are looking so forward to all that is ahead in 2019!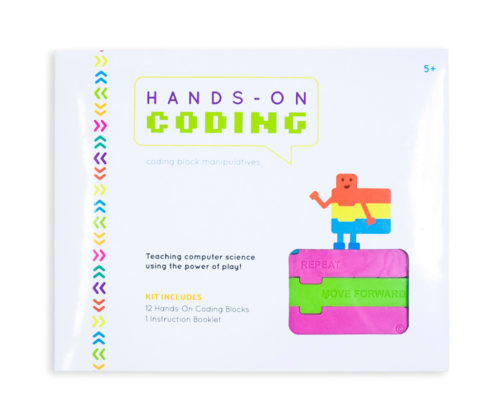 Well, there you have it!  The Worlds of Making Top Ten Makerspace Favorites of 2018!  We are already on the lookout for 2019!  Be sure to share your favorites with us at #worldsofmaking!