For more than 30 years, Pat Mora's books have influenced and impacted readers of all ages. Mora knows the value of providing books that readers can relate to and understand—books that help readers find connection and joy. And that is why she is so passionate about sharing what she calls "bookjoy" and "wordjoy" with as many readers as possible. A former teacher and administrator, and a current poet/author and literacy advocate, Mora offers insights on how to share the joy of books and words with others.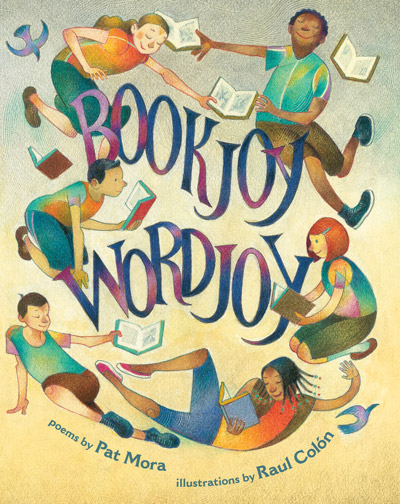 You are a well-known literacy advocate who is highly sought after for presentations. In your presentations and publications, you regularly promote "bookjoy."  In fact, your newest book of children's poetry is even called Bookjoy, Wordjoy (Lee and Low Books, 2018). What is "bookjoy" and how does one not only experience it, but also teach it and share it?
I tease that those of us who know bookjoy, who experience it daily, don't need to have it defined. I enjoy the smiles from educators when I use the word. Good teaching, as we know, is an extremely complex talent. I am certainly indebted to the teachers who loved language and through their enthusiasm taught me to love words (wordjoy) and their possibilities too.
Primarily, we share by example and by understanding our students and audiences, their realities and their needs. We have different personalities and styles. Students of all ages quickly know when we care about them and want to help them learn and thrive.
Surely your childhood must have been spent near books and reading. Did your parents prioritize literacy in your home? How did the adults in your life encourage you in your literacy development?
Childhood has many happy memories. Mom was always a reader. My parents had books for us including the Childcraft set and the World Book Encyclopedia. Mom also took us (I'm the oldest of four) to the El Paso Public Library. I loved the summer reading club, and my teachers were readers who shared that pleasure—bookjoy!
When did you discover your passion for poetry? Do you remember a first favorite poet or poem?
I loved all the old nursery rhymes like "I Have a Little Shadow" and "Polly Put the Kettle On." (I am quite a tea drinker!) I'm sure I wrote rhyming poems in elementary school.
Poetry may not receive the amount of attention in the educational system or in the home as it once did.  Please share with us the role poetry plays in life?
Generalization: We are a visual society, and we like speedy solutions. Hence, the popularity of cell phones, the Web, social media. Like music or the visual arts, poetry enriches our lives, but it isn't a quick fix. It brings us pleasure—IF, we're willing to value it ourselves. As parents, teachers, and librarians, we can't really share what we don't savor. Enjoy and share some verbal treats. Read aloud to students of all ages. I also think it's great to have students memorize poems.
"Internationally renowned poet Pablo Neruda said that a poem can't be defined. For me, poems are music created with letters instead of notes. To really hear a poem we need to pause, listen, and think. A poetry break."
You've written bilingual books where the poems appear in both English and Spanish. Do you find it challenging to write in two languages while trying to achieve the same poetic result?
I have always been bilingual but am English dominant. A former English teacher, I know when I can bend the rules. I don't have that facility in Spanish. My books are translated, and then I review the translations carefully and ask questions or make suggestions.
How do you believe poetry, in general, and bilingual poetry, specifically, can be better incorporated into our homes, libraries, and classrooms?
I enjoy many blessings and one of them is being bilingual. As a writer, knowing two languages increases my options, my wordplay. I like exploring different languages. Each language is a verbal universe, a symphony of sounds. Sharing bilingual poetry with all our students is a way to expand language fun together. Educators who are not bilingual can be brave examples, and if they are fortunate enough to have bilingual students, can showcase their knowledge. It's smart to involve bilingual parents too. Each language is a resource, not an impediment.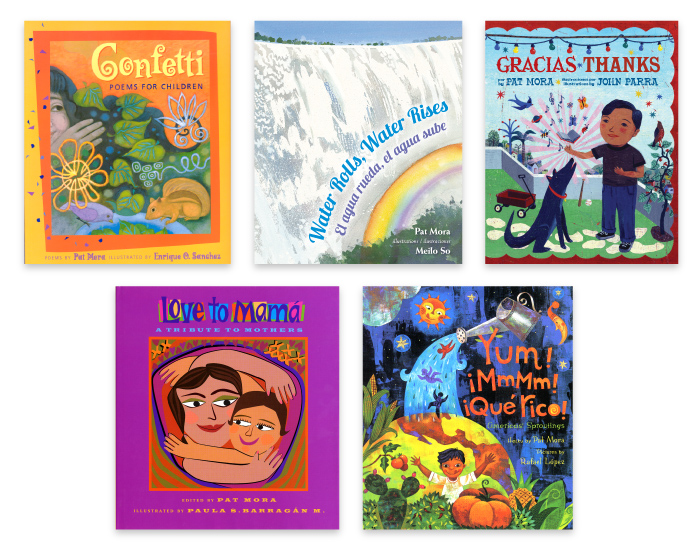 More than 20 years ago, you founded El Día de los Niños, El Día de los Libros/Children's Day, Book Day. What inspired you to create a day to celebrate children and books? Did you intend for it to correspond to National Poetry Month?
This April 30th, across the country, schools, libraries, early childhood centers, and families will celebrate Children's Day, Book Day; in Spanish, El día de los niños, El día de los libros. In brief, I was inspired twenty-three years ago when I learned about the annual celebration of children on April 30th in Mexico. We annually celebrate Mother's Day and Father's Day, and I believe that it's vital for a country to value and celebrate ALL its children, too. It was coincidence that April 30th is the end of National Poetry Month. How grand to also celebrate our young poets in all languages on that day.
In our complex society, if we are committed to the well-being of our children, we know that to succeed today, they need to be readers. A fact. We think of this literacy work as an exciting commitment for the whole year with annual celebrations on April 30th.
You have received countless accolades, honors, and awards including multiple fellowships and honorary doctorate degrees. Do you find these to be affirming of your literacy efforts for children, specifically Hispanic children?
Humans of all ages and ethnicities appreciate praise. Delicious as unexpected ice-cream, right? I want all our young learners to have teachers and guides who value the languages and backgrounds of their students. I was a good student and loved school from kindergarten on, but none of my teachers, though wonderful educators and my friends, would have viewed my Mexican heritage as an asset. Like many, given the blessings I have, I strive to make this country, a wiser and more just home. Committed educators are an essential part of that vital transformation.
In addition to Bookjoy, Wordjoy, you also have another collection of poetry being published for adults this year: Encantado: Desert Monologues (University of Arizona Press, 2018). And you have speaking engagements and publicity engagements. Do you ever see yourself retiring?
I've read that writers don't retire. I have a full life with family, writing and working with great partners to expand Children's Day, Book Day. I also post a letter to children every August on my website, and through social media I try to connect with readers. I wish I could spend more time traveling around the country reading to children and educators and laughing with them too.
When all is said and done, what do you hope your legacy will be?
Legacy is a big word. My family sacrificed for me and my siblings. Writing, like gardening, requires work. It's the work I've chosen, and I feel fortunate to do it. Do I wish my books were read more broadly? Sure I do. Daily I savor wordjoy and bookjoy. I delight in sharing those pleasures.