Take a look at these exciting nonfiction titles published in June and July. Enjoy and learn!
PRIMARY NONFICTION
100 Bugs! : A Counting Book by Kate Narita (ill. by Suzanne Kaufman). 9780374306311. 2018. Gr K-2.
Two children find and count ten different kinds of ten bugs each in ponds, fields, and a barn.
The Big Book of the Blue by Yuval Zommer. 9780500651193. 2018. Gr PK-2.
Whimsical illustrations of animals found in the deep blue sea accompany factual captions and search challenges and plenty of fascinating details for marine enthusiasts.
Do Not Lick This Book by Idan Ben-Barak & Julian Frost. 9781250175366. 2018. Gr K-2.
A small microbe introduces readers to the types of microbes that live in different locations in the body. The tour includes the organisms that dig cavities in teeth and those eating huge rafts of dead skin. The book concludes with photographs from an electron microscope which show just how rough a perceptively smooth surface can be, along with the microbes that on these surfaces.
Do Not Open This Math Book : Addition + Subtraction by Danica McKellar (ill. by Maranda Maberry). 9781101933985. 2018. Gr 1-3.
The author (in cartoon form) and a mouse scared of math show readers various ways to make math concepts more understandable.
Flowers by Gail Gibbons. 9780823437870. 2018. Gr PK-3.
Kids will learn everything they need about flowers and pollination, including flower care and cultivation, range of habitat, and anatomy.
Friends and Foes : Poems About Us All by Douglas Florian. 9781442487956. 2018. Gr 1-3.
Honest and humorous poems explore the many kinds of friend—new and old, good friends, bad friends, and imaginary ones too.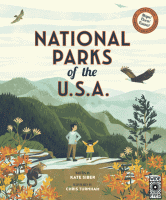 Hawk Rising by Maria Gianferrari (ill. by Brian Floca). 9781626720961. 2018. Gr PK-3.
A fierce red-tailed hawk hunts for prey in a suburban neighborhood.
How Tall Was a T. Rex? By Alison Limentani. 9781910716571. 2018. Gr PK-1.
Dinosaur fans will learn more than how big a T. Rex was, but also what it ate, what it (might have) really looked like, and what size its teeth were, as well as how it stacked up to other creatures.
Look at Me! : How to Attract Attention in the Animal World by Steve Jenkins & Robin Page. 9780544935532. 2018. Gr K-3.
Why do animals need to stand out? And how do they do it? Some lure in prey while others warn off predators. Some are look for a mate. And they use their skin, feathers, colors, and behavior to let other creatures know, "Here I am!"
National Parks of the U.S.A. by Kate Siber (ill. by Chris Turnham). 9781847809766. 2018. Gr 1-4.
This book showcases four of America's magnificent national parks, the Everglades, Grand Canyon, Death Valley, and the Rocky Mountains, and explains why they need to be preserved.
Otis and Will Discover the Deep : The Record-Setting Dive of the Bathysphere by Barb Rosenstock & Katherine Roy. 9780316393829. 2018. Gr K-3.
In the 1930s Otis Barton and William Beebe collaborated on a submersible that could take them deeper in the ocean than anyone had gone before and see life never before discovered. This picture book contains notes from the author, illustrator, and Constance Carter, the former head of science reference at the Library of Congress.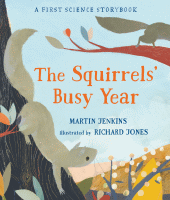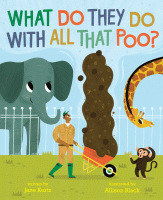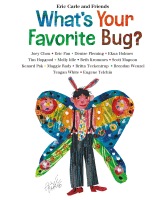 The Squirrels' Busy Year by Martin Jenkins (ill. by Richard Jones). 9780763696009. 2018. Gr PK-1.
Learn about the seasons and weather while observing the behavior of squirrels in a forest.
Vivid : Poems & Notes about Color by Julie Paschkis. 9781250122292. 2018. Gr PK-3.
This picture book is filled with poems about the colors of the rainbow and includes a variety of scientific facts related to color.
What Do They Do with All That Poo? By Jane Kurtz (ill. by Allison Black). 9781481479868. 2018. Gr K-2.
Filled with facts and fun, this book explores zoo poo of all kinds, colors, and shapes (wombats poop in cubes).  Readers will learn what animals do with their poo in the wild before describing all the different ways that zoo poo is used—in composting, in labs, and in making paper! Despite all the facts, there is a lot of humor here, and even the animals in the illustrations find this talk of poo pretty silly.
What's Your Favorite Bug? by Eric Carle. 9781250151759. 2018. Gr PK-3.
Eric Carle and 14 other children's book artists share pictures, poems, and stories about their favorite bugs.
Who Will Roar If I Go? (If We're Gone) by Paige Jaeger. 9781945448157. 2018. Gr K-2.
Learn about thirteen animals around the world who are endangered, why they are endangered, and how everyone can help… "Or there will be no more wild animals to see."
PICTURE BOOK BIOGRAPHIES
Counting on Katherine : How Katherine Johnson Saved Apollo 13 by Helaine Becker (ill. by Dow Phumiruk). 9781250137524. 2018. Gr K-3.
Read about the life and career of African American mathematician Katherine Johnson. This biography chronicles her early life as a gifted student, her unlikely rise, and her contributions to NASA's development, which includes her calculations that helped save the crew of Apollo 13 and laid the trajectory groundwork for the space shuttle.
Game Changers : The Story of Venus and Serena Williams by Lesa Cline-Ransome (ill. by James E. Ransome). 9781481476843. 2018. Gr K-2.
Tennis superstars and sisters Venus and Serena Williams have a strong bond with each other and determination to succeed that was forged during their childhood. This inspirational story tells how these sisters changed the game of tennis.
God Bless America : The Story of an Immigrant Named Irving Berlin by Adah Nuchi (ill. by Rob Polivka). 9781368015769. 2018. Gr PK-3.
Irving Berlin was the son of an immigrant family escaping persecution in Russia. He arrived at Ellis Island when he was five and became one of America's best-known composers, writing many songs including "God Bless America."
Grandad Mandela by Zindzi Mandela, Zazi & Ziwelene Mandela (ill. by Sean Qualls). 9781786031365. 2018. Gr PK-2.
While questioning their grandmother Zindzi (Nelson Mandela's youngest daughter), two of his great-grandchildren learn about the history of South Africa and Mandela's role in changing the system of apartheid.
Nothing Stopped Sophie : The Story of Unshakeable Mathematician Sophie Germain by Cheryl Bardoe (ill by Barbara McClintock). 9780316278201. 2018. Gr 2-4.
Read about the life, career, and legacy of mathematician Sophie Germain, who studied the concept of vibration.
Pass Go and Collect $200 : The Real Story of How Monopoly Was Invented by Tanya Lee Stone (ill. by Steven Salerno). 9781627791687. 2018. Gr 3-6.
In 1903, Lizzie Magie Phillips invented the Landlord's Game, which was intended to show the unfairness of the rising urban rents charged by wealthy landlords. Soon, out-of-work salesman Charles Darrow modified the game when he saw players had more fun pretending to be the landlords, and that version became known as the game Monopoly—and in turn, caused great controversy.
Up & Down : The Adventures of John Jeffries, First American to Fly by Don Brown. 9781580898126. 2018. Gr 1-4.
John Jeffries wanted to be the first person to fly a hot-air balloon across the English Channel, so he hired a copilot and loaded a bunch of meteorological equipment. During the flight, they had trouble keeping the balloon steady, so the men had to throw most of the equipment overboard to keep from sinking too low. Readers will be drawn in by the suspense and action—and will have a good laugh at the end.
When Sparks Fly : The True Story of Robert Goddard, Father of Rocketry by Kristen Fulton (ill. by Diego Funck). 9781481460989. 2018. Gr K-2.
Now known as the father of US rocketry, Goddard as a child was considered too sick to go to school. But he loved science and experimenting, and with a subscription to Scientific American and a box of equipment, he taught himself. Even his failures taught him something, and his determination let to his success in designing the first rockets.
INTERMEDIATE NONFICTION
Birds and Their Feathers by Britta Teckentrup. 9783791373355. 2018. Gr 2-5.
Plumology is the science of feathers. Readers will learn all about the different types of feather and their structure and function, as well as how humans have used feathers in tools, fashion, mythology, and more.
Bonkers about Beetles by Owen Davey. 9781911171980. 2018. Gr 1-3.
There are over 40,000 different kinds of beetles in the world, and Owen Davey finds them all fascinating. Beyond their unique characteristics, they can also be found in many bright and bold colors. This book should help bug-shy readers to see the beauty of these critters.
A Kids' Guide to the American Revolution (Kids' Guide to American History) by Kathleen Krull (ill. by Anna Divito). 9780062381095. 2018. Gr 4-6.
This history of the American Revolution discusses questions like why the Thirteen Colonies wanted independence from Great Britain, what caused the Boston Tea Party, and which elements of the Declaration of Independence are still today disputed.
Light Waves by David A. Adler (ill. by Anna Raff). 9780823436828. 2018. Gr 1-4.
David Adler is a pro at explaining complicated scientific topics to young readers. Two children and a cow take readers on a tour of light energy (reflection, transparency, and all kinds of rays). A few simple experiments are included, including how light travels and how it can be bent.
Mr. Wolf's Class (Book 1) by Aron Nels Steinke. 9781338047691. 2018. Gr 2-5.
In this graphic novel, Mr. Wolf looks forward to his first day teaching grade school. His students include Aziza the violet duck in a hijab and Penny the sleepy pig who has a new baby brother at home. Together they get through their first day with all the ups and downs of being fourth-graders.
Not One Damsel in Distress : Heroic Girls from World Folklore by Jane Yolen (ill. by Susan Guevara). 9781328900203. 2018. Gr 2-5.
In this collection of thirteen traditional tales from various parts of the world, the main characters are fearless, strong, heroic, and resourceful women. This new edition of Yolen's 2006 book features two brand-new stories from Azerbaijan and Indonesia, and enhanced illustrations.
Proud (Young Readers Edition) by Ibtihaj Muhammad. 9780316477000. 2018. Gr 4-6.
Ibtihaj Muhammad is the first Muslim-American woman to medal in Olympic fencing. She was also the first American to compete wearing a hijab, which many in her sport considered a profound barrier to success. Nevertheless, through faith and determination, she became an outsider who lived out the American dream of achieving success through her own dedication and hard work.
Rosa's Animals : The Story of Rosa Bonheur and Her Painting Menagerie by Maryann MacDonald. 9781419728501. 2018. Gr 4-6.
Unconventional nineteenth-century painter and sculptor Rosa Bonheur was a unique artist who lived an eccentric life. She befriended "Buffalo Bill" Cody, won the Legion of Honor by Empress Eugénie, and even owned three pet lions.
Star Wars Maker Lab : 20 Craft and Science Projects by Liz Heinecke & Cole Horton. 9781465467126. 2018. Gr 4-6.
Twenty crafts, projects, and experiments use household items to show the science facts behind the science fiction in Star Wars, including lightsabers, landspeeders, and catapults. Spanish version (9781465479259) will be released in September 2018.
You Can't Bring a Sandwich to the Moon…and Other Stories about Space (Secrets of American History) by Laurie Calkhoven & Valerio Fabbretti. 9781534417816. 2018. Gr 2-4.
While these events during the space race in the 1950s and 1960s might not actually be secret, they are not well-known. Kids will enjoy reading about these episodes, including the on in which an astronaut got in trouble for sneaking a sandwich on board for a mission!
MIDDLE SCHOOL NONFICTION
Capsized! : The Forgotten Story of the Eastland Disaster by Patricia Sutton. 9781613739433. 2018. Gr 4-7.
On July 24, 1915, the SS Eastland sank in the Chicago River while still moored to pier. Filled to capacity, 2,500 passengers and crew went in the water, and 884 died, either crushed by the crowds or drowning below deck. It continues to be the largest loss of life on the Great Lakes. This book chronicles the events that led up to the sinking, stories of the passengers and crew, and the grief from survivors.
House of Dreams : The Life of L.M. Montgomery by Liz Rosenberg. 9780763660574. 2018. Gr 6-8.
Kids, especially those who loved the Anne of Green Gables series, will be moved by this thoughtful biography of the author.
In Harm's Way : JFK, World War II, and the Heroic Rescue of PT-109 by Iain Martin. 9781338185676. 2018. Gr 4-8.
John F. Kennedy was commander of PT-109 in the Pacific during World War II when a Japanese destroyer collided with his boat. Jack and his surviving crew were adrift until finally landing on a desert island, and with only coconuts for food, they struggled to stay alive until finally being rescued.
Making Friends by Kristen Gudsnuk. 9781338139211. 2018. Gr 5-8.
Dany is miserable in her new middle school. Her friends are all in different classes—and in new cliques, and she feels lost. Then, while drawing in her late great-aunt's sketchbook, she finds that anything she sketches becomes real! She draws an awesome new best friend, but using magic comes with unexpected consequences.
My Family Divided : One Girl's Journey of Home, Loss, and Hope by Diane Guerrero. 9781250134868. 2018. Gr 4-7.
Guerrero was the daughter of undocumented immigrants living in Boston. When she was fourteen, she came home to find that her parents had been arrested and would be deported. Alone (neither ICE nor Child Protective Services ever checked on her), she had to rely on friends to survive. Guerrero details the financial and emotional troubles that resulted from this childhood trauma, as well as how she ended up on the show "Orange Is the New Black."
The Orca Scientists (Scientists in the Field) by Kim Perez Valice (photos by Andy Comins). 9780544898264. 2018. Gr 5-8.
As scientists in the Pacific Northwest learn about orcas, they debunk myths and work to keep them from going extinct.
Science Comics : Rockets : Defying Gravity by Anne & Jerzy Drozd. 9781626728257. 2018. Gr 4-8.
Check out these stories of the men and women instrumental in inventing rocket-ship technology.
To Pluto & Beyond : The Amazing Voyage of New Horizons by Elaine Scott. 9781101997017. 2018. Gr 4-7.
Travel with the tiny (about the size of a piano) ship New Horizons as it journeyed to Pluto and is now on its way to the Kuiper Belt at the edge of our solar system.
Two Truths and a Lie : Histories and Mysteries by Ammi-Joan Paquette & Laurie Ann Thompson. 9780062418869. 2018. Gr 4-7.
In this collection of strange mysteries about history, two of the tales are true and one is false. Readers try to determine which is true and learn that though part of the third story may be true, not all of it is.
Unsinkable : From Russian Orphan to Paralympic Swimming World Champion by Jessica Long (with Hannah Long). 9781328707253. 2018. Gr 5-8.
Jessica Long, the top Paralympic swimmer in the world, describes how she was born in Siberia with a birth defect, adopted at thirteen months old, had both legs amputated below the knee, and overcame obstacles to find success swimming in the Paralympics. She is also a motivational speaker, fashion model, and ESPY Award winner.
HIGH SCHOOL & ADULT CROSSOVER NONFICTION
Buzz : The Nature and Necessity of Bees by Thor Hanson. 9780465052615. 2018. Gr 10-Adult.
Starting with a history of the development of bees, Hanson describes the different types of bees, their life cycles, and their relationship with nature. They play a role in our mythologies as well as being essential to the growth of much of the food we eat, and he details the disturbing signs that they are disappearing.
Call Me American : A Memoir by Abdi Nor Iftin. 9781524732196. 2018. Gr 10-Adult.
The author shares the story of his life from his birth under a neem tree in Somalia to his journey to America. He highlights the traditions and customs of his culture as well as his dreams of becoming an American citizen and the struggles he faced as a Somali refugee.
Proud : My Fight for an Unlikely American Dream by Ibtihaj Muhammad. 9780316518963. 2018. Gr 11-Adult.
Ibtihaj Muhammad, the first Muslim-American woman to medal in Olympic fencing, was also the first American to compete wearing a hijab, which many in her sport considered a profound barrier to success. Her faith and determination transformed her from an outsider to an athlete who lived out the American dream of achieving success through her own dedication and hard work.
Rad Girls Can : Stories of Bold, Brave, and Brilliant Young Women by Kate Schatz. 9780399581106. 2018. Gr 7-12.
This collective biography features 50 women and girls who made a difference in their world before they turned 20. In addition to being racially diverse, they hail from different countries and have a wide range of abilities. The creators of the book have chosen both historical and contemporary examples.
Suffragettes and the Fight for the Vote by Sarah Ridley. 9781445152615. 2018. Gr 7-12.
Learn about the struggle of women to get the right to vote in Britain.
What the Eyes Don't See : A Story of Crisis, Resistance, and Hop in an American City by Mona Hanna-Attisha. 9780399590832. 2018. Gr 11-Adult.
The author provides a firsthand account of the Flint water crisis in 2014. Despite her warnings that the water in Flint was toxic, officials dismissed her and denied her requests for intervention. Yet she persisted and conducted her own study along with a corrosion expert, the results of which prompted a public health crisis and launched condemnation against officials who refused to help.