During the month of May, nurses, police, paramedics and EMTs, and hospitals are celebrated for their work in the community. (I am particularly interested in paramedics because my son works as one in Kansas City.) The books below are some excellent choices to beef up your collection with these hero stories.
May 6-12: National Nurses Week; National Hospital Week
May 13-19: National Police Week
May 20-26: National Emergency Medical Services Week
PRIMARY GRADES
Community Helpers at the Hospital (Community Helpers on the Scene) by Mari Schuh. 9781515723974. 2017. Gr PK-2.
Fly Guy Presents : Police Officers by Tedd Arnold. 9781338217179. 2018. Gr 1-3.
From Accident to Hospital (Little World Communities and Commerce) by Anastasia Suen. 9781634300582. 2015. Gr K-2.
Hooray for Nurses! (Bumba Books: Hooray for Community Helpers!) by Elle Parkes. 9781512414448. 2017. Gr PK-2.
Hooray for Police Officers! (Bumba Books: Hooray for Community Helpers!) by Elle Parkes. 9781512414714. 2017. Gr PK-2.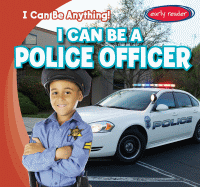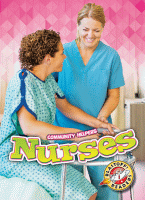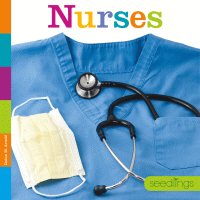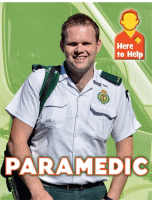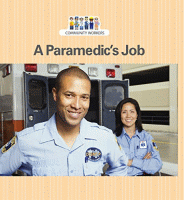 I Can Be a Police Officer (I Can Be Anything) by Audrey Charles. 9781482463279. 2018. Gr PK-2.
Nurses (Blastoff! Readers) by Christina Leaf. 9781626177482. 2018. Gr K-3.
Nurses (Seedlings) by Kate Riggs. 9781628324891. 2017. Gr PK-1.
Paramedic (Here to Help) by Rachel Blount. 9781445140148. 2017. Gr K-2.
A Paramedic's Job (Community Workers) by Miguel T. Rosario. 9781627129961. 2015. Gr PK-2.

Police Officers (Real-Life Superheroes) by Emma Less. 9781681512983. 2017. Gr K-2.
Police Officers on the Job (Jobs in Our Community) by Kate Rogers. 9781534521551. 2017. Gr K-2.
Why We Go to the Hospital (Bumba Books: Why Health Matters) by Rosalyn Clark. 9781541511101. 2018. Gr PK-2.
INTERMEDIATE GRADES
Emergency Medical Technician (Careers That Count) by Louise Spilsbury. 9781499408072. 2016. Gr 4-6.
Get a Job at the Hospital (Bright Futures: Get a Job) by Joe Rhatigan. 9781634719070. 2017. Gr 4-6.
Hospital (21st Century Junior Library: Explore a Workplace) by Jennifer Colby. 9781634710749. 2017. Gr 2-5.
Mounted and Canine Police (Careers for Heroes) by Lee Fitzgerald. 9781508143857. 2016. Gr 3-5.
Police Force (Defend and Protect) by Geoff Barker. 9781482441147. 2016. Gr 4-6.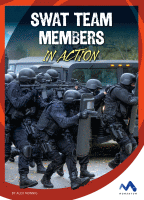 Swat Team Members in Action (Dangerous Jobs in Action) by Alex Moning. 9781503816343. 2017. Gr 3-6.
You Wouldn't Want to Live Without Nurses! By Fiona Macdonald & David Antram. 9780531224625. 2016. Gr 4-6.
MIDDLE/HIGH SCHOOL
Bold Women of Medicine : 21 Stories of Astounding Discoveries, Daring Surgeries, and Healing Breakthroughs by Susan M. Latta. 9781613734377. 2017. Gr 9-12.
Careers in Emergency Response (Exploring Careers) by Christine Wilcox. 9781682821046. 2017. Gr 7-12.
Careers in Law Enforcement (Exploring Careers) by Michael V. Uschan. 9781682821060. 2017. Gr 7-12.
EMTs and Paramedics (Careers in Healthcare) by Samantha Simon. 9781422237991. 2018. Gr 7-12.
Killer Evidence : Be a Police Detective (Crime Solvers) by Alix Wood. 9781538206324. 2018. Gr 6-8.
Nurses (Careers in Healthcare) by Samantha Simon. 9781422238004. 2018. Gr 7-12.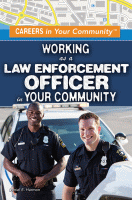 Women in Blue : 16 Brave Officers, Forensics Experts, Police Chiefs, and More by Cheryl Mullenbach. 9781613734223. 2016. Gr 9-12.
Working as a Law Enforcement Officer in Your Community (Careers in Your Community) by Daniel E. Harmon. 9781499461152. 2015. Gr 7-12.
ADULT CROSSOVER
Blue on Blue : An Insider's Story of Good Cops Catching Bad Cops by Charles Campisi. 9781501127199. 2017. Gr 11-Adult.
Called to Rise : A Life in Faithful Service to the Community That Made Me by David O. Brown. 9781524796549. 2017. Gr 11-Adult.
Lights & Sirens : The Education of a Paramedic by Kevin Grange. 9780425275238. 2015. Gr 11-Adult.
The Nurses : A Year of Secrets, Drama, and Miracles with the Heroes of the Hospital by Alexandra Robbins. 9780761171713. 2015. Gr 10-Adult.
The Shift : One Nurse, Twelve Hours, Four Patients' Lives by Theresa Brown. 9781616203207. 2015. Gr 10-Adult.
A Thousand Naked Strangers : A Paramedic's Wild Ride to the Edge and Back by Kevin Hazzard. 9781501110832. 2016. Gr 11-Adult.