"Giving kids a positive alternative to counteract the negative impact of what is conveyed in today's media is a huge opportunity."¹
This is what Floyd Cooper has to say about creating children's books. And his illustrations show his commitment to provide an affirming picture of his characters, despite the situations they might find themselves.  In this post, he describes the unique process he has devised to bring his characters to life.
¹Quote taken from Floyd Cooper's website.
_________________________________________________________________________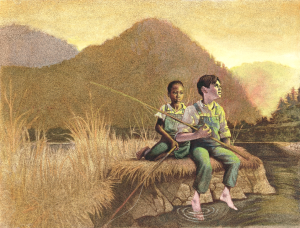 I have often heard it said that I am a master of expression in my character development.  In reflecting on the source of such praise, I have been hard pressed to find a direct reason for why that is, if indeed it is the case.  I can say that it is not something I intentionally seek as a goal for my art. I only know that I get immense satisfaction from portraying people and their relationship to whatever situational circumstance they happen to be in. I love people!
And unlike my high school years where I did not care much for History class, I am now a big fan of history. When you combine those two passions you arrive at the production of some of my favorite illustrated picture books of record. History, when tied to a strong, attractive narrative, can lead to a very fine result. However, I truly believe my technique, the way I approach my art is a major factor in the equation.
You see, I am an "eraser".  I began my artistic sojourn by erasing.  When I was three years old I plucked a piece of gypsum board from a scrap heap left by my Dad who was perched on a ladder, working on building our house.  He built the house we lived in on a tract of land granted to the family of my Muskogee Creek Indian grandpa in part of that whole Native tribe relocation program famously known as The Trail Of Tears. I used that chalky piece of wallboard to scratch little shapes onto the side of my Dad's house.  I am certain this episode ended with me helping to rub or erase those little drawings away from my Dad's creation.  And I have been erasing ever since.
Some things are hard to erase, like my life with my siblings after the divorce of my parents.  There were eleven elementary schools in North Tulsa and I attended all of them, sometimes coming home from school to an empty house. We moved that frequently.  With each new school, I quickly learned the currency of my art. I would seek out the art teacher and "buy" myself a new friend with my artwork.  With encouragement from my teachers, I continued to make art, culminating with me being awarded an art scholarship to the University of Oklahoma (Go Sooners!). That is how I got out of the projects and into college. After graduating, I discovered my current technique one dark and stormy night while working in Greeting Card Design at Hallmark Cards in Kansas City. My job there was to erase and change old greeting cards.
I would like to share with you here the basics of how it works,  from the book Ben and the Emancipation Proclamation, the true story of Benjamin Howe written by Pat Sherman and illustrated by yours truly (published by Eerdman's Books for Young Readers).  I receive the manuscript via snail mail on standard stock, double spaced type, no pagination (page numbers).  I read the story several times—and several times more.  I start to get images after a few of the readings. Sometimes I get a flood of images from the very first reading!  That is what we illustrators call "finding the connect." I connect with the story in that special way, as if that story was written just for me.
I immediately thumbnail tiny sketches into the margins and gaps of the text in proximity to the passages that relate to the drawings.  They are for idea only. Sometimes these early little drawings end up being the final art idea. Sometimes not.
The examples shown here are the thumbnail sketches, the sketch worked up to the trim size of the book. This is called the "dummy" stage. I then transfer this dummy page sketch onto my painting surface and begin the painting as outlined in the demonstration called the "underpainting stage".
THE UNDERPAINTING STAGE
From the very beginning of my career in publishing, I have strived to be different, distinctive and unique in the approach and finish to my art.  I have utilized a signature technique, exclusive to me and unlike anything or anyone else's style of producing imagery for books.  We will call it here the "subtractive process". The medium we will call "oil erasure".   I guess you can tell that I am proud of the fact that I have carved a special place for myself in the children's book world when it comes to artistic medium and expression.  My own signature "voice" as it were!
THE DEMO:
I start with a piece of illustration board trimmed to the proportion of the final trim size of the book.  The board is "sized" with workable spray fixative. A wash of thinned oil paint is applied as a ground or background.  Kneaded erasers are used to then erase the shapes of images and artifacts that result in the underpainting for the final image.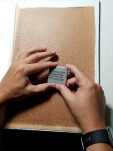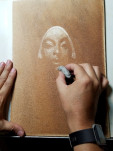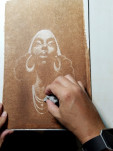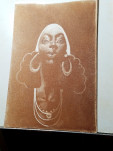 The final stage is adding color.  I tend to add transparent washes of color over the monotoned erasure in layers. It really depends on the look I am after each individual book. Sometimes I will go opaque with the color in a more traditional painting style. Every painting for each of the 107 books I have produced have started out this way. All that is, but two.  Tough Boy Sonatas and Miss Prudence Crandall and Her School for Little Misses of Color (published by Boyds Mills Press) utilize the subtractive process with melted chalks rather than oil erasure.  I include herewith the stages for Here are a few spreads showing how the stages progress chronologically.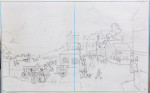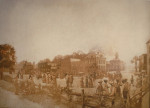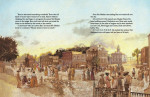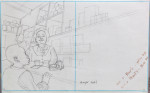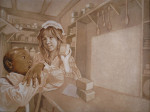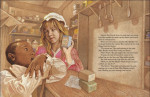 Be on the watch for more as I continue to grow evolve through this wonderful process.  I enjoy sharing this visual language at conferences and school visits where I give live demonstrations, especially for kids.  Being able to provide another tool to their arsenal of expression is a big fringe benefit of what I do.  Contact me for a visit to your school or program.
_________________________________________________________________________
Books illustrated by Floyd Cooper:
Sisters & Champions : The True Story of Venus and Serena Williams by Howard Bryant. 9780399169069. May 2018. Gr PK-3.
Where's Rodney? by Carmen Bogan. 9781930238732. 2017. Gr PK-1.
Frederick Douglass : The Lion Who Wrote History by Walter Dean Myers. 9780060277093. Gr 2-5.
A Spy Called James : The True Story of James Lafayette, Revolutionary War Double Agent by Anne Rockwell. 9781467749336. 2016. Gr 2-5.
Ira's Shakespeare Dream by Glenda Armand. 9781620141557. 2015. Gr 3-6.
A Dance Like Starlight : One Ballerina's Dream by Kristy Dempsey. 9780399252846. 2014. Gr K-3.
Brick by Brick by Charles R. Smith Jr. 9780061920820. 2013. Gr K-3.
Queen of the Track : Alice Coachman, Olympic High-Jump Champion by Heather Lang. 9781590788509. 2012. Gr 2-5.
In the Land of Milk and Honey by Joyce Carol Thomas. 9780060253837. 2012. Gr K-2.
These Hands by Margaret H. Mason. 9780547215662. 2011. Gr PK-2.
Ruth and the Green Book by Calvin Alexander Ramsey. 9780761352556. 2010. Gr 1-3.
Back of the Bus by Aaron Reynolds. 9780399250910. 2010. Gr 1-3.
Ben and the Emancipation Proclamation by Pat Sherman. 9780802853196. 2010. Gr 2-5.
The Blacker the Berry : Poems by Joyce Carol Thomas. 9780060253752. 2008. Gr K-2.
Becoming Billie Holiday by Carole Boston Weatherford. 9781590785072. 2008. Gr 7-12.
Mississippi Morning by Ruth Vander Zee. 9780802852113. 2004. Gr 3-5.
Freedom School, Yes! by Amy Littlesugar. 9780399230066. 2001. Gr 1-4.
Floyd Cooper has also illustrated some of his own writings:
The Ring Bearer by Floyd Cooper. 9780399167409. 2017. Gr PK-2.
Juneteenth for Mazie by Floyd Cooper. 9781479558193. 2015. Gr K-3.
Max and the Tag-Along Moon by Floyd Cooper. 9780399233425. 2013. Gr PK-1.
Jump! : From the Life of Michael Jordan by Floyd Cooper. 9780399242304. 2004. Gr 1-4.

From the publisher:
Floyd Cooper has won many prestigious awards for his illustrations, including the 2009 Coretta Scott King Illustrator Award for The Blacker the Berry, written by Joyce Carol Thomas (Amistad), plus three previous Coretta Scott King Honors, a Da Vinci Award, and an NAACP Image Honor. He has illustrated more than eighty books. Floyd lives in Pennsylvania.