Chris Harris has built a successful comedy career as a writer and producer for the television shows How I Met Your Mother and The Late Show with David Letterman. Though it took years to achieve success in television broadcasting, his first foray into children's publishing was an instant hit. Harris' book I'm Just No Good at Rhyming: And Other Nonsense for Mischievous Kids and Immature Grown-Ups (Little, Brown Books for Young Readers, 2017) was a New York Times bestseller and garnered him comparisons to Shel Silverstein and even Dr. Seuss.
So who is this comedic phenomenon? Well, it all started when he was a youngster.
"My parents are not authors, but they read to me constantly when I was a toddler. Our house was full of books to the point of being a fire hazard. I learned to read on my own by making my parents read me the same book over and over (and over and over…) again until I memorized it, then slowly connecting the words they were saying to the words on the page. The book I most vividly recall memorizing from repeated readings like this was The Diary of Anaïs Nin (Mariner Books, 1969). No, wait. My mistake. It was Hamilton Duck (Golden Press, 1972)."
"I was never a reluctant reader, but sometimes I was reluctant to stretch myself – I'd get stuck in an 'easy' genre that I enjoyed (science fiction short stories, The Three Investigators series, the backs of cereal boxes during breakfast), and it would take a parent or teacher to push me into trying something more challenging."
From an early age, Harris understood that words were magical. "My favorite 'aha' moments while reading books as a kid were the ones that made me sit up and see something about words or the world that I'd never even imagined was possible before. The Phantom Tollbooth (Random House, 1961) did that for me in fourth grade (thanks for the rec, Mr. Lesh). Before that, a book called Arm in Arm (Parents' Magazine Press, 1969) by Remy Charlip. And of course Shel Silverstein. Later on, Douglas Adams and Catch-22 (Dell, 1968) gave me that same feeling. Those were all books that took joy in exploring the boundaries of what words could convey, and even played with the idea of what a book itself could be."
Though I'm Just No Good at Rhyming is his first book written for kids, he actually wrote his first book as a kid. In first grade, Harris created his first book by stapling paper towels together and then writing a story about a monster that causes earthquakes. "Ms. Perksin had me go read it to the kindergarten class next door. As it turns out, that would be my last book reading for over 40 years. I don't even remember it going that poorly…"


"When I visit schools, I always talk about the importance of looking around one's own life for inspiration; if something made you laugh (or sad, or angry, or pensive) in real life, then there's a good chance that sharing that moment in writing will make the reader feel a similar way."
Just a few years later, Harris found his life's purpose: using words to make people laugh. "In fifth grade, Mrs. Gozzi gave us an assignment to write 'updated' versions of nursery rhymes. With that assignment, I remember having that … feeling of having discovered what I was born to do—that same feeling Jackson Pollack probably had when he started flinging paint everywhere. I dashed off about 15 of them that night and read a bunch to the class the next day. That's the first time I combined verse and humor, shared the results to a classroom, and got huge laughs. One of them went:
Little Jack Horner
Sat in a corner
Looking up at the sky.
But when he looked down
His face showed a frown
He'd forgotten to zip up his fly.
Harris went on to establish himself as a go-to guy for top-notch humor, becoming an Emmy-nominated writer and producer. And now with the successful debut of his collaboration with illustrator Lane Smith, it definitely seems like Harris has the Midas touch.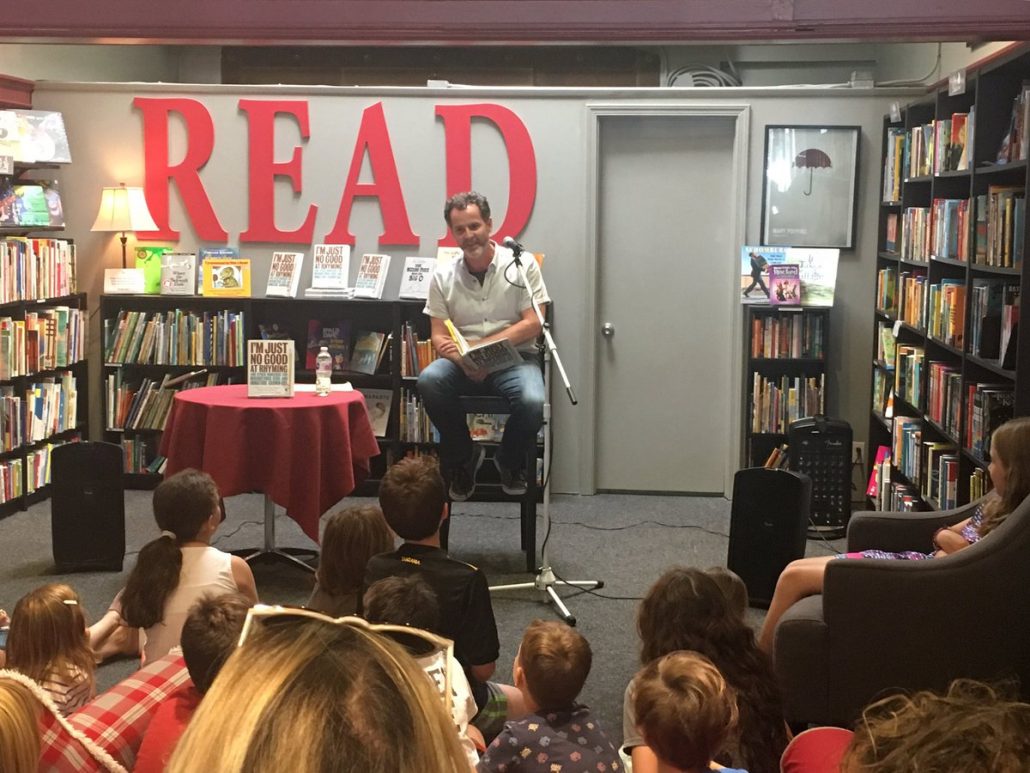 "The back cover of my book asks something like, 'Do you (think you) hate poetry? Then this is the book for you!' But from what I've seen, very few grade-schoolers hate or even (think they) hate poetry–they're still attracted to the rhythms and rhyming patterns of simple poems. Ask a fourth-grader to parse John Berryman and sure, their opinion might change. But sometimes I wonder if we do poetry a disservice by even suggesting to kids that hating poetry is in any way a typical opinion for them to have."
"I'm grateful to have found a career in comedy – both on television and now in children's books – but I'm still not sure that I see myself as someone with any special gift for humor. I see myself more as a fraud who's consistently gotten lucky enough to think up one more decent idea, but whose luck is bound to run out at any moment."
Harris readily admits that he did not expect the positive reaction the book has received. "It's on so many best-of-the-year lists. Half of me wants to soak in the positivity; the other half of me wants to shake the list compilers and scream 'Are you mad?! There were so many other great books out this year!'"
Because of the book's reception and his encouraging entry into children's publishing, Harris is eager to begin his next book project in between writing for television and doing school visits. "My family and I are constantly collecting ideas, both inspired by real-life incidents and born from our own imaginations. I hope I can turn it into another collection within the next several years. And if Lane can forgive me for saying in the first book that I don't like him, then I'd love nothing more than for him to join me for another collaboration."
Chris Harris on his book "I'm Just No Good at Rhyming"
"Our faux-antagonistic relationship throughout I'm Just No Good at Rhyming is my favorite runner in the whole book. I'd already written the finale – the poem titled 'I Don't Like My Illustrator'–but when Lane signed on, our rivalry became an even bigger part of the book, even spreading into the dedication page (I dedicate the book to my lovely wife and wonderful children; he also dedicates the book to my lovely wife and wonderful children; things go downhill from there).
"My favorite illustration of Lane's is probably the one he did for the more serious poem 'I'm Shy on the Outside.' The way he depicts an externally quiet child who has a whirlwind of thoughts going on inside his head is, to me, magnificent.
"My favorite serious poem in the book is one called, 'You'll Never Feel as Tall as When You're Ten.' I remember writing that one really quickly after a particularly tough year, as a reminder (to myself, really) to hold on to that wide-eyed perspective of youth even though one's biggest dreams rarely ever turn out the way one had hoped for. My favorite surprise about that poem has been discovering that even though adults see it as tinged with sadness, kids seem to read it as an inspiring, uplifting validation of their own viewpoint.
"My favorite humorous poem changes with the weather. Today it may be 'The Good Child Test,' the entirety of which reads, 'I used special ink on this poem's last line / That some children see and some don't. / If you're a good child, then you'll read it just fine — ' And that's the end of the poem. I like that it's (I hope) instantly funny to adults, but a little bit of a puzzle to figure out for younger kids.
"In a way, short-form poetry is like bite-size literature. A child only needs to invest in a few lines' worth of reading in order to get a payoff in the form of a laugh, or a surprise twist, or something to think about. It provides something close to instant gratification."
"Also, I have a soft spot for any poem that's inspired by a real-life event with my own kids, of which there are many. There's a poem about 'the sweetest lullaby ever' that ends with the parent shouting into the former baby's face, which was a running joke we had together for years. Another poem is based on an incident that happened with my daughter one morning when she was three. I told her to eat up because 'breakfast is the most important meal of the day.' Without skipping a beat she looked up at me and said, in a deeply serious voice, 'That's not very nice to lunch.' So I turned that moment into a poem about how hurt lunch feels about people saying that cliche about breakfast.
"I was lucky enough to have teachers who encouraged me to write as well as to read."
"I first wrote all these poems as a way of sharing with my own kids some things that made us all laugh, and to show them what a playground the English language can be once you start thinking about all the different ways to place words on a page. Now I hope other children are inspired by the book to see what they can do with words, based on their own unique perspectives."