My history with littleBits began in 2013 when my school created a littleBits bar in our makerspace, and our experiences with littleBits have grown exponentially since.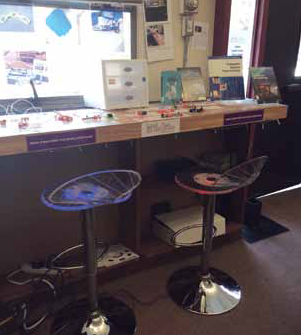 Billy's history with littleBits started in 2015 when he heard about littleBits at an ISTE conference and won a free kit later that summer at an education conference. That fall, Billy applied for a Donor's Choose grant and was able to start his small collection of littleBits which he used with his Gifted and Talented students. Billy slowly built his collection the following year with a donation from the Home and School Association. Students loved exploring and learning with the kits.
Billy and I were thrilled to be selected as one of 20 participants in the littleBits Lead Educator program that took place back in May and June of this past school year. As a result, we were one of the very first educators in the world to get the new littleBits Code Kit and had the opportunity to test the kit with students and create resources and activities to use in the classroom.
Full disclosure…the students in my makerspace do not like kits. My students are known to throw away directions, disassemble kits they have gotten, and void warranties. With that being said, in partnership with our school's computer science teacher, Ms. Kirsten Lee, and her AP Computer Science students, they were excited to be able to beta test the new littleBits Code Kit. Rather than designing lessons myself surrounding the littleBits Code Kit, I tasked my students with designing experiences they felt other students would enjoy, embrace and benefit from. This approach is what I call participatory making.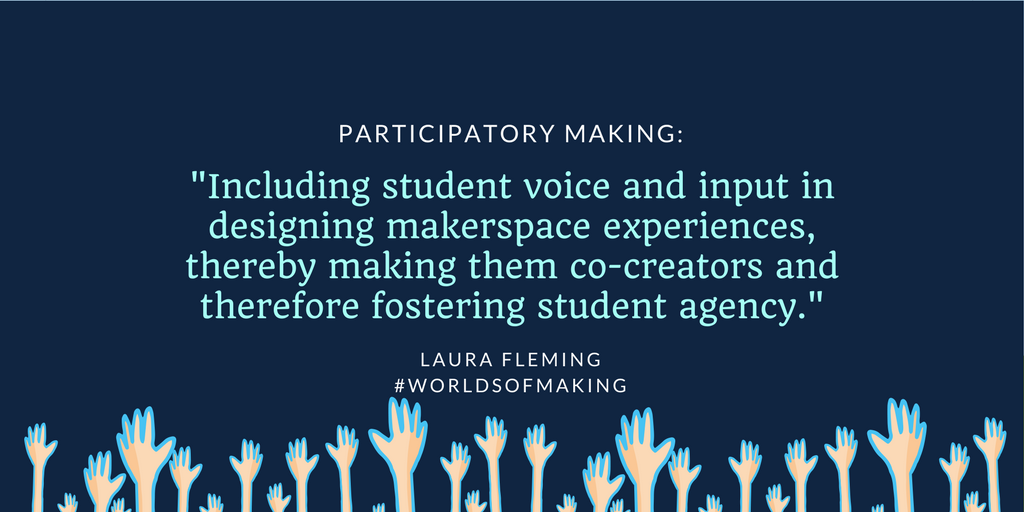 The ultimate goal of this littleBits collaboration was for my students to create an activity for Billy's 3rd and 4th grade students to complete and to share with the littleBits community, as well.
Prior to kicking off this unit, I asked my students a few questions to get them in the right mindset.
Students who visit our makerspace rarely like to use kits. They would rather use other materials in the makerspace. Why do you think this is so?

Their responses were very insightful.
In a makerspace, kids don't want to have to follow directions. They would rather do what they want to do and then follow directions as needed and if needed. The book, 'How to Win Friends and Influence People' covers this. People want to do what they want to do and will only do it if it aligns with the things they want.
In a makerspace, students don't necessarily want to follow the instructions given to them. They would much prefer to think of other things to do with the materials in the kit.
Not being limited to the instructions in a kit allows kids to be more creative and think of things that the people who wrote the instruction manuals couldn't think of.
Some kits make students feel restricted and prefer the freedom that other materials offer.
Many kits tend to lead you down a pre-planned path, while your mind might have an idea of its own.
To help to immerse students in this project, my high school students then read 'Game Changer' article in Make Magazine, written by Tyler Winegarner. Through this article, students gained a better understanding of how to craft immersive experiences. I wanted to move our students away from the word activity or project and to begin thinking about the difference between an activity or project and an experience. This article helped to get students thinking about creating experiences instead of projects for the littleBits Code Kit. After reading the article, students shared their thoughts on crafting engaging experiences.
An experience is a lot more involved than an activity. An activity is usually constant, but an experience changes over time with the user.
An experience is rooted in a story that provides a context. That context adds meaning and importance.
Experiences are more unique than activities.
An experience is something you go through over time, and activity is more short-term.
Activities are more planned.
With an experience, you are involved and moving and doing something to go along with the game. You are immersed in the activity.
An activity can be classified as something assigned, something that must be done. An experience is more than that. It is something you can feel, something you can see, something you can hear, etc. An experience has a lasting impact and should leave a person lost in thought, one way or another.
Activity has a set goal in mind. An experience doesn't necessarily have to have an end goal.
An experience involves exploration, encouraging mistakes, and learning from mistakes.
Creating an experience involves using the five senses.
Experiences inspire people to create their own experiences to then share with others.
Activities teach and exhibit, while experiences spread and constantly grow.
I then asked students to put on their experience designer hats. In a previous class, my students and I played a collaborative game on their phones called Spaceteam. Although they enjoyed the game, I asked her students to reflect on playing the game and think about what could have been added playing the game to make the experience, even more, fun, even more enjoyable, and even more meaningful for people when they play it. Their thoughts below:
Props that would provide more involvement.
Actual dials, switches, and buttons to use along with the game would have made it a lot more fun and a more immersive experience.
Making the game more high stakes.
Using VR to see the controls in the game and the ship flying. Other effects could also be added, such as meteor and worm holes that fly at you.
Adding a story when the game first opens to give a purpose as to why you are flying this spaceship, to begin with. The addition of story would have given the game more meaning.
Having a choice between endless and story mode would have been great. The Endless mode would be the game as it is, and the story mode would be a chain of levels that start with a tutorial and then are followed by special missions with unique challenges that get progressively more difficult and introduce the players to the mechanics of the game.
The addition of music would enhance the game.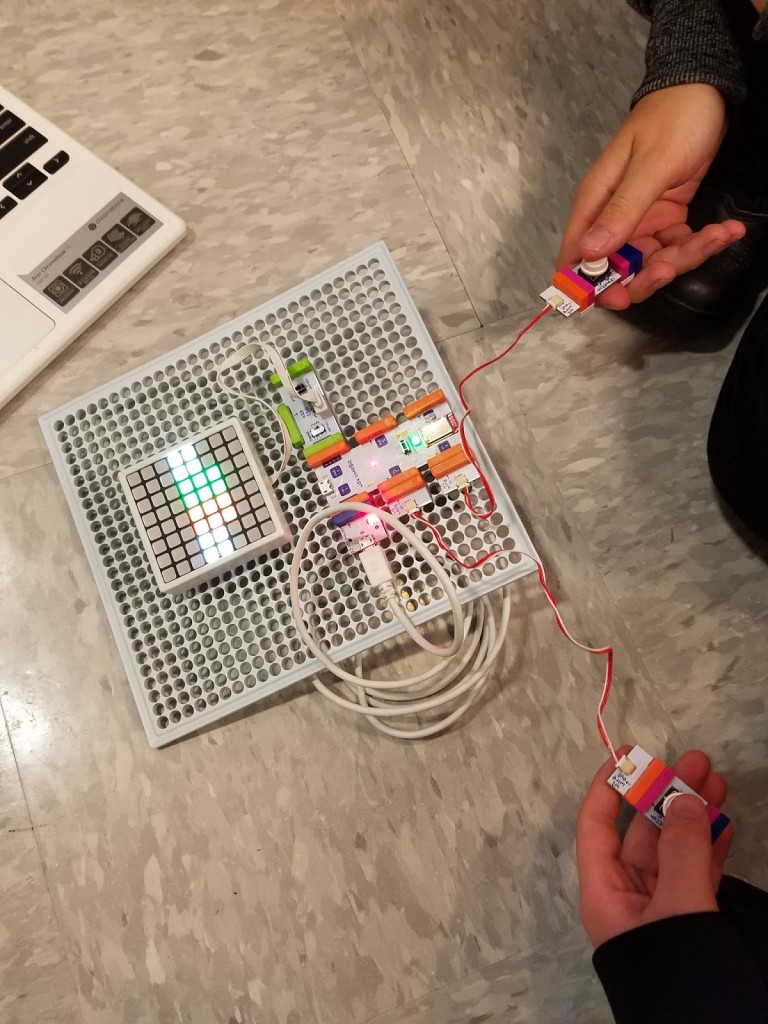 My students also watched the Building Blocks That Blink, Beep and Teach a TED talk given by the founder of littleBits, Ayah Bdeir. At the same time this was happening, Billy's students were also diving in deep with the littleBits Code Kit, honing their skills in order to successfully test the experiences created by my students. His students played around with the lessons that came with the kit, some of his students decided to even change the colors of the tug-of-war since they found the colors to be too masculine.
My students then did research to answer the following guiding question:
What techniques can be used to better engage students with makerspace kits, such as the littleBits Code Kit?
Some of my students' findings are below:
In our current generation, video games have increased in popularity, really becoming a staple in our current culture. When making kits, one of the focuses should be storytelling. With a good story, players make connections to the characters and an overall connection to the kit itself. Storytelling creates an emotional investment in the kit. Think about it, without an emotional connection, why would you care about something?
To better engage students, self-directed learning could be encouraged by the people who make the kits. The kit would allow for the proper environment for self-directed learning to take place. Kits such as littleBits have so many possibilities and offer so many opportunities, allowing for self-directed learning will allow people to discover things and to learn about themselves and their needs too.
Storytelling helps the people in an experience feel more engaged and a part of it. It plays into the emotion of the user and makes more of a connection. The user can relate to the games and feel like they are truly part of the game.
Gamification can be used to make the kits feel more immersive. By making the kids more game-like, kids are more likely to be engaged and be interested. They will see it less as learning and more as fun.
My students then took all they learned and applied it to crafting experiences surrounding the littleBits Code Kit.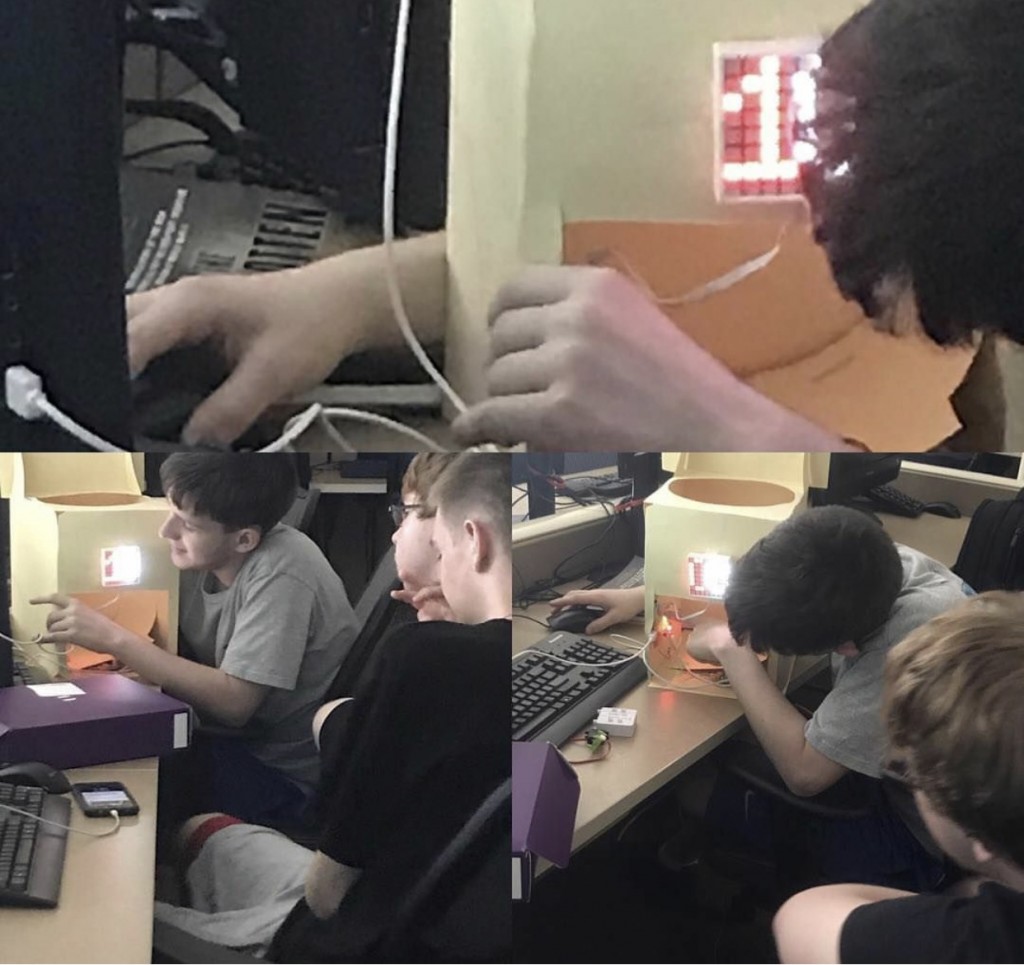 Their work was enhanced by having access to the amazing littleBits Code Kits team, who was readily available and accessible and willing to answer any questions the students had. My students created three student-created experiences: Basketball Showdown, Get the Ball Rolling and Star of the Caribbean. Pieces of each can be seen below.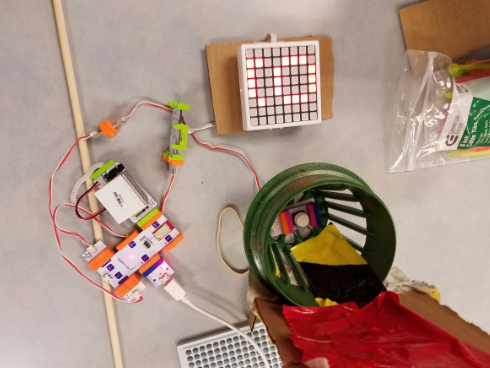 They sent those experiences to Billy's students, who helped my students refine and debug their work, and ultimately improved the experiences the students created. After Billy's students completed the experiences created for them by my students, he challenged his students to figure out other creative ways to use the projects. For example, one of the groups decided to select the Basketball game. The students then came up with a plan to create a basketball hoop out of the materials that Billy had available in his room. The students used duct tape, wooden dowels, cardboard, zip ties and a gutter cap to create their hoop. They want the ability to see the scoreboard as they were shooting. They used a foam ball for the ball but discovered that they had to add duct tape for extra weight. The students had a ball playing with the fun design. Another group started to create a replica Death Star out of cardboard.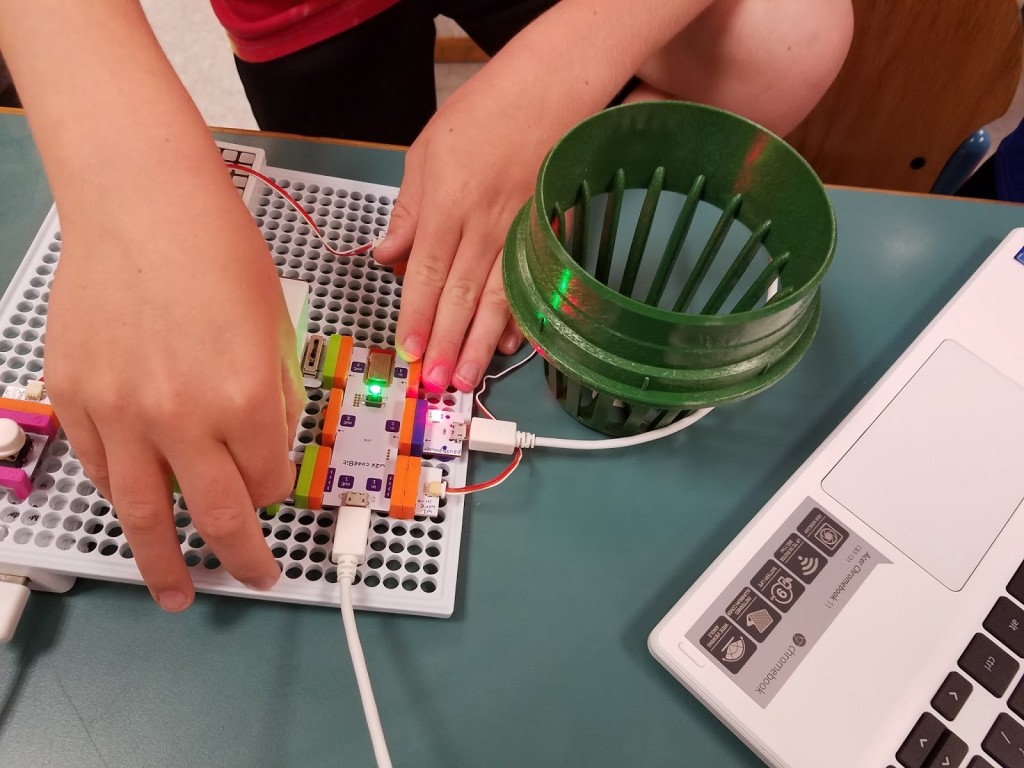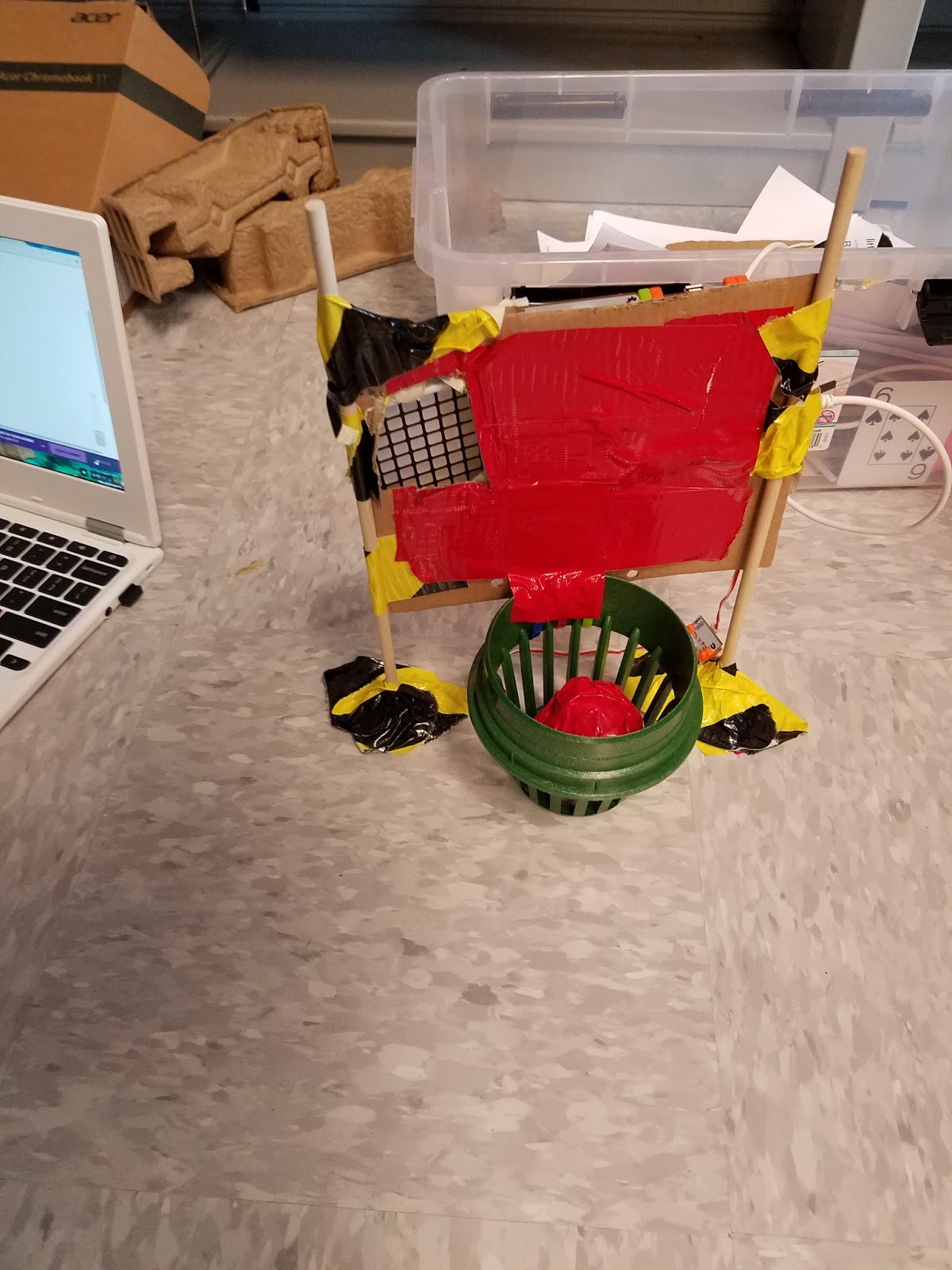 As a result of the participatory making opportunities afforded to my students in this littleBits Code Kit unit, they recommend to other students who are doing the same the following:
Show examples of what you can do with makerspace items, rather than tell.
Create a forum where students who create in your makerspace can collaborate and share what they have created.
Build in choice. Create experiences similar to pick your path books. This puts the power of creativity into the hands of the students.
Inviting students into the makerspace activity design process can be transformative for your space. Billy's students were able to learn from older students and were able to become creative in their own way. Participatory making experiences, such as the ones mine and Billy's students experienced, are sure to empower your students and help to guarantee your makerspace is the student-driven space we ultimately want those spaces to be.