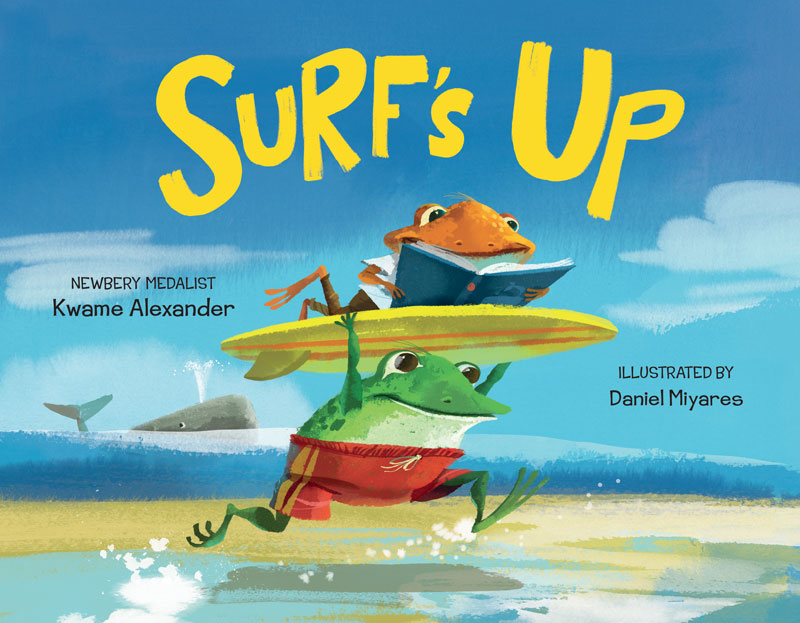 Determined to succeed, Kwame Alexander has never taken "no" well. If he has a vision, he works tirelessly to turn it into reality. A literary activist, poet, and author, Alexander writes children's picture books, middle-grade novels, young adult novels, plays, television scripts, and poetry. He has also produced literature arts events, from poetry slams to plays, in places as varied as coffeehouses to theaters, both in America and in England. Here, Alexander shares with Mackin's Amy Meythaler his beliefs about the importance of books, stories, and poems that kids can relate to as well as the saving power of words.
A Reluctant Beginning
You are an award-winning poet, bestselling author, playwright, speaker/presenter, and the list goes on. Your parents were educators, and your dad started you in the publishing industry. How is it that you were considered a reluctant reader?
Well, it wasn't for lack of opportunity to read! My parents filled our house with books. I'm not kidding. Books were everywhere. And when I was younger, it was like Christmas every day because there was always a new book somewhere to be discovered. I loved reading and consumed everything I could get my hands on—especially from authors like Eric Carle and Lee Bennett Hopkins. But when I got to about fifth grade, I hated books and I hated reading because I was forced to read things I didn't care about or just didn't like. So really, I wasn't so much a "reluctant" reader in the normal sense. I was more of a disinterested reader.
So what drew you back into reading?
In middle school I decided to read about what I was interested in—sports. That is what did it. By reading what I was interested in, my love for reading was reignited.
"I was a boy who could be considered a reluctant reader. But it was more that I didn't want to read what I was supposed to read."
Is that about the time you started working for your dad's publishing business?
Oh no. It was long before that. I was actually about six years old when my sisters and I started working for my father, Edward Curtis Alexander. We did everything from preparing direct mail to answering telephones to selling books.
My dad's company was Educational Consulting Agency or ECA Associates. It so happens those were his initials, too. He also had an imprint called TCECE Book Services. He actually began as a writer who wanted to have an impact on education. After he wrote his dissertation, he founded his publishing company.
As a book publisher, my father found there was a whole lot of opportunity to distribute multicultural books. So in addition to publishing, he became a book distributor. He didn't believe in waiting for others to do things; he decided he wanted to get these books out to readers, so he did.
A Change Of Direction
When did the writing bug bite you? Was it working in the industry that really inspired you to write and publish?
I was inspired to write by reading Dr. Seuss, but I never considered becoming a writer. It was more of a hobby. And working in the industry did the opposite of what you might think. It really turned me off to the idea of working in the literary industry. I tried to do something completely opposite and studied medicine at college. But in addition to my formal classes, I decided to take some writing courses. One of my professors was Nikki Giovanni, a highly respected poet. She actually helped me recognize my love of poetry and she urged me to pursue it. That was exactly what I needed.
What did your family think of your decision to change career directions?
When I told my father that my life's goal was to publish poetry, I think he was shocked. I wanted to start an imprint with his company, but he said "No. Poetry doesn't sell." But then he handed me a check to get me started and wished me good luck. To this day he says it was a loan, but I say it was a gift!
My wife was supportive of my dream, and she knew I could write because I wrote her a poem every day for a year to woo her. That's why she said "Yes." But she also told me "Either don't get married or get a job." She meant I needed to get a job with benefits. So I got a job with benefits while writing poetry and starting up my publishing company, Alexander Publishing Group, and imprint, BlackWords, Inc.; I made it my mission to prove my father wrong.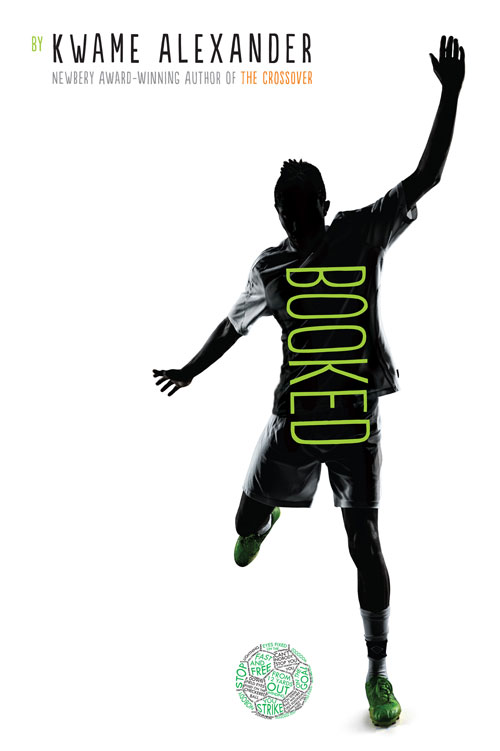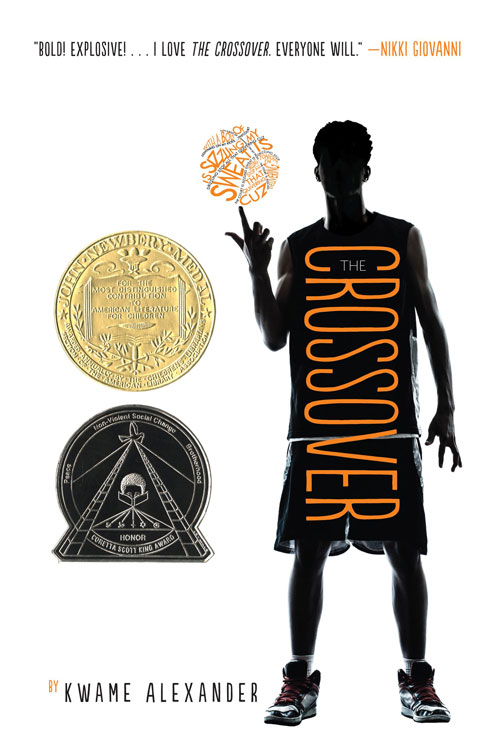 When you were awarded the 2015 Newbery Medal for The Crossover (HMH Books for Young Readers, 2014), did you feel like you had finally arrived? What was the conversation like that you most certainly had with your dad?
When I got the call for the Newbery, I had been up all night. I couldn't sleep the night before the announcement. Then when the call came at 7:16 a.m., all I could say was "Are you sure?" I was just overwhelmed. Then I called my dad. It was validation for him, and it was validation for me. Crossover was a huge turning point that ended up changing my family's life because of its success.
A Life Open To Possibility
I've heard that you are a "Yes Man." What does that mean?
I'm a fan of taking risks. You never know what is on the other side of a door. You have to go through it and figure things out as you go. So when opportunity knocks, I almost always say "yes." After all, it only takes one "yes." That's all it took for Crossover, just one publisher needed to say "yes." I had received lots of rejections for Crossover, but I never accepted "no."
You said you had received several rejections for Crossover. Besides that, did you find quick success as a writer? Were you able to leave your "job with benefits" and pursue your goal of writing fairly quickly?
It took some time. To make a living as a writer, you have to multitask. I guess you could say I became a literary entrepreneur. I looked for every way I could promote my books and my work, and I still do. It started with doing poetry readings in schools and getting in as a speaker for teacher conferences. Now I travel a lot to do in-school seminars, and put on professional development events, and I do a lot speeches. I do about four school visits in a week; I think I will do that for about one more year. And I'm a devoted father and husband.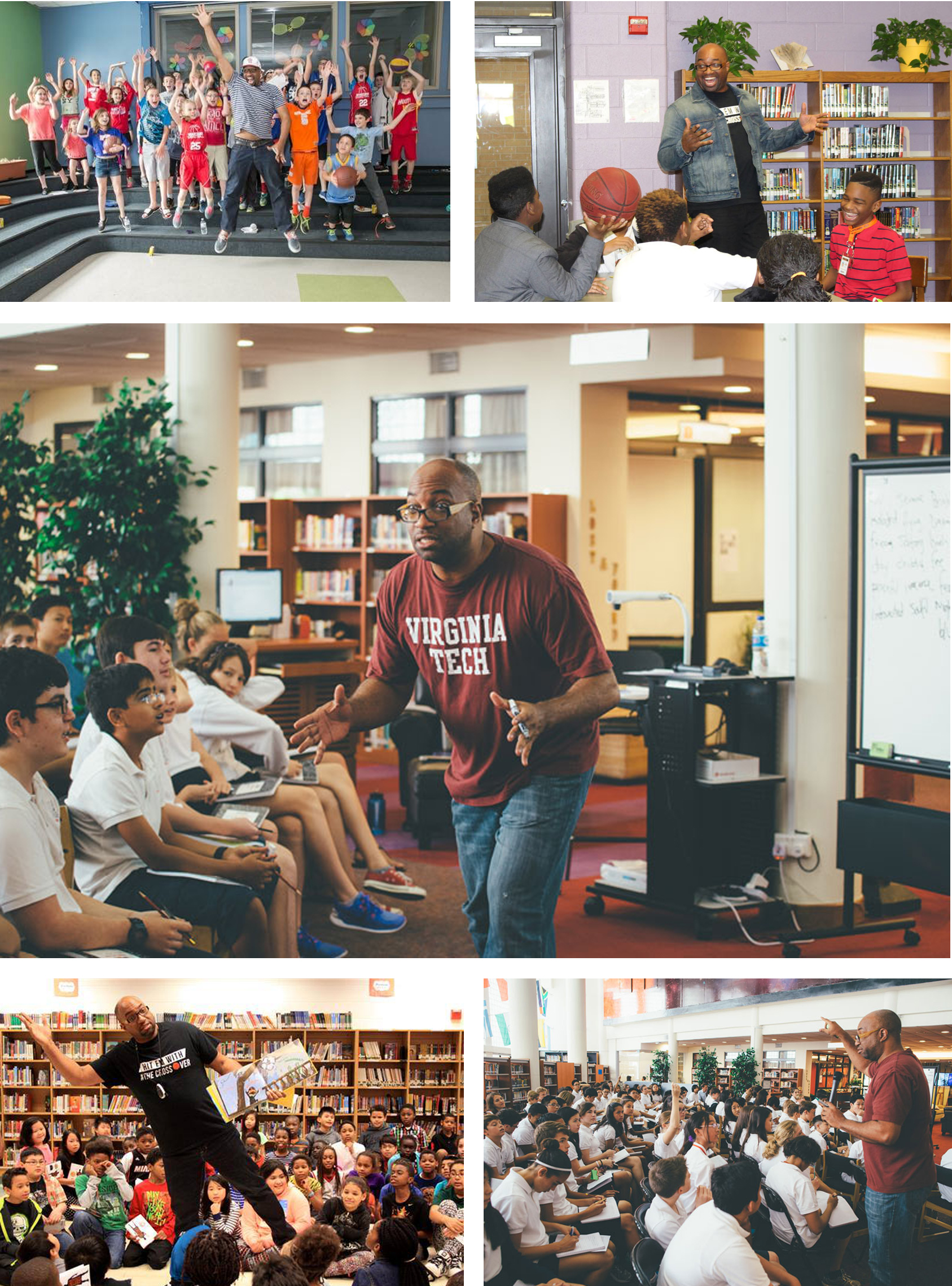 Do you still work as a publisher? Are you still hosting a radio show? What about Book-in-a-Day and Leap?
No, I had BlackWords for about 10 years. I'm not doing the radio show anymore, either. Leap for Ghana was a four-year project to distribute books, build a library, train teachers, and create scholarship opportunities. The first year was school visits, then reading conferences, then a literacy camp, and finally a building project. My Book-in-a-Day program was just published by Scholastic as Kwame Alexander's Page-to-Stage Writing Workshop (Scholastic Professional, 2016). I did Book-in-a-Day for about 10 years, too. Nine or 10 years seems to be my time line!
"Poetry is the bridge to take reluctant readers to eager participants in the reading experience."
So how do you fit writing into your busy schedule? Do you write as inspiration strikes or are you more disciplined like Kate DiCamillo, for instance, who faithfully writes two pages a day?
I travel a lot, so I have to write whenever and wherever I can. Does Kate do that? Wow! I'm going to do that. I'm going to borrow that: writing two pages a day. No, make it two and a half…
What is your opinion about the movement to increase diversity in publishing?
To not have the diversity of the world reflected in literature is deleterious not only to Black children or Hispanic children or to Asian children, but also to White children. All of us are victims when there is a lack of diversity in publishing.
Recently your picture book, Surf's Up (NorthSouth, 2016), was published. It is a fun reading adventure demonstrating how easy it is to get lost in a book. Do you remember the first time you found yourself immersed in a story?
The first book I remember was Fox in Socks (Random House, 1965). That was the book that led me into reading and rhyme. Between the pages of a book is where we learn to dream. It ain't deep, Folks. If you give a kid a book, it leads to a better and broader imagination. You can't just teach the curriculum.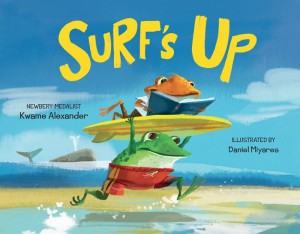 In Surf's Up, Bro is immersed in a story and an impatient Dude just doesn't get it. Did you write Bro and Dude to represent anyone in particular?
Dude represents reluctant readers. And he shows that it is possible to go from being a reluctant reader to an interested one. But I hate that label of reluctant reader. I think it is important for parents and teachers to give kids books not labels. If you want kids to get engaged in reading, you've got to give them something they can build an emotional connection with. For me it was books about sports. I was a boy who could be considered a reluctant reader. But it was more that I didn't want to read what I was supposed to read.
So sports-themed books were the vehicle to transport you into reading again. How does poetry fit in, then?
Growing up, poetry was like breakfast and lunch in my house. And looking back, I didn't have a life without poetry. I overcame challenges in life through poetry. I had no money and nothing to my name after college. I met a girl, wrote a poem a day for her, and she married me. Poetry got me married and helped me understand the value of working. Poetry saved my life. Poetry is my life.
What is your goal as an author and poet? What are your plans for the future?
My goal is to write books that impact others and to make a decent living doing it.
Quotes From Kwame
"Basketball Rule #1
In this game of life
your family is the court
and the ball is your heart.
No matter how good you are,
no matter how down you get,
always leave
your heart
on the court."
— Kwame Alexander,
The Crossover
"Identical twins
are no different
from everyone else,
except we look and
sometimes sound
exactly alike."
— Kwame Alexander
"You can get used to things going well, but you're never prepared for something going wrong."
— Kwame Alexander
---
Bio
Kwame Alexander is a poet, educator, New York Times Bestselling author of 21 books, and recipient of the 2015 Newbery Medal for his novel, The Crossover. The founder of two organizations, Book-in-a-Day and LEAP for Ghana, he regularly travels the world as a literacy advocate and expert. Kwame has owned several publishing companies, written for stage and TV (TLC's "Hip Hop Harry"), recorded a CD, produced jazz and book festivals, hosted a radio show, and taught high school English. In 2015, Kwame served as Bank Street College of Education's first writer-in-residence.
---
The Kwame Alexander Papers
A collection of Kwame Alexander's writings, correspondence, and other professional and personal documents is held at the George Washington University Gelman Library. Donated in 2008, these documents were created during a seventeen-year span, from 1990 to 2007 and occupy a space of five linear feet. The first two linear feet are dedicated to Alexander's creative output between the years of 2001 and 2007. Included are drafts, manuscripts, and editing notes for poetry, articles, books, plays. and film and radio scripts. The third foot of materials includes personal papers from the years of 1990 to 2007. These papers pertain to personal publicity, classes he taught, and his term on the Hurston/Wright Foundation board. The last two linear feet consist of papers directly relating to Alexander's two publishing companies: Alexander Publishing Group and BlackWords Press. The Kwame Alexander Papers may be accessed in the Special Collections Research Center at The George Washington University Gelman Library located in Washington, D.C.