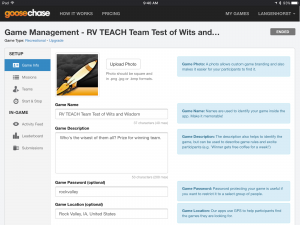 Part of what I love about my job is my interaction with our student-based tech team known as the TEACH Team (Tech Experts and Computer Helpers). This group is a compilation of 25 of the most creative, technology savvy thinkers in our middle/high school student body. I have the privilege of leading this group through trainings, activities, and the daily grind of working our Help Desk. They are our testers, our drop-everything-and-go fixers, and our guinea pigs. The most recent guinea pig extravaganza involved the testing of a scavenger hunt app that I've researched and played with but had never had the chance to implement.
The app is called GooseChase. This is where formative assessment meets mobility and creativity! The premise of the app is to serve as a host for scavenger hunts of any kind, and it truly does deliver. Claiming to be a "scavenger hunt for the masses," GooseChase makes it very easy to add what it calls "missions," both of the pre-made and self-made variety. It could easily be used for the standard youth group or party game scavenger hunt. That use alone would make it a worthwhile download. However, it's the way that it can be used in education as an assessment tool that really gets me pumped!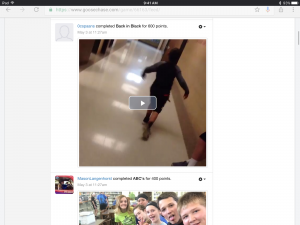 I wanted a way to formatively test my students on their tech skills, ability to adapt to a challenge, and problem solving techniques. Hence, the birth of the RV TEACH Team Test of Wits and Wisdom scavenger hunt. By creating a free account online here, and downloading the coordinating app here or here, I was able to easily create a game that assessed the various skills I needed to, while offering a fun, movement-filled way in which to do it.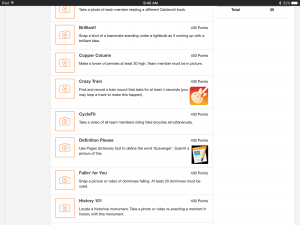 The game consisted of several of the pre-made missions and a large collection of my own missions that really put my kids to the test (pun intended). There were silly missions that had students challenging others to arm wrestling matches and capturing video of the event. There were missions that checked for tech prowess by using Google Advanced Search options to locate images with noncommercial reuse licenses. There were audio missions, social media missions, text missions, and physical missions. There were dance missions, interview missions, selfie missions, and photoshop missions. As you can see, GooseChase offers such freedom to create exactly what you want.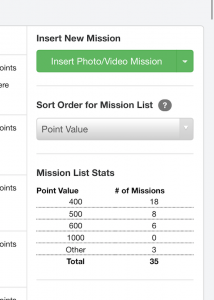 To get a hunt going, you must give it a start and stop time when setting it up. You can opt to password protect your game as well (definitely a suggestion when you're doing this for an assessment such as this). Students then go onto the app, which is available for any mobile device, and create a log in. They are then allowed to sign into the game. In the free version, you are allowed up to 5 teams. This worked perfectly for my small group.
The real beauty of GooseChase, though, is found in the real-time uploads and points tracker. When creating a GooseChase mission, you can assign points. There are some recommended point values or you can select a custom point value. Within the Mission List Stats on the right (see photo), you can see how many questions and to what value you have assigned them. As the game is progressing, I can stay at "home-base" and watch the activities/submissions roll in. I have the ability to decline any that don't fit the bill, so the speak. I may or may not have had to wipe tears generated by hysterical laughter from my cheeks more than once.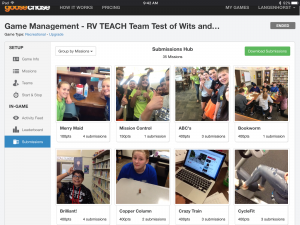 This really is an app you have to try! It is suitable for any age as long as they can read the missions. It makes learning and assessment engaging and enjoyable for everyone (including the teacher). And, frankly, once the end of May rolls around, we are all feeling it… that mental struggle.
Give this a shot! Go on a wild GooseChase with your students. Literally. I promise that it will not disappoint.