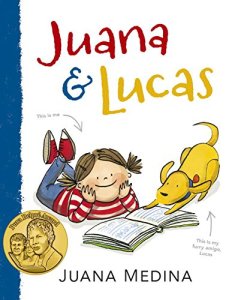 Juana Medina's Pura Belpré winning book, Juana & Lucas, was based on her childhood experience of learning English while growing up in Bogotá, Colombia. In the book, Juana has no interest in learning English at all until she learns that she will be taking a special trip where she will definitely want to be able to use English.  The trip is a great motivator, and everyone in Juana's community joins in to encourage her as she learns. One of the many reasons to love this book is the way it shows a spunky little girl taking on a challenge and meeting it while having a lot of fun along the way.
In this guest post, author/illustrator Juana Medina shares her experience taking on a challenge of her own–finding the inspiration to keep up her creative work after the birth of her twin sons–and how she met it by changing the way she works. We think that those of you who have had children will relate to her story and anyone involved in creative work will appreciate her advice when the going gets tough.
---
I've been lucky enough to be easily prolific, compulsive, almost, when it comes to working. Just sit and start drawing, easy!
The hard part had been to keep myself from drawing. During meetings, dinners, parties… I'd be itching to get back to the comfort of my studio, to start drawing. That is, until, I became a mother.
While in awe of every breath taken by my beloved newborn twin sons, sleep deprivation stole my muse.
I've found myself staring endlessly at a blank screen or blotching paper until bright colored ink turns into that dreaded mushy brown-meets-burgundy disaster of which only Dubuffet could benefit from.
As an independent worker, maternity leave is not an option and there are formula and diapers to buy. There are also deadlines galore (thank goodness!).
Unlike me, my muse did take leave. I hope she's somewhere in the Caribbean, enjoying the warm breeze and good music. But I can't wait for her to get back to start working again.
I've had to invite other sources of inspiration and try my best to keep working. This has implied shaking the core of my easy-producing self and looking for new ways to get going.
I wanted to share what I have found helpful, in case there might be other creatives out there, looking for ways to get inspired. This system is not a one size fits all, has not been tested in more subjects than myself, nor has it been scientifically measured. The only proof I can offer is finishing two picture books and a good couple hefty deadlines in the last 4 months.
Discipline
Generally, I work on one project while keeping the white paper on the right side of my desk, on it, I doodle to take breaks. This time around, I've started with doodling as my centerpiece and, from there, I've gone to the main work. This has helped not only as a warm-up, but it has also taken away the intimidating idea of starting to produce right away — helping reduce the angst of turning the results expected, immediately.
Humor
From taking myself a little more lightly, daring to make fun of myself, to identify what I find funny… and then letting this make it to the paper somehow. Be it through depicting humorous situations or letting the lightheartedness transpire into what is being drawn.
Forgiveness
It's not always easy to be funny or take everything with humor and lightness. And that's when forgiveness can come in handy. Trying to embrace failure as part of the process and taking it with a little more pragmatism and less drama has helped me move on from moments when I've felt like giving up and becoming a vast river of tears.
Medium
When the methods I've used traditionally have become intimidating (because I can't get myself to produce), I've set those aside and tried new ones. Liberating myself from set expectations I have with the mediums I generally use (I've set aside ink and watercolor and given a try to pencil, acrylics, and a new tablet).
Companionship
Because it's seemingly impossible to maintain sanity on my own, I've opted for reaching out. Sharing the fears of being stuck at work, letting friends and colleagues lift me. Finding gratitude in their company has been good medicine for my impatient mind. Helping me keep present that work is an aspect of life and not life itself. Which has turned out to be a liberating thought, countering my rigid workaholic self-imposed pace. That freedom has circled back to work somehow, being less stiff on my approach to drawing.
Now, sprinkle some doses of research and mix with a series of long walks and you may have a recipe for solid outcomes.
Overall, this rut has been a humbling process. A great way to not take inspiration or the ease of producing, lightly, and much less, for granted!
I trust the muse will eventually come back, tan and relaxed from a good vacation. Meanwhile, I'll keep working (while deeply enjoying motherhood), finding new ways to create, humbled and with enthusiasm.
—
About the Author: Juana Medina was born and raised in Bogotá, Colombia. She is the illustrator of Smick! by Doreen Cronin and the author-illustrator of One Big Salad. Juana Medina has studied and taught at the Rhode Island School of Design and now teaches at the Corcoran School of the Arts and Design at George Washington University. She lives in Washington, D.C.