Anyone who follows my work knows that I am passionate about creating makerspaces that are unique to individual school communities. I have said many times that:
"No two makerspaces should be exactly alike, because no two school communities are exactly alike."
All too often, school districts just replicate what others are doing or base their decisions on makerspace trends. The goal should be to create makerspaces that are unique, meaningful and relevant to your school communities while ensuring that it is not only vibrant for now, but also sustainable into the future. One such example is including a Lego Wall in a makerspace. While Lego Walls certainly can be fantastic, I think many have become complacent and are simply putting Lego Walls in their makerspace because they feel that it is something they have to do because everyone is doing it. After going through the Makerspace Planning Process, if building a Lego Wall is right for your school's makerspace, then I say go for it! In this post, however, I would like to push your thinking and offer high-tech and low-tech alternatives to a Lego Wall.
Why an interactive wall?
I have found that broadcasting student creations on a wall is a great way to inspire others to want to make and create. They also offer a GREAT opportunity for students to collaborate and communicate while they are tinkering, making and doing.
What do I look for in a GREAT interactive wall?
Compliments, reflects and supports your makerspace themes
Low-barrier of entry (easy enough for ALL students to engage with)
Allows for the opportunity for open-ended exploration by not limiting students to step-by-step directions
Here are some of my favorite ideas!
Things We Built Wall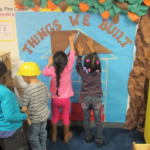 Students build a house with big cut out shapes to match a blueprint of a house. House types/shapes can be rotated, other types of structures can be created, and students can also draw the blueprints.
Arduino-Controlled Interactive RGB LED Wall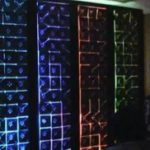 This interactive wall is controlled using 3 Arduino kits and uses five sensors near Maxbotix (LV-EZ3), 12 servo motors and no less than 32 LED RGB. See a similar ipad controlled LED wall here.
Arduino Interactive Garden Mural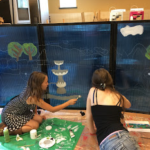 The garden elements for this wall are 3D printed by the kids and teens who also write the Arduino code to make the servos that power the interactivity work!
Living Wall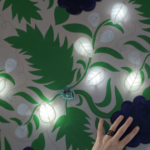 This wall experiments with interactive wallpaper that can be programmed to monitor its environment, control lighting and sound, and generally serve as a beautiful and unobtrusive way to enrich environments with computation. Run your hand across this wallpaper to turn on a lamp, play music, or send a message to a friend. The wallpaper is flat, constructed entirely from paper and paint and can be paired with a paper computing kit whose pieces serve as sensors, lamps, network interfaces, and interactive decorations.
Outside Sticky Wall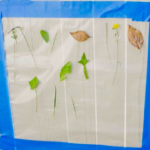 With nothing more than contact paper and painter's tape, this sticky wall is a great way to bring your makerspace outside or to connect your inside makerspace with nature. Create instant murals that integrate things taken right from the outdoors!
Sheet Music Wall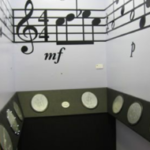 A wall filled with giant music notes can be a great way to allow students have some fun with composing music! Or create an even more interactive version, as seen above, which integrates touch sensing technology, a high quality sound system, and special engraved plaques which was designed and built to fit snuggly in what had previously been a closet.
Dry Erase Graph Paper Wall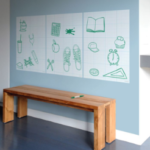 A wall such as this can be a blank canvas for blueprinting, planning, sketching, designing and inventing. Check out this easy, inexpensive solution offered by Blik Surface Graphics.
Lite-Brite Wall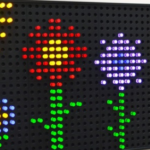 Kids love pixel art. Recreate a toy so many of us loved from our childhood, in a big way!  It is also possible to create your own low-tech version with golf tees and pegboard!
Magnetic Ball Wall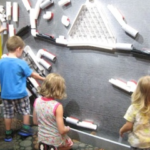 A magnetic ball wall is a great way to integrate physics, critical thinking and problem solving into your makerspace! Create one yourself or take a look at this one created by TheExhibitGuys.com, who can construct one for you.
A Collaborative Looming Wall
Have your students collaborate in your makerspace on an ever-changing piece of art! Upcycle a large picture frame, or build your own, for this weaving loom. Collect materials and watch the creativity flow!
A Natural Outdoor Collaborative Weaving Wall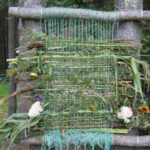 In the same spirit of my last suggestion, is this variation on a weaving wall. What makes this one special though is that it is outdoors and made entirely out of things found in nature!
Glow-in-the-Dark Sketch Wall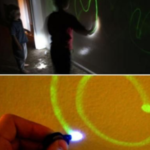 What kid wouldn't feel inspired by a glow-in-the-dark write on wall? This wall is made by adding a few coats of glow-in-the-dark paint and any type of light or LED pen that will light up the wall. Students can even use their cell phones for this one!
Wall Tangrams
Have math-related themes in your makerspace? Why not build a tangram wall, such as this one offered by Walls360. The possibilities for making, creating, and open-ended exploration are endless.
Pool Noodle Engineering Wall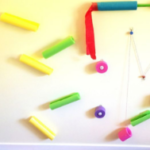 A great indoor or outdoor wall, this pool noodle wall, much like a Lego wall, is a fun way to integrate Engineering in your makerspace. Students can learn about pulleys, lights, and pumps, while having fun at the same time!
Coding Brick Wall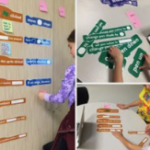 Computer coding is a makerspace theme that we hear about many schools having. It has been one in our space for several years now. Encourage collaboration related to computer coding by creating a coding brick wall, as seen here!
Magnetic Tile Wall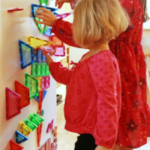 With all sorts of magnetic tiles on the market, creating a magnetic wall for them, such as this one, would be a great addition to a makerspace. Students can work together to design and make 3d art.
Poetry Wall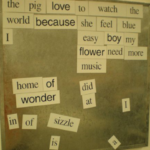 Magnetic poetry tiles are nothing new, but why not create a unique, giant version of them for your makerspace? A poetry wall, such as this one, is a great way to connect your makerspace to literacy!
Puzzle Tile Wall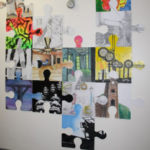 Make your own write-on puzzle pieces and create a velcro or magnetic wall for your students. You can buy giant, write-on puzzle pieces, or make your own. Here is a puzzle piece template to get your started! Paint them with dry erase paint, so that they can be reusable and ever-changing. Puzzle pieces can be created that are based on your makerspace themes, or they can be entirely out of the minds of your students. Fitting them together can symbolize the importance and value of working together!
Pin-Press Wall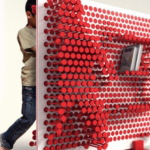 This fun wall is a great way to include kinesthetic learning in your makerspace. A bonus too, this wall also doubles as a shelf! Take a look at this one made by PinPres.
Doodle Wall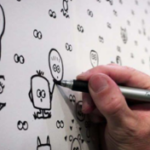 Hang some doodle encouraging wallpaper in your makerspace! Check out this I See You wallpaper made by Cavern, which complete with sets of eyeballs, sets the stage for endless doodling opportunities.
Snap Circuits Wall
Electrify your makerspace with a Snap Circuit Wall! This wall is a great way to store your Snap Circuits, while also giving students the opportunity to create circuits in a big way!
Virtual Water Wall


Leverage the power of virtual by creating a water wall made possible by interactive projection. Take a look a this one made possible by Kinect and Unity 3D!
Blueprint Wall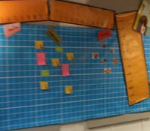 Create a blueprint wall, like this one, in which students can manipulate rulers and shapes to design and create! Even consider creating shapes for the board that match the shapes of blocks in your makerspace. Have students design creations on the blueprint board first, and then make their designs come to life by using the real blocks in your makerspace!
Wall of Gear

Create a wall of gears in your makerspace for students to interact with. Your gear wall can be magnetic, or even made of cardboard!
Music Wall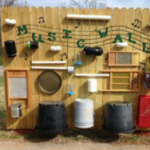 Music, often a favorite for children, is not always as enjoyable in school because it is oftentimes so prescriptive and teacher-driven. Allow your students the chance to play with music in your makerspace by creating a music wall out of recycled materials. This would be great for outdoors, as well!
Tetris Wall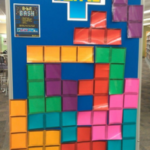 Embrace gaming in your makerspace! This wall is a great entry point into students creating their own games either digitally or not! You can certainly make your own Tetris wall, but you might want to check out these great Tetris decals.
Clip Board Wall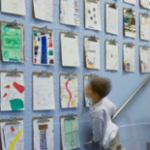 Why not showcase great ideas? A clip board wall is not only an efficient way to manage storage and space in a makerspace, which in schools is often a challenge, but it is also a way to put great ideas on display for all to see!
Customizable Poste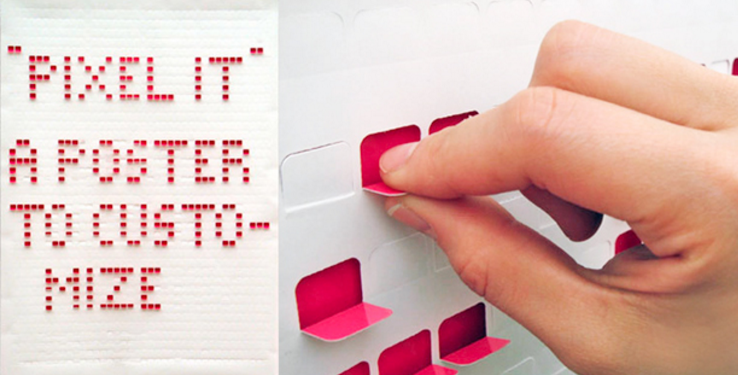 Check out this Pixel Poster for a great interactive display. Students can play with words as well as create unique designs in your makerspace!
Share Your Ideas

What better way to build community in your makerspace than with the sharing of ideas? Create a wall that gives students the opportunity not only to share their ideas, but to borrow the ideas of others, as well!
Construction Zone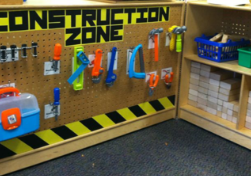 Peg Boards are a makerspace favorite, but oftentimes with little ones, we are nervous about hanging real tools on them. Why not create a kid-friendly peg board for them to be able to access safe tools that will allow them the opportunity to engineer, build and learn?
LED Matrix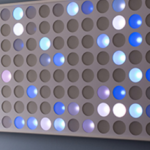 Experiment with basic animation powered by Arduino to create this eye-catching LED Matrix.
Interactive walls can be a great way to encourage collaboration and creativity in supporting your makerspace themes. They can also be an effective means of helping to create the conditions to inspire your students to WANT to make! Share your interactive wall ideas at #worldsofmaking.
**For more on planning a makerspace that is unique to your school community, check out my online, self-paced course at the Worlds of Making Digital Academy!