We are very excited to launch another season of author/illustrator guest posts on Books in Bloom! We already have several really incredible people lined up for the next few months, so stay tuned. ?
In this post, Renee Ahdieh explores the way we connect with characters who look like us and those who don't. She shares her connection with the classic YA novel Shizuko's Daughter and reflects on what book taught her about stories.
—
I remember the first time I saw myself in a book.
It was the first time I read a story and didn't want to have Anne Shirley's red hair and drink raspberry cordial or be perfectly sweater-clad and brilliant like Nancy Drew. It was the first time I thought someone beyond myself understood what it meant to be me.
When I stop to think about it now, it all seems rather odd.
Not odd in the sense that I shouldn't have been so concerned with appearances because—let's face it—we'd be hard-pressed to find a twelve-year-old who isn't. But odd in the sense that the character wasn't even really like me.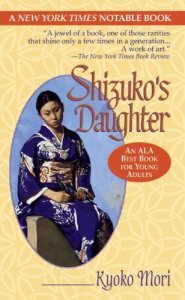 Her name was Yuki Okuda. She was the protagonist from Kyoko Mori's book Shizuko's Daughter. The fact that I saw myself in Yuki is odd because I'm not Japanese. I've never donned a black kimono to wear at a funeral or had a stepmother who treated me badly. Yuki and I are nothing alike.
But I saw myself in her. And it forever changed the way I looked at books.
Upon reflection, I think the things I saw were actually much deeper than the things I failed to see in Anne Shirley or Nancy Drew. Almost like a book nerd version of "The grass is always greener." I saw myself because I chose to see myself in the girl with the strange hair and the uniquely shaped eyes.
I could very easily have seen myself in Anne Shirley. I could have seen myself in her penchant for trouble. Or perhaps I could have seen myself in Nancy's sharp eye for detail. But those considerations were beyond me because I never thought I could be anything like those girls. They were leagues above in so many ways. Outside the realm of possibility.
And yet . . .
As someone who has long championed the cause for diverse books, I would like to posit an idea that only recently settled on me. Sure it is of absolute necessity that books be both mirrors and windows for young readers. It is beyond important for a child to see himself/herself in a book. Just as it is quintessential for a young mind to partake in a different world or a unique perspective. These are often the first opportunities for us to understand empathy on a global level.
But I would like to posit that seeing oneself in a book is important because it teaches you a simple fact of great significance:
You are—and can be—whatever you choose to be.
With this knowledge, a young black man could see himself in Nancy Drew. Or perhaps a Muslim girl could laugh at the travails of Anne Shirley and see herself wandering by the Lake of Shining Waters.
It is the knowledge of that choice that became tantamount for me.
I didn't understand I even had agency over it until I read about Yuki Okuda. I think I mostly saw a girl on the fringes that ate strange foods and hid behind her books. Or maybe I saw a girl that struggled to find herself when faced with everyone telling her who she needed to be and how she needed to behave.
At twelve years old, I was all these things.
But through this book and this character, I learned I was also so much more.
That I could be so much more.
So whenever the question is posed whether or not diverse books make a difference in the lives of all children—regardless of race, creed, or background—I believe the answer is very simple.
I don't necessarily need to see a half-Scottish, half-Korean main character that plays the violin and likes to sing, anymore than my blonde, childhood best friend needs to see a girl named Kirsten make her family Swedish crumb pie.
We don't need to see these exact things to find ourselves in a book.
But we do need to believe it is possible.
And stories are the beginning of that journey.
—
About the Author: Renée Ahdieh is a graduate of the University of North Carolina at Chapel Hill. In her spare time, she likes to dance salsa and collect shoes. She is passionate about all kinds of curry, rescue dogs, and college basketball. The first few years of her life were spent in a high-rise in South Korea; consequently, Renée enjoys having her head in the clouds. She lives in Charlotte, North Carolina, with her husband and their tiny overlord of a dog. She is the author of The Wrath and the Dawn.
Books by Renée Ahdieh: