The Perfect Nest is a fun read-aloud that will liven up any storytime session whether it's with a group of kids in a classroom or library or as a one-one-one reading choice at home. Either way, it is not to be missed.  We are excited that it has been reprinted and is back in stock with the publisher after having been listed as OSI for some time.  To celebrate, we asked author Catherine Friend to share the story behind the book. Enjoy!
—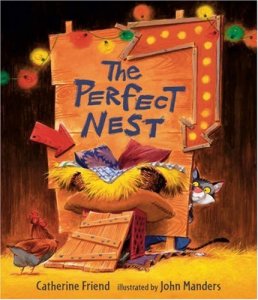 Children's books and farm animals are a perfect match, right? That's what I thought when my partner Melissa asked me to help her start a farm. I imagined sitting out in the pasture, surrounded by gently grazing sheep as I penned award-winning picture books. This image was so strong that I forgot a few things about myself: I knew nothing about animals, I hated hard, physical labor, and I hated getting my hands dirty.
So I said "Yes" to Melissa's question. We bought fifty sheep, some goats, ducks, three hundred chickens, and away we went, clawing our way up the steepest learning curve I'd ever faced. Starting the farm—and learning how to keep animals alive—took so much creative energy that my writing career was literally 'hit' by a farm. All my ideas for children's books dried up. At the end of the day, I had no energy left for writing. Yet I was constantly hearing this from well-meaning friends and family: "You must get so many great ideas for children's books living on your farm."
Not really. It wasn't unusual to find a dead chicken in the chicken house now and then. One morning I found the remains of a lamb that had been killed by a coyote. We learned to treat animals for diseases and conditions that are best left undescribed here.
So, no. No children's book ideas. Nada.
Farming eventually became easier as we got the hang of it. After awhile I found the time and energy to write again. But the ideas still wouldn't come. I managed to come up with a handful of eight-sentence stories about Ruby the sheep for Candlewick's Brand New Readers series, but it was difficult to write cute farm stories when I knew that farms weren't really all that cute. Farms mean lots of hard work, problems, and death.
But there were wonderful moments—holding a warm lamb in my lap as it fell asleep, watching frisky lambs race across the pasture at dusk, listening to ducklings peep happily as they followed their mama. I didn't know it at the time, but I learned things that tucked themselves into the hidden recesses of my brain, just waiting for the opportunity to be useful.
For example, I learned that poultry will often become possessive of a nest, and refuse to leave, even if a new occupant shows up. One spring a chicken and a duck both took possession of a nest behind a metal trash can. I'd look down into the darkness behind the can and see what appeared to be the head of a chicken and the body of a duck. The next day I'd see the head of a duck and the body of a chicken. Day after day the duck and chicken sat on each other. Each had laid eggs there, and neither was leaving.
Another thing I learned was that barn cats could be taught not to eat the baby ducklings. One spring the mama ducks outdid themselves and the entire barn peeped with babies. Every time our barn cats Oliver and Pumpkin looked interested, we'd scold them.
Our technique worked. One day while doing chores in the barn, I witnessed Oliver sitting in the middle of the floor while Mama Duck confidently marched her eighteen babies right past him.
These two bits of farm knowledge remained dormant until my annual writing retreat with ten other children's writers on a cozy island in Rainy Lake, a long body of water separating Minnesota from Canada. It's a beautiful and inspiring island. My second day on the island, the nest 'thing' and the cat-duckling 'thing' suddenly emerged, introduced themselves, and became The Perfect Nest. A cat named Jack built the perfect nest to attract a chicken that would lay an egg so Jack could make himself an omelet. Poor Jack gets more than he bargained for when the nest attracts not only a chicken, but a duck and a goose as well. Each lays an egg, and from there things go downhill for Jack until he's faced with a crucial choice.
Candlewick purchased The Perfect Nest. We waited over a year for John Manders' schedule to free up so he could illustrate the book. I didn't mind the wait because he was the perfect choice. When Melissa saw the sketches she chortled happily, "He knows that ducks have cheeks!"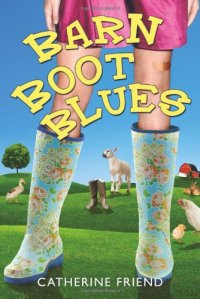 It's been almost twenty years since we bought our first sheep, and eight years since The Perfect Nest was first published. I'm not sure which makes me prouder—that we're still farming, or that The Perfect Nest is still in print. I continue to dislike hard, physical labor, and I always wear gloves during chores to keep my hands clean, but I've actually sat in the pasture, surrounded by gently grazing sheep, and written several memoirs about the farm, and a few novels. My latest is a middle grade novel called Barn Boot Blues, about a girl named Taylor whose parents drag her out onto a farm.
It was a blast 'torturing' Taylor with all the things that have happened to me on the farm—finding chicken poop in my hair, nearly being run over by a flock of sheep, and having an angry duck leap up, latch its bill onto my pudgy knee, and hang on as I frantically danced my way around the barn trying to shake it off.
Children's books and farm animals might just be a perfect match after all.
—
From the publisher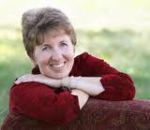 About the Author: Catherine Friend lives on a small farm in southeastern Minnesota—which inspired both The Perfect Nest and Hit by a Farm. There, she raises sheep, goats, and llamas, and has an energetic border collie named Robin.
About The Perfect Nest: Jack the cat is building the perfect nest. It's bound to attract the perfect chicken, who will lay the perfect egg, which will make the perfect omelet. And sure enough, a chicken shows up ("¡Caramba!"), but so do a duck ("Sacré bleu!") and a goose ("Great balls of fire!"). Feathers get ruffled — and Jack gets much more than breakfast — in a funny tale rich in detail with a sweet final twist.