We are very excited to share this heartwarming story from Matt Tavares in the second installment of the author/illustrator guest post series on Books in Bloom.  We think you'll really like this one!
—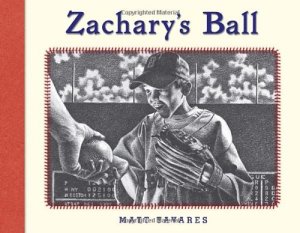 One morning in December of 2000, I was in the library at Reingold Elementary School in Fitchburg, Massachusetts, getting ready for a school visit. My first book, Zachary's Ball, had just come out earlier that year, so school visits were still a relatively new thing for me. While I was getting set up for my presentation, making sure all my slides were in the right order (I still used real slides back then, and an old Kodak carousel slide projector!), the librarian came over to me and told me an amazing story.
She said there was a first-grader named Juan Carlos who was going to be in the first group of students to see my presentation that day. Juan was a kid who rarely paid attention in class, and she'd had a tough time getting him to sit still and listen. But a couple weeks before my visit, during story time, she read Zachary's Ball aloud to the class. Partway through the story, she noticed something. Juan was sitting perfectly still. He was looking carefully at every picture. He was actually listening.
Afterwards, when the kids were free to roam the library and choose a book, she handed the copy of Zachary's Ball to Juan, and told him he could take it home.
The next time Juan's class came into the library, he returned carrying not only the library's copy of Zachary's Ball, but his own copy, which he had written and illustrated himself, at home. He had never done anything like this before. He told her it was a gift for me.
I remember standing in that school library and hearing this incredible story, and feeling like it didn't even make sense. I was in a room full of books- really good books by real authors like Dr. Seuss and Chris Van Allsburg and Maurice Sendak. How on earth could it even be possible that my little book, this thing I had made as my senior thesis in college, could have that sort of impact on anyone. It was hard to comprehend.
When Juan's class arrived, his teacher led him over to me. I shook his hand and introduced myself, and he handed me the book he had made. On the cover he had drawn a baseball diamond, with the words "Zachary's Ball" and "Play ball" circling the pitcher's mound. I carefully flipped through the pages. It was beautiful. I thanked Juan for this amazing gift, and told him it was really incredible. And I meant it.
It's been fifteen years since that day in Fitchburg. I've published fifteen more books since then, and I don't even know how many hundreds of schools I've visited, or how many presentations I've done. Over the years, I've had several more experiences not too different from that one, and every time, it amazes me.
But I still remember Juan Carlos. He must be in his twenties now. I like to think that after he returned Zachary's Ball to the library, the librarian found another baseball book for him to read, and another after that. And maybe after a while, he chose a book that wasn't even about baseball, and maybe he found that it was actually pretty good. I have no idea if Zachary's Ball was the spark that led Juan to a lifelong love of reading. But I like to think that maybe, hopefully, it was.
I would be lying if I said that kids like Juan Carlos are the main reason I make books. I write and illustrate books because this is what I love to do. I get to spend my days in my studio, writing stories, and drawing pictures, and painting, and using my imagination, and doing so many things I love to do. I feel incredibly lucky for that.
But every time I send a new book out into the world, and every time I stand in front of a group of students during a school visit, I am fully aware of the tremendous impact that a book can have on a child, and that I can have as an author-illustrator. And I am grateful for that too.
But this isn't just a story about the power of books and authors. It is also a story about the power of libraries and librarians. It was the librarian who read my book aloud, and noticed that Juan Carlos seemed to like it, and the librarian who took the time to place the book in his hands, and let him take it home. If it weren't for her, my book wouldn't have had any impact at all.
Over the years, I've gotten to know a lot of teachers and librarians. Our jobs are very different in a lot of ways, but there is one job perk we share. We get to experience the thrill of witnessing the moment when a kid becomes a reader, and knowing we had something to do with it.
—
From the Publisher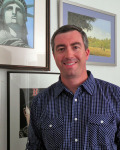 About Matt Tavares: Matt Tavares was born in Boston, and grew up surrounded by books and reading. From the time he was very young, his mother read to him every night, and his family made countless trips to the public library. Years later, as a studio art major at Bates College, he rediscovered his love for picture books, and decided to try to make his own.  For his senior thesis project, Matt wrote and illustrated a story called Sebastian's Ball, about a boy who caught a magic foul ball at a Boston Red Sox game. Three years later, after much revision, Sebastian's Ball became Zachary's Ball, Matt's first published picture book.
More Books by Matt Tavares: