He never intended to be, or even dreamed of being, a picture book creator, but it seems that Arthur Geisert was destined to become one. As a youngster, Geisert was influenced by his grandmother who always painted. Later on, high school teachers and college teachers played a great role in shaping him as an artist and setting him on the path for his career. "In college, I always took art classes because they interested me. That is where I learned the traditional method of etching that I use today. It uses copper plates, etching acid, varnishes, and inks. My teachers were very encouraging."
After graduation from Otis Art College in Los Angeles, California, Geisert spent years teaching art at small Lutheran colleges. He was also beginning his own artistic journey. "Early on after graduation, I realized that I was never going to make a living doing one-of-a-kind sculptures or paintings. But with etchings, you can spend all the time it takes to do a single plate and then you can make multiple prints that can be sold."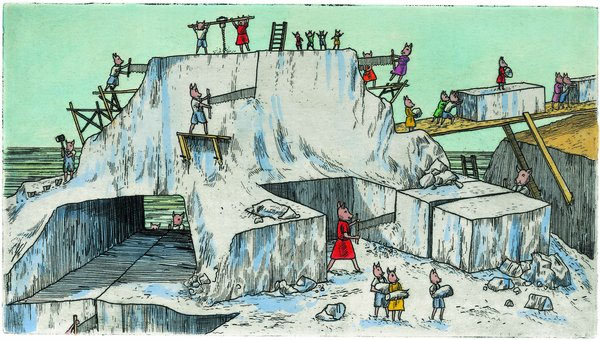 Geisert bought a small press and started creating his own prints. Many were narrative or humorous, and he realized the prints could easily be made into children's books. So he created three samples and began the rigorous process of submitting them to publishers. "I had a system. I had all the packing materials lined up with letters that just needed dates. As soon as something came back, I would put it in different packaging, date the letter, and send it off to the next publisher that same day. It took about 10 years for the first book to be published." That book was Pa's Balloon and Other Pig Tales (Houghton Mifflin Harcourt Publishing Company, 1984).
Today, Geisert has created more than two-dozen picture books with several winning honors such as The New York Times Best Illustrated Children's Book Award. He works out of a small converted bank building in Bernard, Iowa, just across the street from Coe's Bar. And it is in that bar where his best book signings have taken place. "I've talked to book people across the state and we are all in agreement: the two most successful book signings in Iowa took place at Coe's Bar."
How does a book signing in a bar work? "They take the pool table down and set up tables in the back by the meat slicer and the big cooler. We advertise, order a bunch of books, and set up shop. We sold 300 and some at the first signing. We had a line around the block! Jody [the co-owner] was my assistant. Mary Beth, the daytime bartender, took the money. And Jaws [the other co-owner] hired extra bartenders to go up and down the line selling beer and pop. It was definitely not your typical children's book signing with padded chairs and stuffed animals!"
His second unorthodox book signing was even more remarkable. The Thunderstorm (Enchanted Lion Books, 2013) launch at Coe's sold more than 500 books and was covered by National Public Radio. Incredible considering the little town of Bernard, Iowa, has just under 100 residents.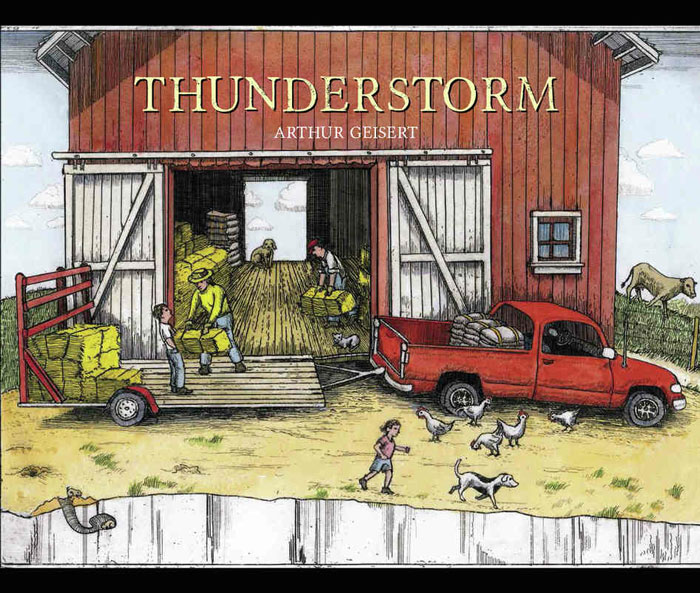 So what is next for this man who painstakingly creates copperplate etchings and hand-paints his prints? A collectible accordion/fold-out version of Thunderstorm is scheduled for publication in late November, and he plans to begin working on a panorama of the upper Mississippi River shortly. But first he has to finish a move.
Geisert found and purchased a downtown building in Elkader, Iowa, on an 18-foot by 80-foot lot along the bank of the Turkey River. "The bank was too small. I needed a larger studio, and I needed a place that was within walking distance of all the services. I looked long and hard, and Elkader was one of the few places that I could walk to everything. It is the county seat with a population of 1,200. My building is within a block and a half of everything from the county courthouse to the pizza parlor. It is a two-story built in 1890 with a full basement. It is a beautiful building."
He is also busy with his quest to reduce the quantity of his possessions. "Both my ex-wife's parents and my parents are dead now. It was a lot of work to go through all their things. Now I'm working religiously to get rid of stuff. What would my relatives do with it? They wouldn't know what to do with it. So now, through a combination of donations and selling, I have pieces and collections in art museums, hospitals and clinics, historical societies, and libraries."
Just like creating his etchings, downsizing and moving have proven to be time-consuming endeavors; but Geisert keeps moving forward, step by step, while preparing for his next project. "I'm finishing updating my new building and should be completely moved in September. I'm hoping the bank building in Bernard sells soon. There is a local dairy farmer interested in buying it. We'll see. But I am really looking forward to working on my new book."